Wikirelax.org is supported by its readers. When you purchase through links on our site, we may earn an affiliate commission.
Looking for the best mattress for a platform bed? One of the beautiful things about platform beds is that they accept any mattress. However, consider the platform bed's structure and the mattress manufacturer's warranty requirements.
Thanks to the current mattress designs, most platform beds and mattresses are compatible. So any mattress can be a platform mattress. There is no ideal mattress for platform beds. However, you may choose the most comfortable mattress without worrying about a box spring.
Can you put a box spring on top of the slats?
In certain instances, you may use a box spring on slats, but it will increase the height and may not work with all platform beds.
For some innerspring mattresses, companies still insist that box springs and warranties be based on the same principles.
Most important is to be aware of the height of your platform bed and the total height after you place the box spring and the innerspring mattress on it. Your bed might be too high for the comfort of getting in and out of it.
Do you need a box spring for a platform bed?
Box spring is not at all necessary on the platform bed.
You may use it if you like, but be sure the total height of the bed does not increase beyond your comfort.
Box spring life is not as long as that of a platform bed.
Depending on the mattress, the bed can be equally or more comfortable with or without the box spring.
Many people are tossing out box springs in favor of platform foundations. There are several reasons to do so. Lower cost, less to move, and sometimes added storage under the frame due to the extra space.
Choose the height of the platform bed and the mattress carefully so that the bed is not too low for your comfort.
Most platform beds have a low profile, which may be too low for individuals with difficulty rising independently. The low profile may cause back and knee discomfort. To avoid the problem of getting in and out, choose your mattress thickness, keeping in mind the height of your platform bed.
A platform bed is just a structure that supports a mattress. Its slats, typically constructed of wood or metal, offer adequate support. Some are supported by flat wood sheets as well. But buying one with wooden slats is better for better ventilation below the mattress and for air to pass through. So, the best mattresses for a platform bed may depend on how thick the mattress is, how well it supports the edges, and how easily it can be moved. Platform beds save money by eliminating the need for a box spring or foundation.
Latex mattresses and hybrids will also function nicely with a platform bed. The most important thing is to support your mattress. If adequately supported, the platform bed will not cause back discomfort.
Whatever your motivation to sack your box spring, you will still need a more supportive mattress to rest well on your platform.
Best Mattress for a Platform Bed
Nolah Evolution 15
Warranty – Lifetime Limited
Plush, Luxury-Firm & Firm
Trial – 120 Night Free Trial
Free Shipping
Sizes – Twin, Twin XL, Full, Queen, King, California King
Nolah Sleep pairs nicely with a platform bed, thanks to its supportive design. It is an ideal combination of cushioning and support. The three choices provide the closest contouring to relieve pressure along the spine. The luxury firm may also be good for people who sleep on their stomachs or backs, but the firm feels may be better for heavier people. A 15-inch profile accommodates tall mattress users.
The pillow top is made of soft, flexible polyfoam, and two more layers of foam provide close, even contouring without letting you sink in too far. The pocketed coils are separated into zones based on their thickness. This gives bigger people more support and keeps the edges from sinking too much. This mattress should help those who usually struggle to get out of bed.
The coils also circulate air inside the mattress to keep it cool. The cover draws heat away from your body and keeps you cool on hot or humid evenings. The Evolution's medium feel and dense foam layers make it ideal for shoulder, lower back, or hip discomfort individuals. The Evolution 15 is a good value for a hybrid mattress.
Layla Memory Foam Mattress
Warranty – Lifetime Limited
Memory Foam
Flippable – Medium-Soft & Firm
Trial – 120 Night Free Trial
Free Shipping
Sizes – Twin, Twin XL, Full, Queen, King, California King
You can adjust Layla's Sleep with a higher platform bed. The Layla Mattress is a memory foam flipper. The medium-soft side of the mattress offers close but even body contouring, making it ideal for a side sleeping position for people weighing up to 230 pounds. The opposing surface is firm and supportive with minimal contouring, making it suitable for back and stomach sleepers weighing 130–230 pounds. The Layla queen weighs 69 pounds and is easily flippable to alter hardness levels.
Both sides have layers of memory foam for comfort, with more polyfoam padding on the softer side. The memory foam is laced with copper, which is naturally antibacterial and cools the surface. It is beneficial for hot sleepers. A typical support core of high-density foam stabilises both sides of the bed. The Layla's foam layers absorb movement effectively, making it ideal for couples and co-sleepers. The bed's modest profile complements platform beds. The Layla is less expensive than comparable flippable mattresses.
Sparrow Signature Hybrid
Warranty – Lifetime Limited
Hybrid Memory Foam
Plush, Medium & Firm
Trial – 100 Night Free Trial
Free Shipping
Sizes – Twin, Twin XL, Full, Queen, King, California King, Split King, Split Cal King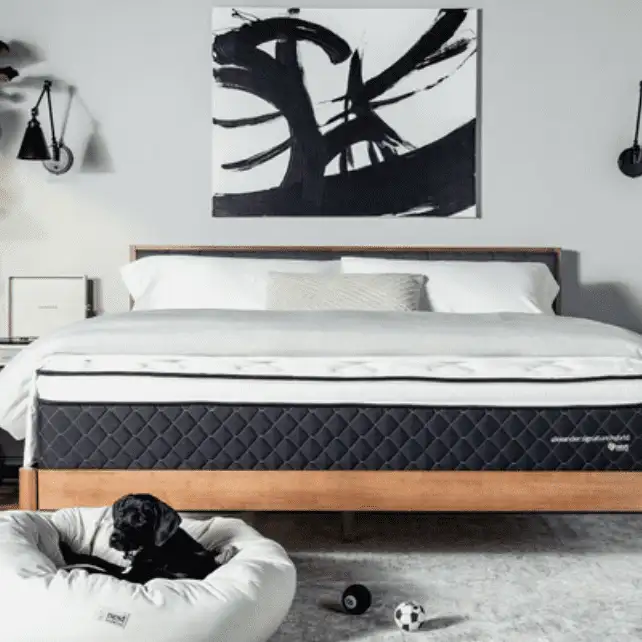 Hybrid mattresses are popular because they blend a coiled foundation's stability with foam's softness and pressure-relieving comfort. Nest Bedding's Sparrow Signature Hybrid is a category leader.
Three layers of foam support an 8-inch pocketed-coil system. When lying on a Sparrow hybrid, the surface should conform to your body while still bouncing to aid in nighttime repositioning.
This combination uses gel-infused memory foam and phase-change fabric to keep you cool. The company also claims to have the "most revolutionary titanium-infused foam on the planet."
Sparrow comes in three firmness levels to suit most sleepers, and all three are suited to platform beds.
Purple Premium Collection
Warranty – 10 Yrs Limited
Grid Design
Flippable – Medium-Firm
Trial – 100 Night Free Trial
Free Shipping
Sizes – Twin XL, Full, Queen, King, California King, Split King
The purple mattress design is unique in the market and groups perfectly with platform beds. Hot sleepers adore it. Its innovative grid design keeps airflow all night and helps your body heat move around. Its balanced support is excellent for couples who sleep in various positions. The grid pattern conforms to your body, giving you a floating sensation.
The Purple Hybrid combines a purple grid, foam, and coils. The mattress's initial layer is a 2″ purple grid. It is responsible for Purple's distinctively soft but supportive feel. The transitional foam layer leads to a coil core. The coils provide additional support and help your mattress last longer. Then another layer of transition foam, and finally, a cover. This new design takes the best parts of a purple grid and a hybrid coil-core mattress.
Overall, Purple is a well-known brand with high-quality goods, and this mattress is suitable for all bed frames, including platform beds. Read the entire review to discover more about this bed.
Casper Original Mattress
Warranty – 10 Yr Limited
Memory Foam Hybrid
Medium
Trial – 100 Night Free Trial
Free Shipping
Sizes – Twin, Twin XL, Full, Queen, King, California King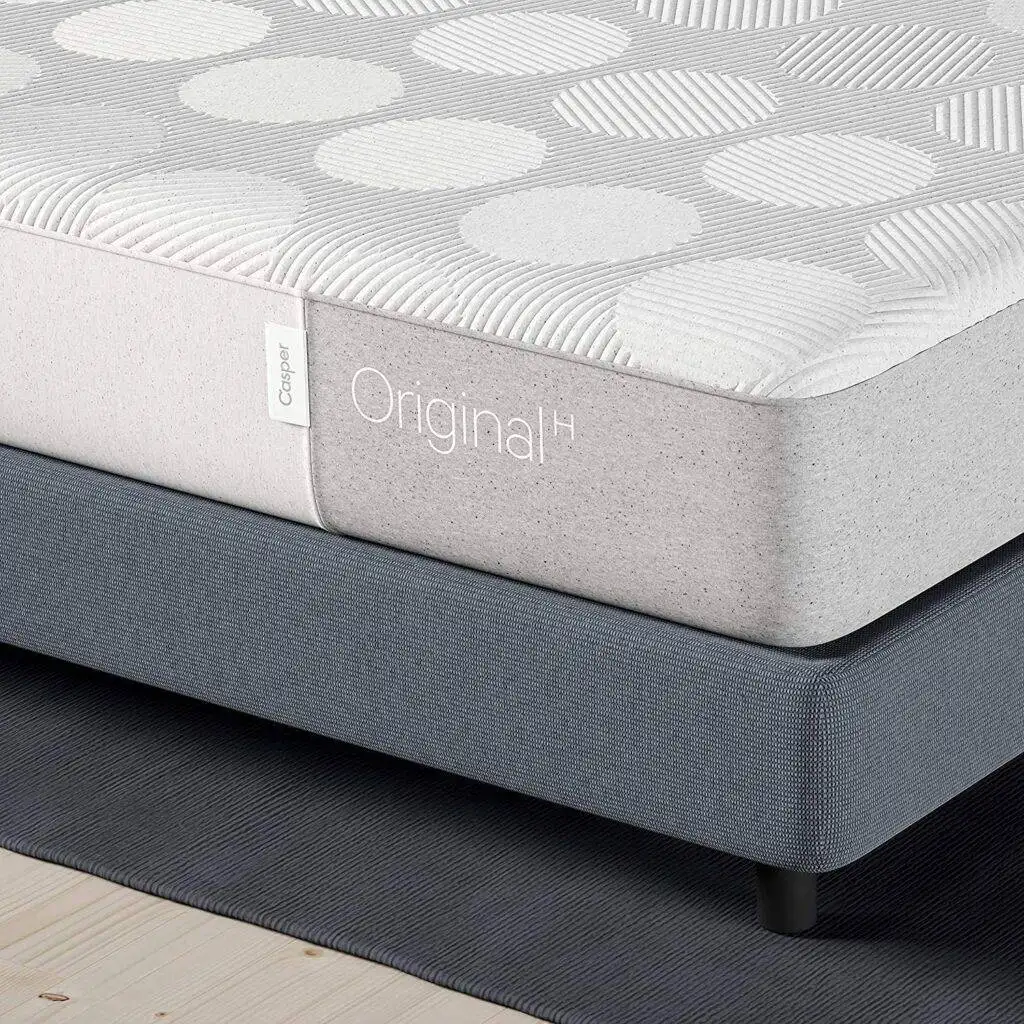 This Casper mattress provides fantastic comfort and ease of use. Platform beds suit it nicely. Some platform beds can withstand much body weight, but not all. That's where this mattress shines, as it's ideal for platform beds, even when the weight restriction is low.
But you've got lots of padding and support. Some types of mattresses have detachable covers, but not all. That makes it much simpler to clean and maintain.
Additional hybrid alternatives might work nicely on a platform bed frame rather than the Casper original. Anatomically designed zonal support helps with spinal alignment. The softer foam around the shoulders relieves strain on the upper torso. The firmer memory foam in the centre helps keep your spine straight as you sleep. Then the third zone is around your feet with softer foam.
Aside from the zonal support, the Casper mattress is currently one of the finest bargains available for its price range.
Leesa Studio Mattress
Warranty – 10 Yr Limited
Memory Foam
Medium Firm
Trial – 100 Night Free Trial
Free Shipping
Sizes – Twin, Twin XL, Full, Queen, King, California King
The Leesa Studio is a bargain-priced choice that is unexpectedly good-quality and has excellent support. It provides exceptional value for the money.
It is constructed from three distinct densities of foam, each providing a different level of comfort, support, and pressure relief. But at 10 inches, it may seem to be a little too low for certain people. Match it with the platform bed with extra height to suit your comfort.
Leesa memory foam mattresses are preferred by those readily disturbed from restful sleep due to motion transfer. It is a very inexpensive memory foam option.
Mattresses from Studio by Leesa are individually built for each client and delivered directly to their home.
Unlike most mattress manufacturers, Studio by Leesa is backed by a 10-year guarantee that is not prorated.
Tuft & Needle Mint Mattress
Warranty – 10 Yr Limited
PolyFoam
Medium-Firm
Trial – 100 Night Free Trial
Free Shipping
Sizes – Twin, Twin XL, Full, Queen, King, California King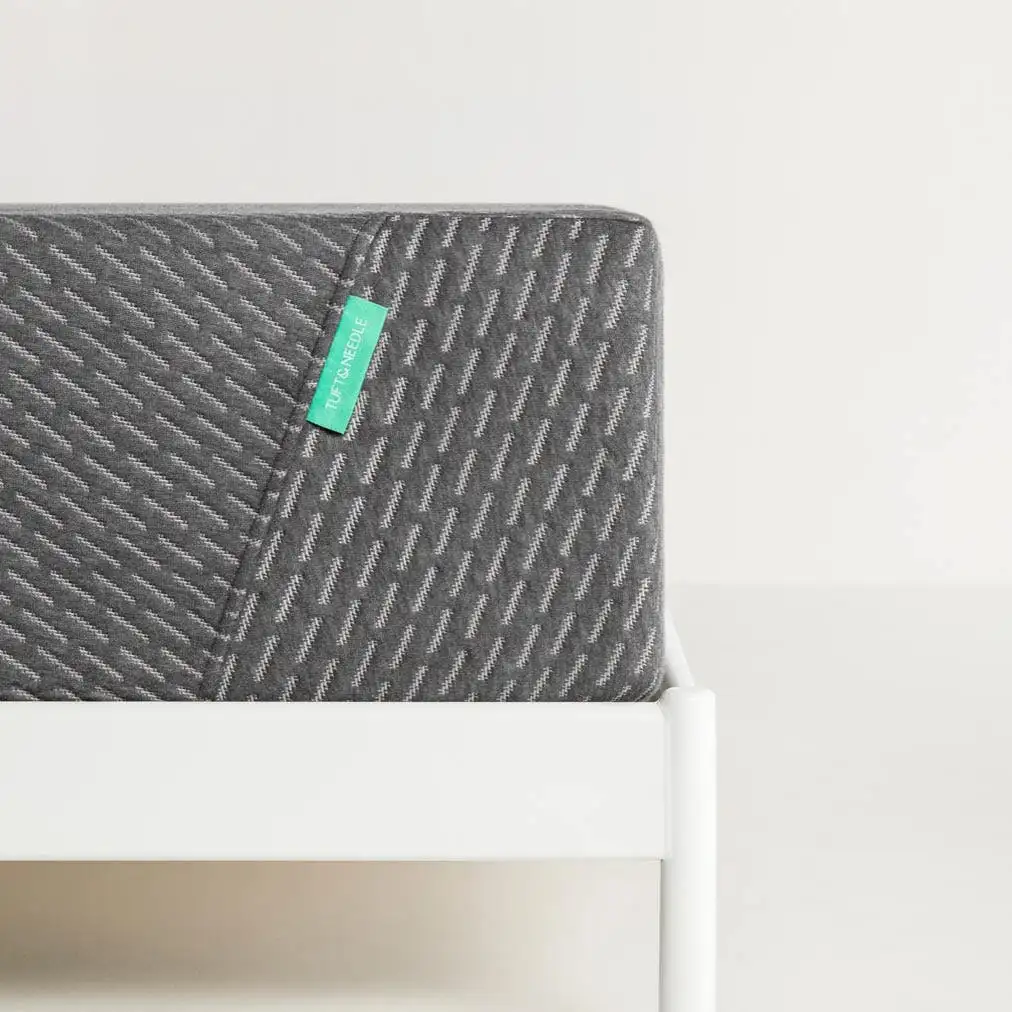 Despite their widespread appeal, some find all-foam mattresses excessively soft and sinky. Many critics complain that they sleep on their sides and backs, which lack support from a conventional all-foam design. But Tuft & Needle Mint is different. The medium-firm mattress conforms moderately, resulting in little sinkage for back sleepers weighing 230 pounds or less.
The Mint's comfort layer is made of adaptable polyfoam with graphite for natural cooling. Although similar to memory foam, polyfoam has greater give and won't hug the body as tightly. The second layer is a denser foam with cooling gel particles to absorb body heat. A high-density polyfoam foundation adds stability and firmness, while a breathable cover protects the whole mattress.
The Mint is reasonably priced for the materials and careful workmanship. It comes after an optional antimicrobial treatment that protects the mattress from germs and other dangerous organisms for a little additional fee.
Warranty – 25-Years
Gel Memory Foam
Medium-firm
Trial – 100 Night Free Trial
Free Shipping
Sizes – Twin, Twin XL, Full, Queen, King, California King, Spilt King
Finding the perfect mattress for your platform bed can significantly enhance sleep quality and comfort. One exceptional option to consider is the GhostBed Luxe. With its luxurious design, advanced cooling technology, and supportive construction, the GhostBed Luxe is an excellent choice for platform bed users.
The GhostBed Luxe is designed to provide the utmost comfort and support for a restful night's sleep. It features a multi-layer construction with a cooling cover, a comfort layer of Ghost Ice Fabric, and a combination of gel memory and latex foam. This combination offers excellent pressure relief, contouring your body shape while providing optimal support for your spine.
One standout feature of the GhostBed Luxe is its advanced cooling technology. The Ghost Ice Fabric cover is cool, promoting a refreshing sensation when lying down. The mattress also incorporates a proprietary cooling gel memory foam layer, which helps dissipate heat and regulate your body temperature throughout the night. If you tend to sleep hot, the GhostBed Luxe's cooling features will keep you comfortable and sweat-free.
Warranty – 10 Yr Limited
Gel-Infused Memory Foam
Firm
Trial – 100 Night Free Trial
Free Shipping
Sizes – Twin, Twin XL, Full, Queen, King, California King
The Perfect Sleeper Innerspring Mattress is specifically designed to offer exceptional support. It features Serta's advanced innerspring system, which consists of individually wrapped coils that respond independently to your body's movements. This targeted support helps alleviate pressure points and promotes proper spinal alignment, ensuring a comfortable and restful sleep.
The Perfect Sleeper Innerspring Mattress is compatible with platform beds. Platform beds typically provide a solid surface for the mattress to rest on, which complements the sturdy support of the innerspring system. Whether your platform bed has slats or a solid platform base, the Perfect Sleeper Innerspring Mattress will fit securely and provide consistent support.
However, the Perfect Sleeper Innerspring Mattress minimizes motion transfer due to its individually wrapped coil system. This means you can enjoy uninterrupted sleep even if your partner moves around during the night.
What type of mattress is best for platform beds?
The finest mattresses for platform beds are typically those made of memory foam, latex, or hybrid materials.
Do mattresses move on platform beds?
Many platform beds have non-slip fabric covering their slatted surfaces to keep the mattress from sliding over the platform's side. If your slats are not covered, you may need to investigate methods to keep a mattress from sliding.
What size mattress works with a platform bed?
Best platform bed mattresses are 12 to 14 inches thick. The thickness of a mattress depends on the number of layers, although it could be the material cut for cheaper mattresses.
Are all types of mattresses compatible with platform beds?
Platform beds are one of the most durable and cheap bed frames available. Solid, flat foundations or regularly spread slats make them a good choice for any mattress, including memory foam.
Can you use a regular mattress on a platform bed?
Platform beds support foam, latex, and memory foam. Platform beds can support innerspring mattresses, although box springs are preferred.
How do you raise a mattress on a platform bed?
A foundation will raise your mattress. You may pick how high or low to go with foundations because they come in high, low, and medium profiles. Four to nine inches is typical.