Wikirelax.org is supported by its readers. When you purchase through links on our site, we may earn an affiliate commission.
When deciding what style of mattress is ideal for you, it's understandable if you're feeling a little overwhelmed. One option is to go with a standard innerspring mattress. Another is to buy a memory foam or latex foam mattress.
But what if you could combine the advantages of both types of mattresses? A latex hybrid mattress may be the best option if you want to enjoy the comfort of latex and the support of hybrid mattress coils.
What is a Latex Hybrid Mattress?
A latex hybrid bed is a mattress that combines single or multiple latex foam layers as the top layer and a support coil system as the base or supportive layer. The top layer of latex foam should be at least 2 to 3 inches thick.
Difference Between Hybrid and Latex Mattresses
Hybrid Mattress-Pros
Better Sleep: The mattresses can help you sleep better due to superior motion isolation, thanks to many latex foam layers and a solid support coil system.
Body Contouring: The deeper foam layers of hybrid beds help unmatched body contouring depending on your body shape.
Hybrid Mattress Cons
Costly: These beds can be very expensive because they have several layers of latex foam and advanced technologies like gel infusion and custom support coils.
Heavy: Due to multiple latex foam layers and coil structures, hybrid latex mattresses can be heavier to carry around than regular latex mattresses, which is the downside.
Latex Mattress-Pros
Natural Materials: Since latex is sourced naturally, these products are eco-friendly and hypoallergenic.
Organic: The GOLS and GOTS certifications ensure that the latex materials are grown, harvested, and sourced without using these toxic chemicals.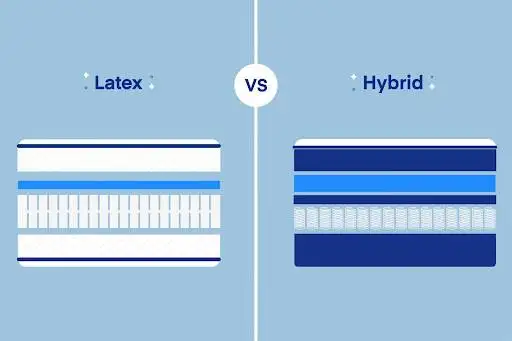 Durable: Latex beds are known to last for a long time, up to 12 years, if properly cared for and are value for money.
Latex Mattress-Cons
People prone to allergies may not find the mattress an ideal option and should avoid it. Instead, they may opt for synthetic alternatives.
Due to the naturally sourced process and organic nature, latex mattresses are expensive, so this might be a concerning factor.
7 Best Latex Hybrid Mattress for You
We looked at the 7 best latex hybrid queen mattresses with a strong focus on how they are built, how firm they are, how many layers they have, how much they cost, and if they come with a trial period. We have also looked at customer reviews to ensure our review is fair and that your decisions are easy.
We have reviewed Lucid, Amore, Nest Bedding, Naturepedic, GhostBed, Sleep EZ, and Nolah Natural mattresses. Let us glance at them and explore which ones are ideal for you.
Synopsis
| | | | | | |
| --- | --- | --- | --- | --- | --- |
| Latex Hybrid Mattress | MATERIALS | Height | Trial Nights | Warranty | Price |
| Naturepedic Serenade Organic Hybrid Mattress | Organic latex and pocket coils | 10″, | 100 | 25 yrs | 2799 |
| Happsy Organic Latex Hybrid | Organic cotton cover and fill | 10″ | 120 | 10 yrs | 1399 |
| Amore Latex | 3″Dunlop, 8″ Coils | 12.5″ – 120 lbs | 100 | 20 yrs | 1150 |
| Nolah Natural | 3″Talalay, 8″ Coils | 11″ | 120 | Lifetime | 1199 |
| GhostBed Natural | 2″Talalay, 1″ Dunlop, 8″ Coils | 12″ – | 101 | 25 yrs | 1397 |
| Nest Bedding Owl | 3″Dunlop + 1″Comfort Latex, 6″Coils | 12″ – 100 lbs | 365 | Lifetime | 1619 |
| Naturepedic EOS Classic | 3″ Organic Latex, 8″ Coils | 12″ | 90 | 20 yrs | 2999 |
The Serenade provides the finest in cozy, organic, healthy sleep. A smooth feel is provided by premium organic latex without using memory foam or polyurethane foam. Without using hazardous adhesives, these 8″ glueless-wrapped coils provide balanced support. Made from the healthiest and safest materials available. Wool, latex, and all organic materials are 100% GOTS-certified organic.
The mattress boasts a soft and breathable cover made from GOTS-certified organic cotton. This ensures that no harmful chemicals or pesticides are used during cotton cultivation. Additionally, the cover is quilted with organic wool, known for its moisture-wicking properties, temperature regulation, and natural flame resistance.
Beneath the organic cotton and wool cover, the Naturepedic Serenade features multiple layers of comfort. These layers may include organic latex foam, which offers exceptional pressure relief, elasticity, and breathability.
The Serenade Organic Hybrid Mattress incorporates a premium pocketed coil support system. These coils are individually encased in fabric pockets, allowing them to respond independently to the body's movements and provide targeted support. The coil system promotes proper spinal alignment, reduces motion transfer, and enhances comfort and durability.
The Happsy Organic Latex Hybrid mattress is a premium sleep solution that combines the finest organic materials with innovative design to provide a truly rejuvenating and eco-friendly sleep experience. Crafted with meticulous attention to detail, this mattress offers a harmonious blend of comfort, support, and sustainability.
The Happsy Organic Latex Hybrid mattress is thoughtfully constructed using high-quality organic materials. It creates a gentle and soothing surface that enhances overall comfort.
Happsy incorporates a pocketed coil support system in the mattress. Each coil is individually wrapped in fabric pockets, allowing them to move independently. This design offers optimal support and minimizes motion transfer, ensuring you and your sleep partner can rest undisturbed throughout the night.
Amore Latex Hybrid Mattress
This hybrid latex mattress is 12.5 inches thick and has layers of high-quality foam for soft support. This 100% original Dunlop latex mattress is soft and springy but still has a good level of firmness.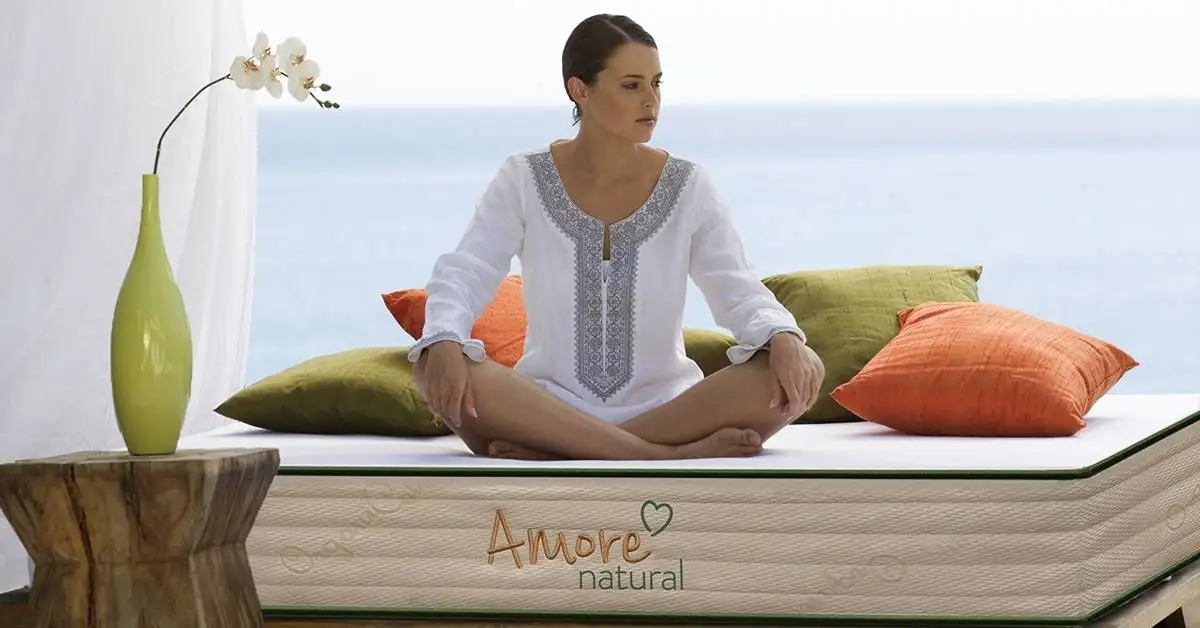 It has a 1″ thermo-regulated wool batt and a GOLS-certified organic cotton cover. For an extra $60, users can choose a fabric with copper ions with the best cooling and anti-microbial properties. The mattress is also equipped with 3″ Dunlop latex, a 2″ polyfoam layer, FusionFlex technology, and sturdy 8″ pocketed coils for superior base support. It also has an extra 1″ of high-density foam added to the base for enhanced support.
Nolah Natural
The 11″ latex hybrid mattress has advanced AirFoam technology and superior Talalay latex for unmatched comfort.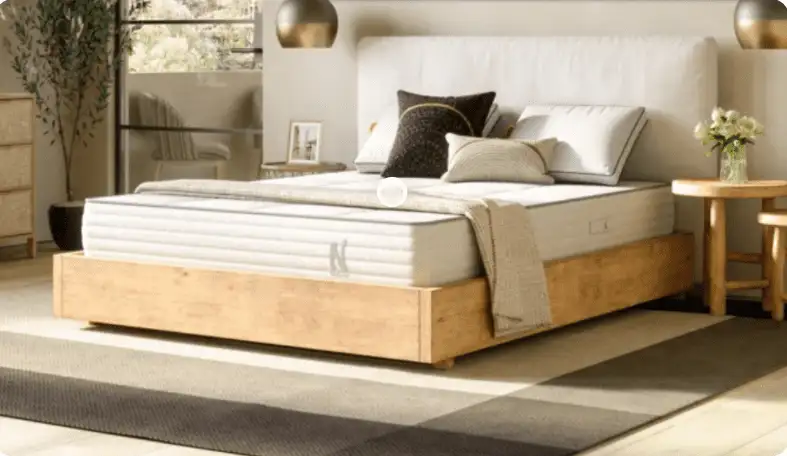 The mattress comes with organic cotton and Joma wool cover, 3 inches of Talalay latex comfort layers, and an 8-inch encased HD Max Tri-Zone support system for superior support. It provides more therapeutic support, relieves pressure, and cools the best for a mattress in this price range.
The 14″ flippable mattress cover is made of cotton and Joma wool with a dual comfort layer, 3″ natural latex, 2″ Dunlop latex, and 8″ individually responsive pocketed coils. You can flip the mattress on either side for a plush or firm feel, and the wire coils are heat-treated and stress-relieving.
GhostBed Natural
GhostBed Natural comprises two distinct natural latex types: the Talalay and Dunlop. The organic cotton cover of the Ghostbed Natural mattress is super-soft and has a luxurious feel to it.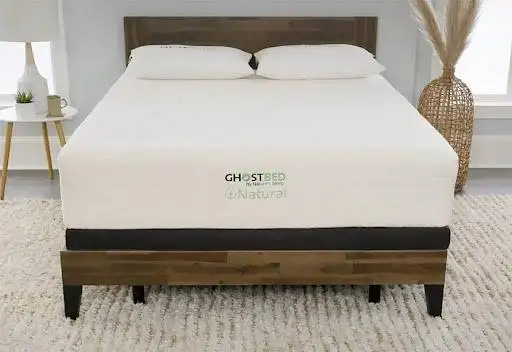 The mattress has a 1.8″ organic cotton and woolen batting cover, 2 inches of Talalay latex, 1 inch of Dunlop latex, and 8″ of pocketed coils for enhanced support. The mattress offers quite a bit of pressure relief, softness, and better comfort levels simultaneously.
Nest Bedding Owl
Nest Bedding Owl is an eco-friendly 12″ hybrid latex mattress with five plush and comfortable layers. The mattress's fire barrier is made of hydrogenated silica.
It has 1.5″ Eco-Flex quilted organic cotton and a Joma wool cover for bounciness.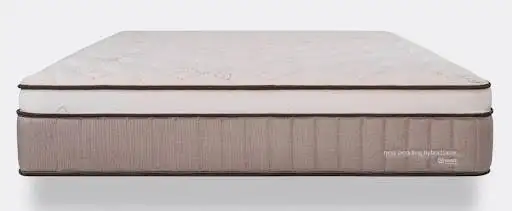 The mattress is OKEO-TEX certified. It is made of GOLS standard Dunlop latex with a 1″ comfort latex foam layer and 6″ of reinforced caliber pocketed coils, making it durable and comfortable. An additional 1″ of support foam at the base may offer better support and a firmer level than the standard bed.
Naturepedic EOS Classic Mattress
The Naturepedic EOS mattress claims to be a budget-friendly hybrid mattress with 5 different firmness levels. The mattress is equipped with a 1″ organic cotton cover.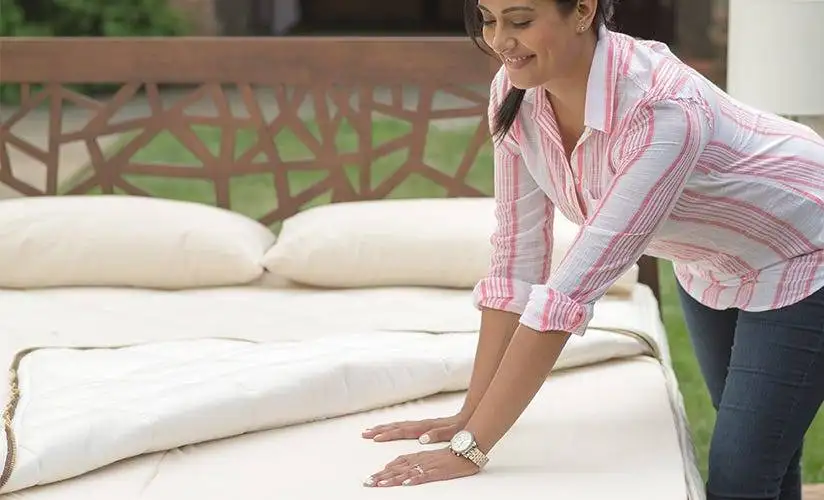 This hybrid mattress has an extra layer of PLA for comfort, a 3″ layer of organic latex, and an 8″ layer of pocketed coils at the base for more support. It aims at wicking moisture away, offering better breathability and superior pressure relief. It has a nice, bouncy feel, and the 12″ mattress is decent at dampening motions across the surface.
Cover
Naturepedic Serenade Organic Hybrid Mattress: The mattress has a GOTS-certified organic cotton cover that is comfortable and breathable. As a result, there is no risk of dangerous chemicals or pesticides being employed during cotton production.
Happsy Organic Latex Hybrid: The Happsy Organic Latex Hybrid mattress is known for its construction commitment to using organic and sustainable materials.
Organic cotton is grown without synthetic pesticides, herbicides, or genetically modified organisms (GMOs). This ensures that your sleep surface is free from harmful chemicals and toxins.
Amore: The Amore latex hybrid mattress cover comes with 1″ of thermo-regulated organic wool batting that is naturally fire-resistant. For an extra $60, you can use copper-ion-infused fabric in the cover that enhances the anti-microbial and cooling properties. The GOLS-certified organic cotton infused is soft, breathable, and hypoallergenic.
Nolah Natural: A Global Organic Textile Standard certified mattress cover made of organic cotton that is durable enough, has cooling properties, and is extremely luxurious and soft to feel or touch.
Users can sleep comfortably on the mattress's soft GOTS-certified organic wool fibre layer, which offers good breathability.
GhostBed Natural: The topmost mattress layer comes with breathable 1.8 inches of organic wool. The breathable cover is GOTS (Global Organic Textile Standard), and USDA-certified.
It is also certified by Control Union Certifications, GOLS (Global Organic Latex Standard), and OKEO-TEX certified for using all-natural elements.
Nest Bedding Owl: The Nest Bedding Owl Latex Hybrid Mattress Cover is natural and organic cotton incorporated with Joma wool. The 1.5-inch Eco-Flex Quilted Foam is also present in the cover, adding to the mattress's plushness.
The mattress's hydrogenated silica fire-barrier cover adds better value to the mattress.
Naturepedic EOS Classic Hybrid: The 12-inch mattress has a 1″ organic cotton cover and a PLA layer for softness and comfort. The cover is zippable and wicks moisture well. The woollen batting acts as a good fire retardant.
Comfort Layers
Naturepedic Serenade Organic Hybrid Mattress: The Naturepedic Serenade has numerous comfort layers below the organic cotton and wool cover. One of these layers might be organic latex foam, which provides outstanding pressure relief, flexibility, and breathability.
The specific configuration may vary based on the desired firmness level, as the mattress is available in different options to cater to individual preferences.
Happsy Organic Latex Hybrid: The comfort layer of the Happsy Organic Latex Hybrid mattress consists of a generous amount of natural latex foam. This material is derived from the sap of rubber trees and is known for its luxurious feel and exceptional comfort.
Natural latex foam is responsive, which adapts and contours to your body's shape, providing targeted support to different pressure points.
The natural latex foam in the comfort layer of the Happsy mattress offers excellent pressure relief. It gently cushions your body, evenly distributing your weight and reducing the strain on pressure points such as the shoulders, hips, and lower back.
Amore: The comfort layer of the Amore latex hybrid mattress is made of 100% natural 3″ Dunlop latex with built-in scientific aeration and is soft with ample bounce. It dissipates body heat, thereby letting you sleep cool.
Next comes the 2″ polyfoam that helps you transition from latex into the support coils. The proprietary FusionFlex technology in the polyfoam wicks away moisture and comes with brilliant contouring properties.
The final breathable 1″ foam base is high-density and solidly supports the mattress structure.
Nolah Natural: The mattress's 2″ Talalay latex comfort layer ensures optimal comfortability for various pressure points and joints. It has 33% more capacity than conventional latex.
The 1″ Talalay latex transition layer is an excellent example of how well it is made to give the whole body deep, therapeutic support.
GhostBed Natural: The mattress comes with 2 inches of Talalay latex and 1 inch of Dunlop latex for optimum comfort, breathability, support, and firmness at the same time.
It is very responsive and helps with pressure point relief; it is primarily considered one of the best latex mattresses for back sleepers. The mattress is available in two distinct variations: firm and medium.
Nest Bedding Owl: The comfort layer of the mattress is made of 3″ Dunlop latex that is OKEO-TEX certified and has cooling properties. Next comes the transition layer of 1″ US-CertiPUR-certified comfort latex foam between the latex and the pocketed coils for comfort.
Naturepedic EOS Classic Hybrid: The mattress comes with 3″ organic latex sourced naturally and free from harmful toxins. The comfort layer is nicely sealed with the cotton cover.
The latex used here is hypoallergenic and can easily last long. Better breathability, plushness, firmness, and cooling are some of the enhanced properties of the mattress.
Base Layers
Naturepedic Serenade Organic Hybrid Mattress: Combining the innerspring system, PLA comfort layer, organic latex layer, organic wool batting, and organic cotton cover provides a luxurious feel while prioritizing sustainability and organic materials.
Happsy Organic Latex Hybrid: The pocketed coil support system offers targeted support, while the organic latex layer provides pressure relief and responsiveness. The organic wool batting acts as a natural flame barrier and enhances temperature regulation, while the organic cotton encasement offers a soft and breathable surface.
Amore: The 8″ pocketed tempered, dual-density steel coils in the Amore latex hybrid mattress offer plenty of bounce and natural airflow inside the bed. Tempered steel is 26% more durable than tungsten or other metal coils.
Nolah Natural: The proprietary Nolah's 8″ HDMax Tri-Zone supportive coils offer excellent support and strength. The mattress provides better support and comfort with triple support zones and 25% more support coils than most hybrid mattresses.
GhostBed Natural: The 8-inch pocketed steel coil strengthens the base, offers a premium supportive feel with reduced motion spread, and is a highly responsive surface.
Nest Bedding Owl: The 6″ edge support reinforced pocketed coils offer precise support for the spine's proper alignment and a suitable sleeping position. The 1-inch base foam acts as a solid foundation for the bed.
Naturepedic EOS Classic Hybrid: The mattress comes with 8″ of encased and pocketed support coils made of stainless steel. The coils offer edge-to-edge perimeter support and prevent sinkage.
The durable support coils make the bed ideal for proper spine alignment and do not make weird noises as they age.
Trial & Warranty
Naturepedic Serenade Organic Hybrid Mattress: The Naturepedic Serenade Organic Hybrid Mattress has a 100-night sleep trial and a 30-day break-in period. It has a 25-year limited warranty.
Happsy Organic Latex Hybrid: This mattress offers a 120-night trial period and a 10-year limited warranty.
Amore: The Amore latex hybrid mattress offers a splendid 100-night trial with a minimum 30-day break-in period. The latex hybrid mattress has a whopping 20-year warranty, ideal for any user.
Nolah Natural: The mattress has a 120-night sleep trial, a 30-day minimum break-in period, and an impressive lifetime warranty.
GhostBed Natural: Ghostbed Natural has a 101-night trial and a 25-year warranty. However, after the first 10 years, you may need to shave off a prorated charge of 50% of the mattress value.
Nest Bedding Owl: This mattress has a 365-night trial and a 10-year limited warranty. However, you can enlist in their 25-year Comfort Life program for added perks.
Naturepedic EOS Classic: The mattress has a 90-night sleep trial and a 20-year warranty, but you may have to bear some upfront costs when replacing it.
Top 3 Best Value Latex Mattresses
Happsy Organic Latex Hybrid: Happsy Organic Latex Hybrid mattress is competitively priced compared to other organic and latex hybrid mattresses. It offers a more affordable option for those seeking a healthier sleep environment without compromising quality or comfort.
Amore Latex Hybrid: Amore ranks second with a budget-friendly price, original Dunlop latex, added polyfoam layer, and an excellent 100-night trial program.
Nolah Natural Latex Hybrid: Nolah indeed scores the third position with a budget of under $1200, including Talalay latex, Dunlop latex, and durable pocketed coils. The mattress may be considered one of the best latex mattresses for stomach sleepers.
FAQs
What is a latex hybrid?
A latex hybrid mattress has a latex foam top and a coil support system. Dunlop and Talalay latex are two types of natural latex derived from rubber tree sap used in a natural latex hybrid mattress.
Is a latex hybrid mattress good for side sleepers?
If the latex is slightly softer and less firm, it is ideal for side sleepers. A firmness rating of 5 on a 10-point scale will accommodate the majority of side sleepers.
Are hybrid mattresses healthy?
People who sleep on their backs or stomachs will benefit from medium-firm hybrid mattresses. Hybrid mattresses provide superior body support and are more durable due to the coils' capacity to support more weight. Besides, they are better for edge support with lower gauge perimeter coils.
What are the benefits of latex mattresses?
Latex mattresses are one of the most durable types available. They lack the sink-in sensation associated with memory mattresses and do not sleep hot like memory foam. It is regarded as the ideal material for mattresses.