What is Memory Gel? Does gel memory foam work?
Cooling mattresses are great for regulating body temperature while sleeping. All mattress layers may help regulate temperature. Temperature-regulating cover materials and infusions in memory foam may absorb body heat.
The main reason for the popularity of Memory foam is motion isolation, and the main problem is its sleeping hot. It sleeps hot due to its property of retaining body heat.
So companies came up with the innovation of cooling gel memory foam.
Cooling gel memory foam has tiny gel particles or beads injected into it or layered on top. There are two types of the gel used
Thermal Gel – This is cold to touch. This is the one injected in the foam.
Phase-Changing Gel – It changes to liquid form when the mattress temperature increases. This is layered on top of the foam sheet.
Both gels are intended to wick away heat from the sleeper, resulting in a cooler surface.
The similar cooling beads are also incorporated into latex and polyfoam. However, its most common use is in memory foam due to the heat retention property of this foam.
Is Gel Memory Foam Effective?
The response varies from mattress to mattress. In some mattresses, it is effective, but in others, it isn't.
Interestingly
In a foam mattress, it is usually not so effective.
In hybrid and innerspring versions, it is rather effective.
The reason is also that coils or individually wrapped inner springs improve airflow, so the problem of heat retention is less.
Besides models in which gel is layered on top are found to be cooler. For example, Bear Mattress is infused with graphite gel. The reason is that when a person lies down on a bed to sleep, the gel layer feels cooler. So the initial experience is good and such consumers who are not very sensitive to sleeping hot feel satisfied.
It's also worth noting that gel memory foam degrades over time and loses part of its cooling qualities.
Despite this, some consumers say their gel memory foam mattresses keep them cool. Everyone's experience on a bed will be unique.
Related Readings

Looking for The Best Hybrid Mattresses in 2021? A Healthy Need!
Best Treadmill under $1000: Foldable and Perfect for Home
7 Best Seller Hemp Protein Powders: Is it so Nutrient Dense?
Now the gel memory foam mattress is also available in newer avatars. There are various types of gel memory foam mattresses available now. For example,
Copper-infused memory gel – Copper is extremely conductive, helping to disperse body heat and offer a cool and comfortable memory foam mattress. The Healthy Bed Store mattresses are copper gel infused.
Graphite infused – Graphite has long been used to eliminate high heat temperatures. Several high-end applications use graphite thermal paste and pads to transmit heat effectively. Amore Beds is an example of graphite infused gel memory foam mattress.
Charcoal induced – Bamboo charcoal is wonderful for removing smells, absorbing moisture, regulating temperature, and is hypoallergenic. Lucid mattress is charcoal infused gel memory foam mattress.
Sleep Trials – How cool gel memory foam sleeps?
Almost all mattress manufacturers provide risk-free sleep trials so that you may try the mattress at home. You may return your mattress for a full refund if it doesn't work out. These sleep studies may last from 90 to 365 days. If not satisfied you can return the mattress and get a full refund.
These are not taken back within 30 days of purchase as it is expected that you will sleep on these at least for a month before making a decision.
But read all the instructions very carefully at the time of buying the mattress as each company has a different set of rules for taking back the mattress.
Some will give a full refund. Others will deduct 10%. Still, others will deduct transportation charges. Then there are also companies who will take back the mattress only if you have the original packing still with you. You have to be careful about keeping the mattress clean also.
In any case, the best option, irrespective of whether it is a gel mattress or not, is to go for a hybrid or even a high-end innerspring mattress. The metal coils allow for more ventilation and airflow which helps disperse heat. You cannot go wrong with that.
The Best Gel Memory Foam Mattresses
We have not included foam mattresses as these have the biggest problem of sleeping hot. Nor have we included latex mattresses as sleeping hot is not a major issue on latex mattresses.
The issue is mainly concerning memory foam mattresses which on one hand have very good property of motion isolation but getting a hot sleep on them is a big concern.
So we have taken into consideration only memory hybrid mattresses.
Layla Hybrid Mattress – Copper Gel Infused
120 Night trial with money back guarantee.
Warranty – 10 Years
Layla Hybrid Mattress is one of the best mattresses that I have come across. A flippable hybrid mattress with copper gel-infused memory foam. Being hybrid it is more ventilated and lets the air pass through keeping you cool. As it is flippable, it is soft on one side and firm on the other.
Not that you keep flipping the mattress every other day, still the option is there. Then it has zoned support providing targetted relief to shoulders and hip.
The soft side of the hybrid's comfort layer is 2.5 inches of copper-infused memory foam. With a cooling copper infusion that absorbs and distributes body heat, Layla has addressed the issue of memory foam overheating at night.
LUCID Hybrid Mattress – Bamboo Charcoal & Aloe Vera
100 Nights Risk Free Trial
Warranty – 10 Years
The 12" mattress has three foam layers and pocketed support coils. It has 2.5″ bamboo charcoal and aloe vera-infused memory foam and offers excellent pressure relief and body shaping. It is a much breathable mattress. For heat dissipation and ventilation, the top memory foam is impregnated with bamboo charcoal, and the motion isolating springs encourage airflow throughout the mattress.
The top layer of memory foam is blended with aloe vera, which has anti-inflammatory and relaxation qualities. A soothing layer of bamboo charcoal and aloe vera helps disperse heat well.
Amore Hybrid Mattress – Graphite Infused Memory Foam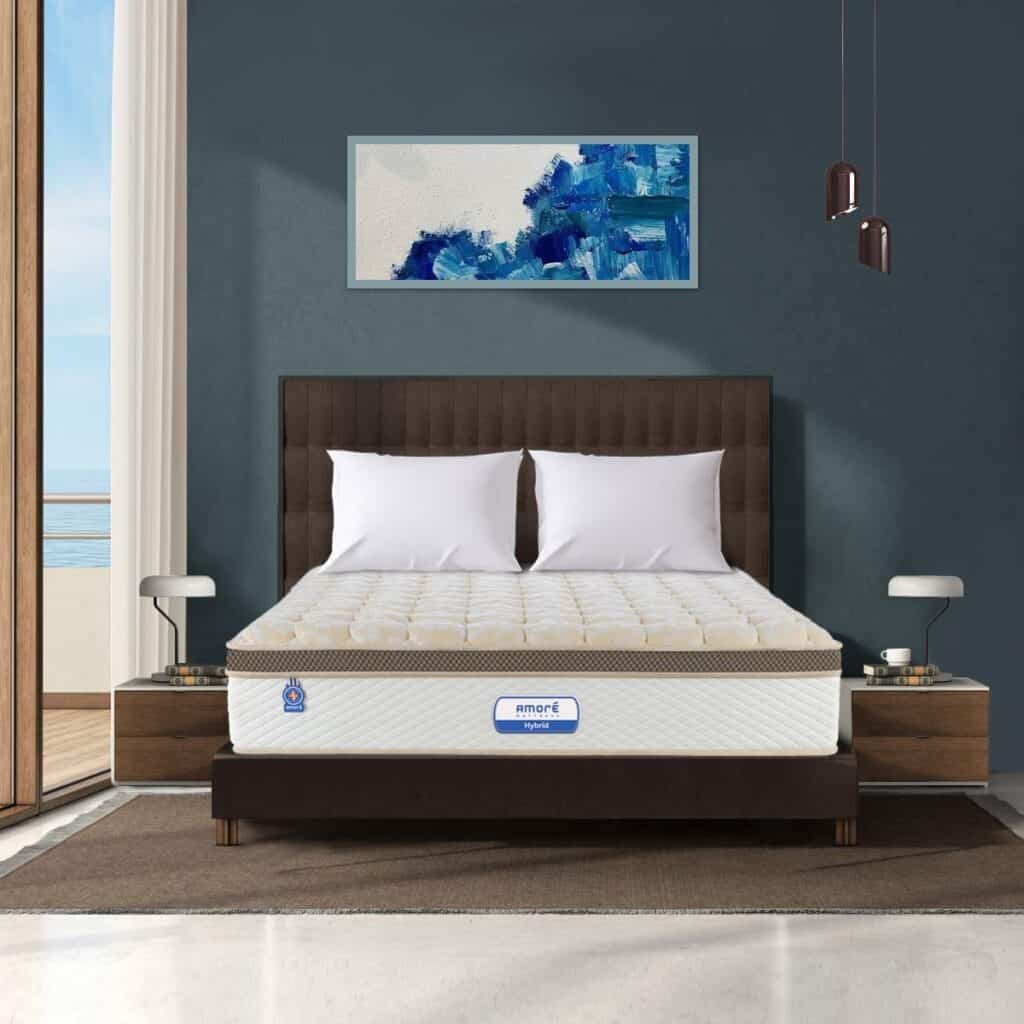 100 night risk-free trial
The Amore Hybrid mattress has high-density foam and a pocket coil support system. It comes in three levels of firmness and is 12″ thick.
One may choose between organic cotton or copper ion infused bamboo fabric, which is anti-microbial and keeps you cooler. 2-inch graphite-infused memory foam with an open-cell structure naturally diffuses heat. It also contours the body.
A breathable transitional foam layer is there to help disperse heat. The thickness of this layer varies depending on the firmness level. Above the pocket coil matrix is a layer of high-density open-cell foam. The individually wrapped pocket coils softly adapt to your sleeping position and the high-density foam provides structure and durability.
Cocoon by Sealy – With Phase Change Material
100 Nights Risk Free Trial
Warranty – 10 Years
Cooling Mattress Cover by Cocoons has Sealy's phase change material(PCM) on it. Heat is absorbed and dispersed by Sealy's PCM in the mattress cover. This cover keeps the Cocoon Chill mattress cold to the touch.
Although several mattress manufacturers promise to employ cooling technology to keep the bed cool, none of them seems as successful.
Cocoon Chill's Phase Change Material keeps you cool as you sleep. Unlike other memory foam mattresses, the Cocoon Chill cover contains a cooling chemical. The cooling effect is still there after a long time of use.
Nest Bedding – Phase Change Cover
100 Nights Sleep Trial
Warranty – Lifetime Limited
The Nest Alexander Hybrid is an excellent cooling mattress. It also features a cooling cover and perforated foam for better ventilation.
The encased mattress with Thermic Phase Change fabric which is cool to the touch is designed to keep you cool while you sleep.
A 1-inch layer of 4 PCF memory foam is stitched into the cover to provide plushness. This high-density memory foam conforms to the body and relieves pressure gently. Cooling the surface with a gel infusion helps wick away heat.
DreamCloud Queen Mattress – Gel Memory Foam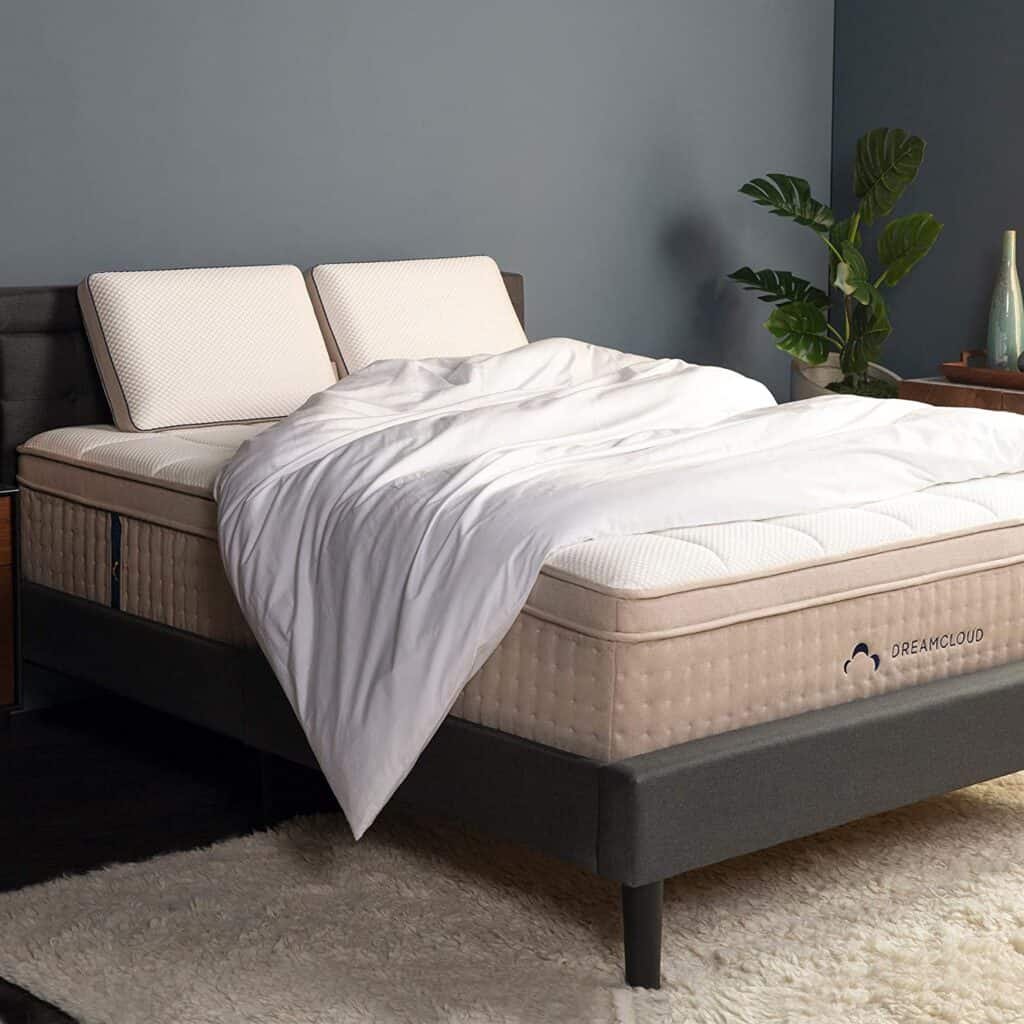 180 Nights Trial
Warranty – Lifetime Limited
DreamCloud is a premium hybrid mattress that is intended to accommodate all types of sleepers.
Stay cool throughout the night with gel-infused memory foam, which serves a dual purpose by providing you with unmatched heat distribution as well as support that conforms precisely to your body.
For those who sleep on their side, back or stomach, it is designed to provide an ideal combination of contouring comfort and pushback support.
Nolah Evolution Hybrid – Multiple Technologies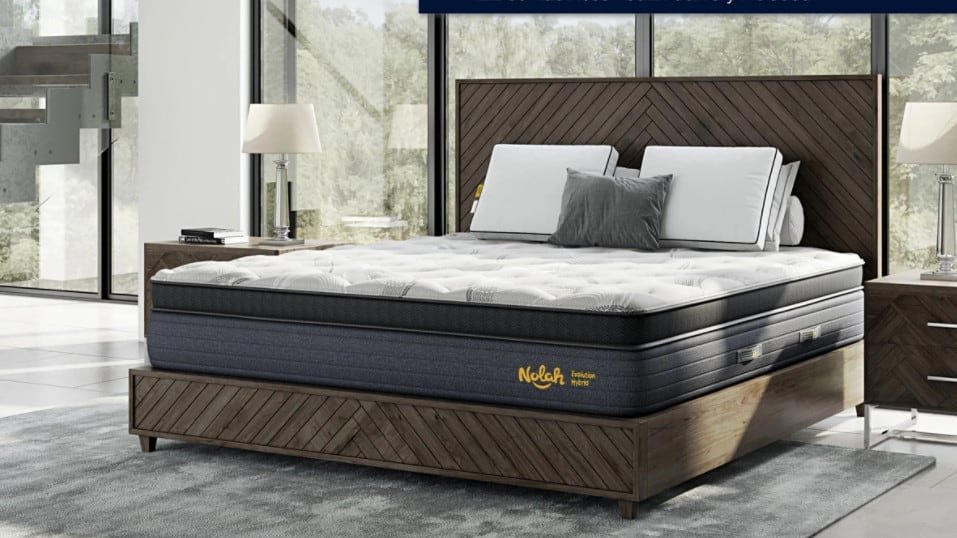 120 Nights Trial
Warranty – Lifetime Limited
The Nolah Evolution Hybrid is a durable luxury mattress with sophisticated cooling characteristics. The ArcticTexTM cool-touch cover is pleasant to the touch and keeps you cool all night.
An HTCTM (High Thermal Conductivity) Euro topper pulls heat away from the body with 2″ of cooling foam. The Nolah Evolution's HTCTM Euro topping and ArcticTexTM Cover work together to keep you cool.
The Nolah Evolution's 2″ AirBreathTM border gusset allows heat to escape rather than build up within the mattress, increasing airflow and cooling.
Its 2″ thickness pulls heat away from the body quicker. The graphite-infused foam promotes cooling while providing better pressure relief and comfort. The Nolah Evolution's sophisticated cooling features assist in dispersing heat.