Wikirelax.org is supported by its readers. When you purchase through links on our site, we may earn an affiliate commission.
Are you fond of the foam mattress with the addition of some bounce? If so, the bed-in-a-box Leesa mattress may suit your needs. The Leesa brand, established in 2015, has a range of mattress thicknesses, price points, and sizes.
We discuss here the four leading mattresses available from the Leesa line. –
Leesa Original Mattress
Leesa Legend Mattress
Studio By Leesa
Leesa Sapira hybrid mattress
Let us take a detailed look at each one of these mattresses:
Leesa Mattress Original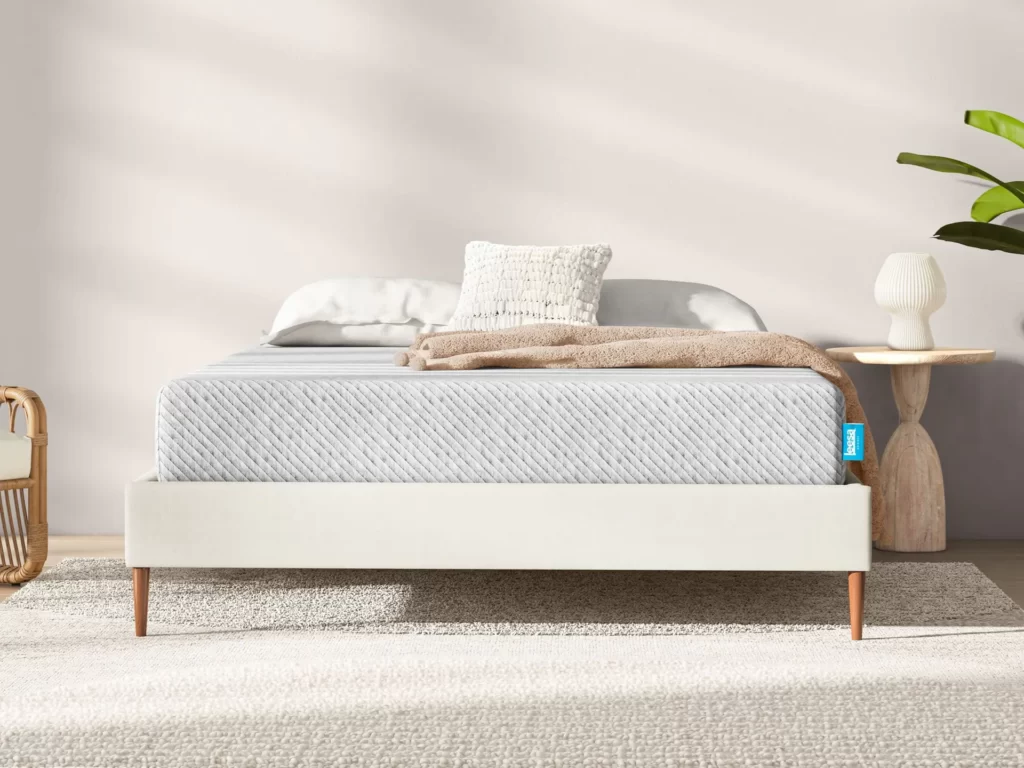 The Leesa original mattress is the most affordable in the Leesa brand. The performance of this mattress wins over a wide range of different sleeping positions and body weights. Its great performance is a comfort system of 4-inch thickness, consisting of two distinct foam layers. These two layers work together to provide a medium-firm feel that strikes a balance between how responsive the mattress is and how it molds to your body. 
Ideal for:
Couples who are looking for good motion isolation to avoid sleep disruptions.
Side sleepers who need extra cushioning
Because this mattress may be ideal for back and combination sleepers because it does not restrict movement.
Considerations
Temperature: This mattress is not a cool sleeping bed. Sleeping at a moderate temperature should be fine, as it is a temperature-neutral mattress. 
Edge support: Edge support should be considered if you sleep with a partner who occupies more space on the bed. As this mattress compresses around the edge, it may cause an issue.
Firmness: This mattress offers only one firmness option: medium. If you want more options, look elsewhere.
Size and cost: The Leesa original mattress is averagely priced and offers 6 standard mattress sizes: Twin, Twin XL, full, queen, king, and California king.
Trial and warranty: You get a 10-year warranty, a 100-night sleep trial, and free shipping with Leesa.
You may not like Leesa's original mattress if-
You are looking for edge support and prefer sleeping on your stomach. This mattress has no edge support and a longer off-gassing period.
Leesa Legend Mattress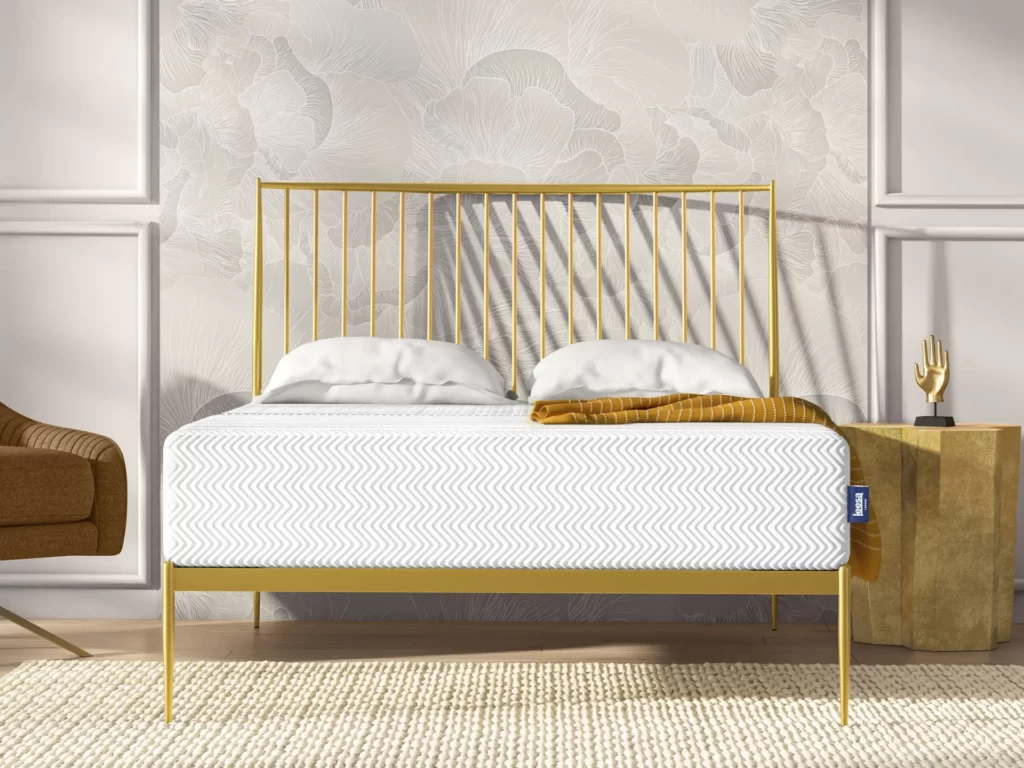 The Leesa Legend mattress is known for its dual-coiled construction and soft comfort. It best suits people looking for extra support, accountability, and comfort.
Cover: Organic cotton, merino wool, and recycled water bottles. This mixture is hypoallergenic and light.
Hole-punched poly foam provides comfort. Its responsive foam provides bounce and mobility. Aeration improves breathability.
Next is memory foam. This layer relieves pressure and contours. Side sleepers with shoulder pain can sink deep into the bed.
Micro-coils at the head and foot and poly foam in the middle support the Legend. Polyfoam keeps hips elevated to maintain spinal alignment while sleeping on your back or side. Micro-pocket spring coils add bounce and mobility.
Below the Zoned Support layer is firmer poly foam. This layer transitions to firmer layers.
The mattress's pocketed coils give it a bouncy, mobile feel. The Legend's independent coils isolate motion better than conventional coils. Couples, rejoice!
Base-layer support foam. This layer supports and stabilizes the coils.
Ideal for:
Back and stomach sleepers weighing more than 230 pounds
People who are heavier and need more support.
Medium-sized people with back pain who require proper spine alignment
Considerations:
Motion Isolation: This mattress does a good job of isolating motion. Foam hybrid mattresses and foam mattresses are better at motion isolation.
Temperature: This mattress is good at temperature regulation and prevents you from overheating. But it has no special materials or technology to cool you down. Overall, this is a temperature-neutral mattress.
Edge support: The Leesa Legend mattress is good for couples who share as the edges are supportive and sturdy.
Size and cost: The Leesa Legend mattress is not for people with a tight budget, but once you see the value of the soft comfort and fluffy dual-coil layer mattress, you will not mind the price. It is available in 5 sizes- Twin XL, Full, Queen, King, and California King. This mattress is not available in twin size.
Warranty and Trial: The company offers a 100-night risk-free trial with a 10-year warranty and free shipping on this mattress.
You may not like the Leesa Legend mattress if
You weigh less than 150 pounds and do not need additional support.
Studio by Leesa
This mattress is an all-foam mattress that comprises 3 layers of 10-inch thickness, namely core support foam, transition foam, and memory foam.
The core support foam is the foundation of this mattress.
The transition foam serves as a buffer between the comfort and base layers.
The memory foam layer is the comfort layer of the mattress.
The studio mattress has medium firmness and is quite comfortable.
Ideal for:
All sleeping positions, as this mattress offers pressure relief for shoulders and hips for side sleepers and still provides good support for stomach and back sleepers.
Considerations:
Motion isolation: The studio mattress has good motion isolation and does not cause any issues for couples
Edge support: The edge support of the studio mattress is not that great. It is great for couples who share a smaller size mattress
Sizing and price: The studio mattress comes at an affordable price, which is attractive. It has a hospitable feel, which makes it a good investment. It is available in six sizes: Twin, Twin XL, Full, Queen, King, and California king. 
Warranty and Trial: This mattress has a 100-night trial period that allows you to test it for over 3 months and decide whether to keep it. The 10-year warranty period covers any defects and flaws.
You may not like the studio mattress if you
Are you looking for an extra soft or firm bed? It is not recommended for heavy people. If you can spend a little more, you can find better options.
Leesa Sapira Hybrid Mattress
The Leesa hybrid weighs around 115 pounds and has an 11-inch thickness for a queen size.
It has five layers, namely: the base layer, coil layer, support foam, memory foam, and premium foam.
The base layer sets the foundation.
The second layer is the coil layer, making this mattress more supportive, responsive, and durable.
The support foam follows it
The memory foam for pressure relief.
The top layer is aerated premium foam, a more neutral foam.
This mattress is ideal for
Stomach and back sleepers as it provides plenty of support and has the medium firmness necessary for them. It also works for side sleepers due to its medium-firmness.
Considerations:
Edge Support: It has excellent edge support. The best thing about the Leesa hybrid is that it can hold its shape alongside the perimeter.
Motion isolation: The Leesa hybrid has a fairly good isolation motion but is not very good for light sleepers.
Sizing and Price: The Leesa hybrid has 6 sizes: twin, twin XL, full, queen, king, and California king. The price is high as it is a nice mattress.
Warranty and Trial: This mattress has a 10-year limited warranty covering any defects or physical flaws. It also gives you 100 nights to determine the right mattress. 
You may not like the Leesa hybrid mattress
If you prefer a slow-moving feel. If you are looking for an affordable mattress, then this mattress does not suit your requirements.
Conclusion
All the above-mentioned Leesa mattresses offer a versatile feel and feature great qualities that have made customers from most of Leesa's sales happy.