Wikirelax.org is supported by its readers. When you purchase through links on our site, we may earn an affiliate commission.
An air mattress can be a cheap option when travelling, staying in a guest room, or sleeping on the floor briefly. But depending on your weight, you might want to look for heavy duty air mattresses up to 1000 pounds, so you'll have ample support.
Heavy people prefer extra-cushioned mattresses for hip and abdominal support. A thicker and firmer air mattress makes getting out of bed easier and balances the body's needs. Though a 1000 lb air mattress is rarely needed, several thick mattresses are available to support a specific weight. An air mattress with a high weight capacity supporting a slightly heavier load than your body weight is always better for comfort and relaxation. It is not only good for the mattress but also for your health as it will keep sinking in if you are heavier than the mattress, thus giving you backache and other related problems.
This article reviews the best heavy-duty air mattresses.
Heavy Duty Air Mattresses
Here are 11 air mattresses that can carry high weights to ensure you get a good night's sleep no matter your weight.
Aerobed Durable Twin Airbed
The Aerobed Durable Twin Airbed Inflatable Portable Air Mattress has an auto-shut built-in pump, a headboard, and a USB Charging Port in Grey. It has a unique design makes it easy to inflate, deflate, and store. It is perfect for temporary guests or overnight visits without room in your bed.
The AeroBed comes with its own pump and is made with durable materials to last a long time.
The built-in auto-stop pump on the twin-size air mattress lets it fill up quickly, and the attached headboard makes it even more comfortable. The second Comfort Lock pump works silently all night to keep the mattress firm.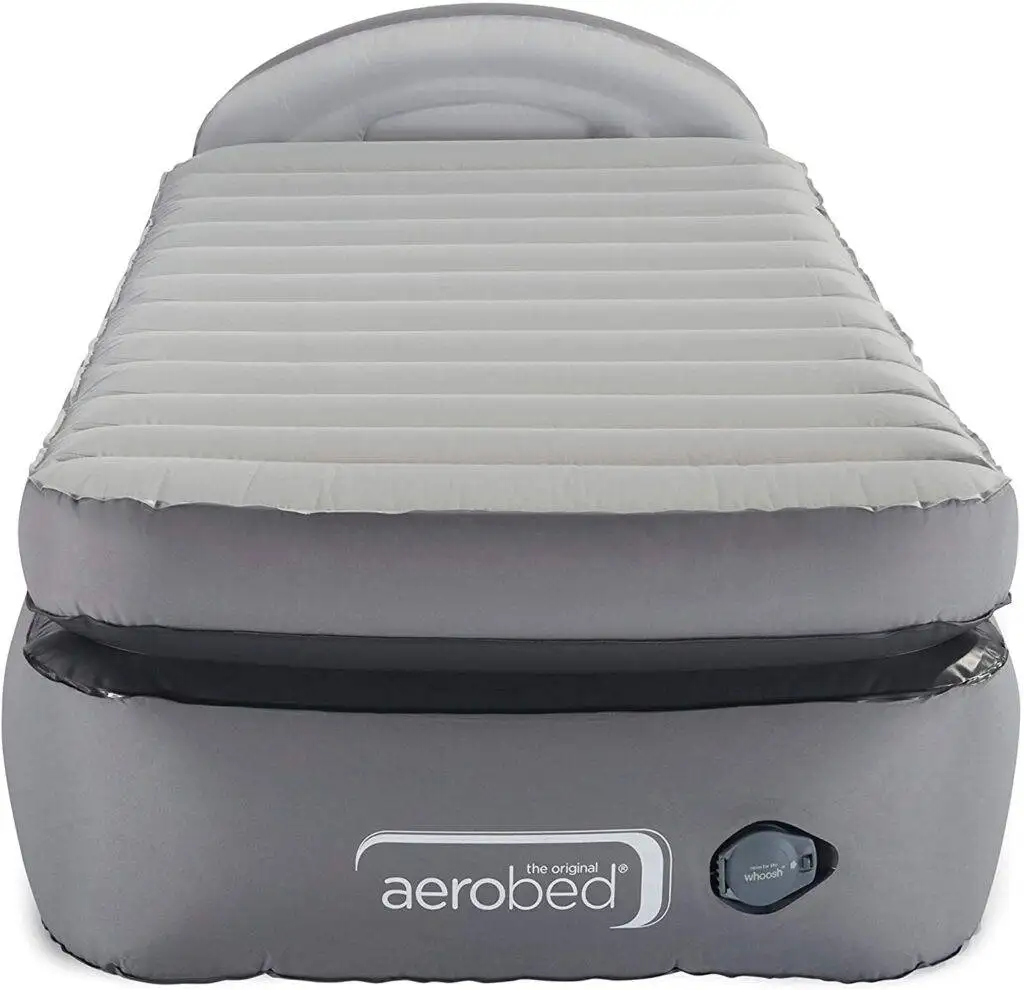 It's made of PVC with brushed polyester, a puncture-resistant top, and a coil structure for strong support and a better night's sleep. USB PORT: The USB port allows for the charging of electrical devices without requiring the user to get out of bed.
This item comes with a carrying bag, making it simple to travel with and store. 78 inches by 39 inches by 20 inches (L x W x H); Weight Capacity: 300 Pounds The scale reads 20.61 pounds
Intex Dura-Beam
Intex Dura-Beam Deluxe Comfort Plush Air Mattress is a simple-to-use air bed with under 500 lbs capacity. The Queen Size 18 Raised Downy Bed has a Built-in Electric Pump and 2 Pillows. To inflate, deflate, and transport with a compact, lightweight design for camping or sleepovers.
It includes a built-in electric pump for easy inflation and deflation. Standard-size crib sheets are compatible. Extra-firm firmness level; Made from durable PVC construction, puncture-resistant and holds up to 500 lbs.; A drain valve lets you easily remove excess water without emptying the entire mattress.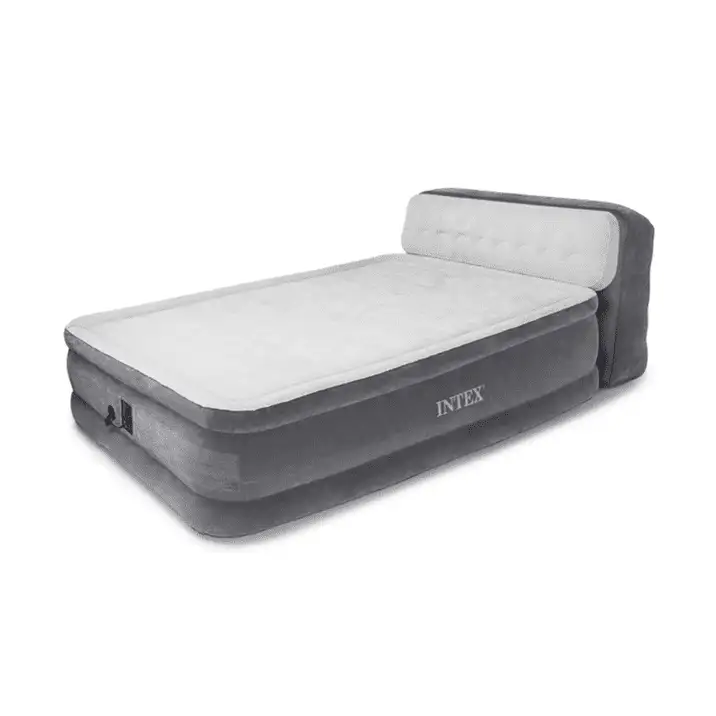 It comes with two 20 x 52 pillows. The 75-inch airbed has more sleeping space than a twin-sized bed (61 x 39); it is unsuitable for children under six.
Coleman Air Mattress
The Coleman SupportRest Double High Airbed is one of my favourite air mattresses. It features two unique high-tech fabric layers that make it perfect for use at home, in a camper, or even in a hotel. Although it doesn't have any integrated pumps, I love its thick foam top that's made to conform to your body and keeps you comfortable all night long. And at 60 inches tall, you won't worry about people rolling over on you, either!
It's a heavy-duty air mattress, 600 lbs. It has a Never Flat internal battery pump built into its headboard, so you never have to worry about running out of power during a vital camping trip. If you want something luxurious but durable enough to withstand daily use, I recommend checking out the Coleman SupportRest Double High Airbed.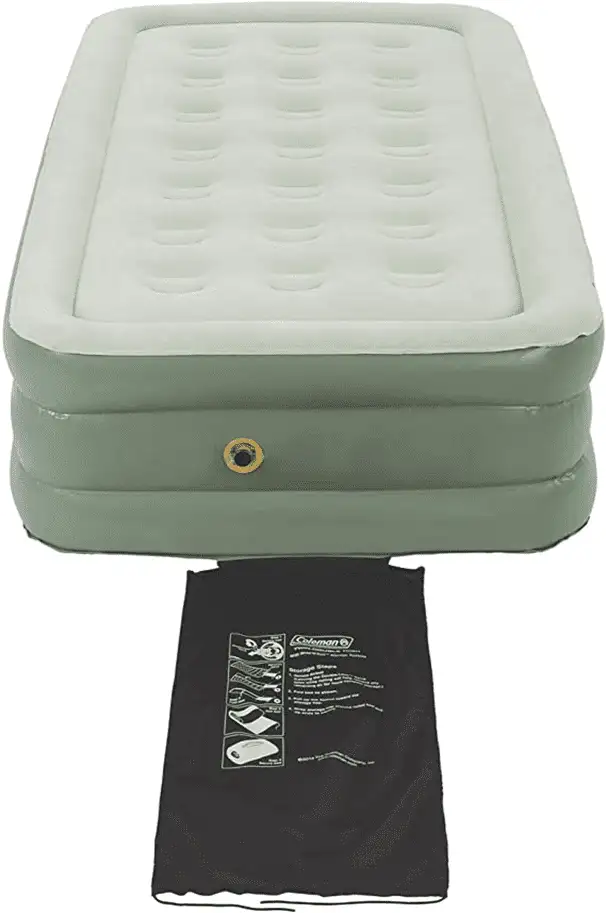 Beautyrest Silver Duet
The Beautyrest Silver Duet 18″ Queen Air Mattress with Dual Adjustable Comfort Control Chambers and Edge Support is a one-of-a-kind air mattress. It is ideal for side, back, and stomach sleepers. It gives you two sleeping areas that can be adjusted separately to give you the most comfort and support for how you sleep.
Because it's made out of Everfirm Polyfusion material, the mattress won't stretch out or let the air out in the middle of the night. It achieves an unrivalled level of strength and longevity thanks to the premium, ultra-strong vinyl in conjunction with a one-of-a-kind poly-blend fabric.
The Tri-zone support structure may adjust your side of the bed to provide the precise amount of support you need. Extra edge support prevents the sleeper from rolling off the bed anytime during the night. For more information, please see the upgraded material below.
One package was delivered. It has a built-in tri-zone electric air pump with independent side and edge support settings and a practical storage bag that can also be used for travelling.
It comes with a guarantee that it is good for one year.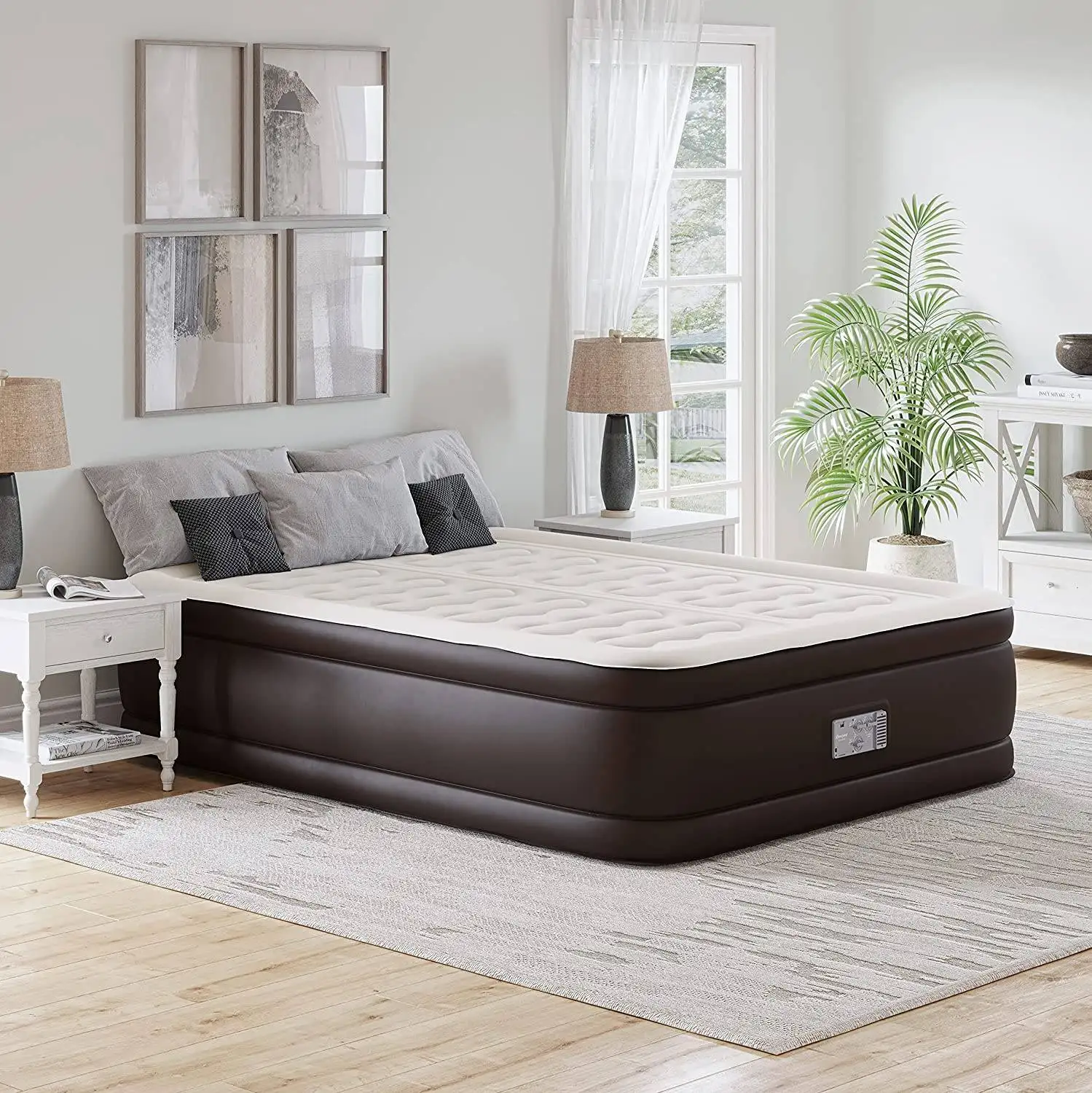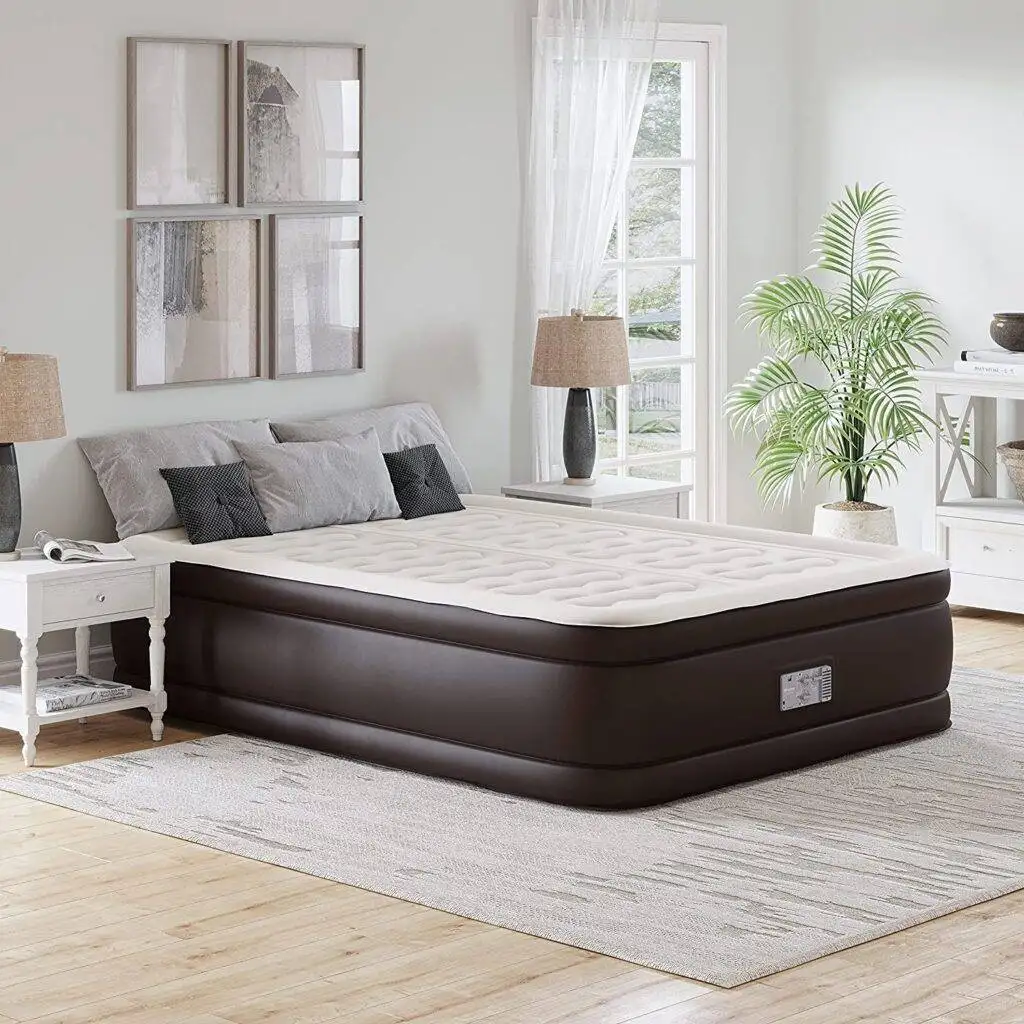 Insta-Bed Raised Air Mattress
The Insta-Bed Raised Air Mattress with Never Flat Pump is an inexpensive queen mattress with up to 500 pounds and a carry bag for easy transport. Just plug it in and let it inflate. The Installed is good for both back and side sleepers, but compared to its more expensive competitors, it doesn't have as much support, so you might feel more like you're being slept on than supported.
Still, we love how quickly it inflates, making it an excellent pick for summer or spur-of-the-moment overnight guests! It also has a built-in electric pump that deflates it as soon as it grows. And if you're worried about safety, rest assured: It meets federal flammability standards without using harmful chemicals.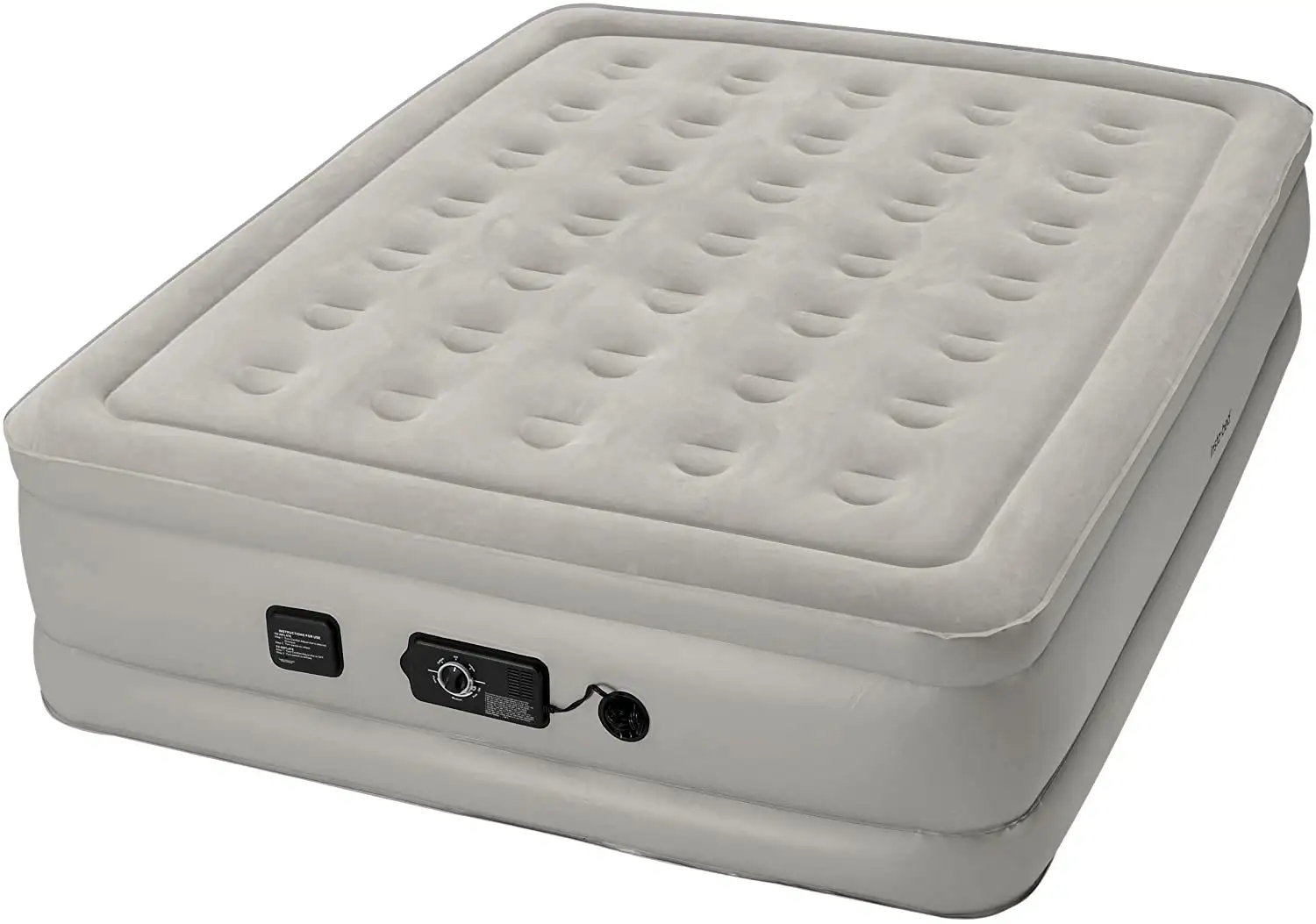 SoundAsleep Dream Series
The SoundAsleep Dream Series Air Mattress with ComfortCoil Technology & Internal High Capacity Pump-Queen Size is also lightweight and very comfortable for kids. It has a built-in pump will provide a hands-free setup, so you won't have to worry about inflating or deflating your airbed. This comes in handy when your kids need to get up early, or you're having trouble sleeping. Press one button to sleep while it inflates in under 4 minutes. It has an easy carry handle, and a storage bag is included.
You can use it indoors, outdoors, camping, RVing, and more because it doesn't leak air or leave impressions. This makes it ideal for guests who might be staying over at your house. It weighs 10 pounds, so you can quickly move it from room to room if needed. The SoundAsleep Camping Series Queen Size Air Mattress is perfect for those who want a good night's rest without worrying about waking up sore due to poor bedding. Plus, they are available in multiple colours, such as blue, grey, green, and purple!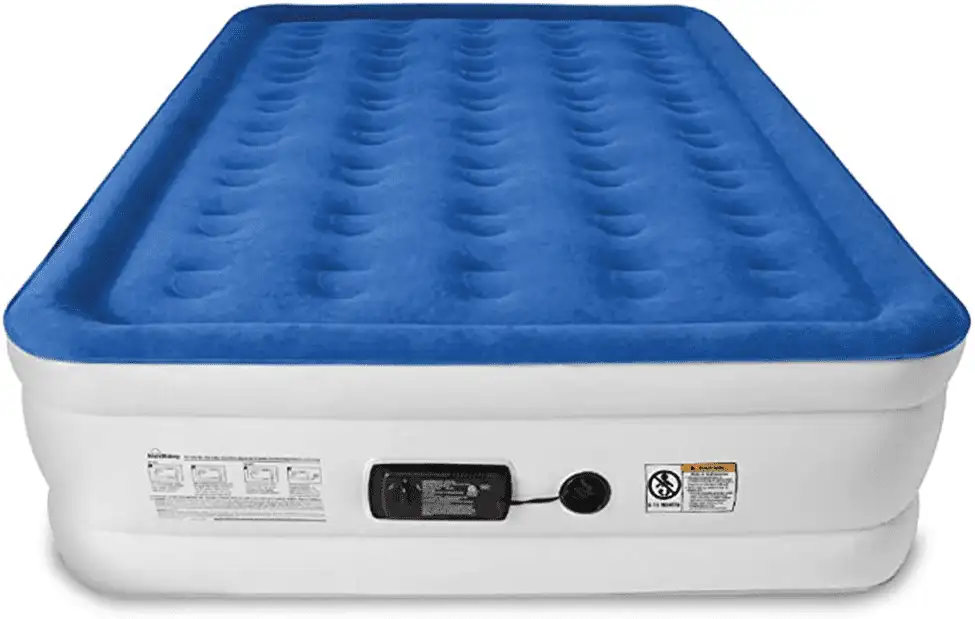 AeroBed AIRBED 16″
At over $100, many people think that AeroBed AIRBED 16″ DH Q W/120V BIP LAM PAL C030 is just another of those expensive air mattresses, but in reality, it offers a vast inflatable mattress with a Never Flat Pump. You can adjust your bed to support up to 700 pounds, making it perfect for even overweight people.
The Never Flat pump not only inflates and deflates your mattress quickly but also increases its durability by keeping it firm and flat. Aerobed Queen is long-lasting and relatively easy to set up; whether you're purchasing an air mattress for camping or taking care of overnight guests, you won't be disappointed with a purchase from Aerobed.
Intex Classic Downy Airbed
The Intex Classic Downy Airbed Set with 2 Pillows and Double Quick Hand Pump is a queen-sized air mattress with two inflatable pillows and a hand pump. The top, which is flocked and waterproof, has wave beams and is simple to clean. Inflation and deflation are made simple and speedy thanks to the 2-in-1 valve's extra-wide aperture.
The standard queen size is an excellent choice for use with fitted sheets. It may be folded up into a small space for storage. 60 inches wide by 8.75 inches high by 80 inches long, with a capacity of 600 pounds. A thickness of 8 3/4 inches for a very plush and comfortable feel.
King Koil Luxury
The King Koil Luxury Air Mattress with a Built-in Pump for Home, Camping, and Guests is a 20" Inflatable adjustable Airbed that is durable and waterproof. The King Koil Inflatable Queen Size Elevated Raised Air Mattress is a good-quality air mattress that can hold much weight. This queen-sized air mattress provides more space and comfort for users up to 450 pounds. It comes with a carrying bag that is easy to transport and store when not in use. The mattress includes two built-in pillows on each side, which is quite comfortable and soft compared to many other air mattresses.
The pump works well and inflates and deflates quickly, so you don't have to waste much time getting settled. Overall, it's a good choice if you need an air mattress that can hold 450 pounds. However, several options are available if you want something with a bit higher weight capacity.
Englander Queen Size Air Mattress
If you need an 800 lb capacity air mattress, the Englander California King Size Air Mattress with Built-in Pump for Home, Travel & Camping is a Premium Blow-Up Bed for Kids & Adults that is a great place to start. It weighs 43 pounds, making it extremely easy to move around. With an 11.5-foot height and 203 cubic feet, you can rest assured that you will have plenty of space for any occasion. This air mattress is intended for indoor use only. However, it comes with a carry bag, so don't worry if your trip takes you outside!
Different zone chambers pump up different sides separately to get a different firmness between both sleepers. If that isn't enough stability for you, then don't worry! The air mattress has a built-in headboard, providing extra support and comfort. The bed also comes with a repair kit if anything happens while you sleep. So make sure you bring along one of these bad boys next time you go camping or host a party.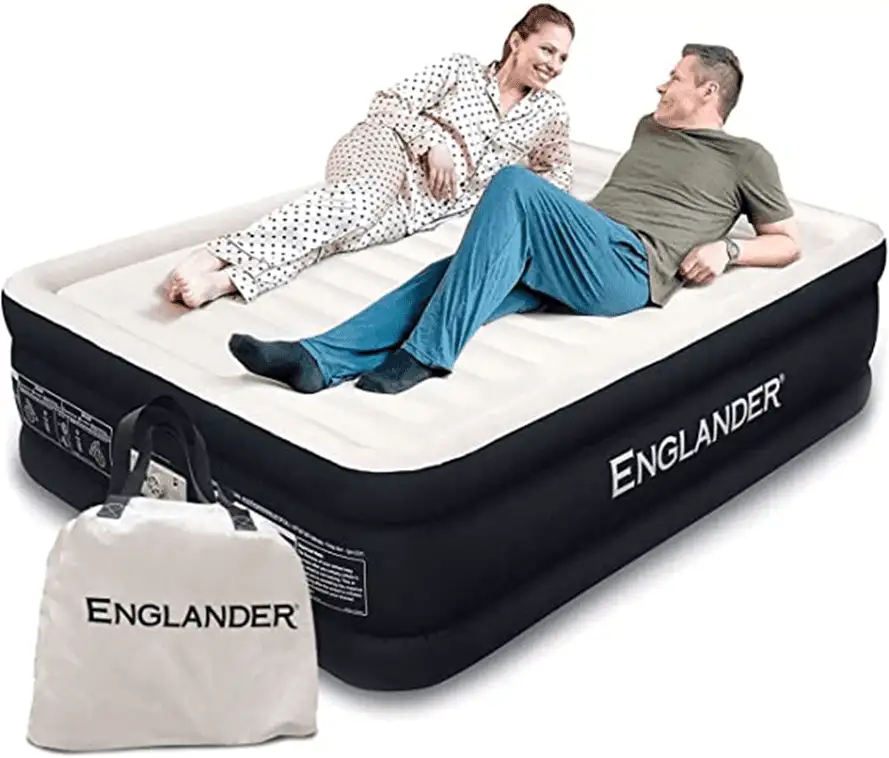 Intex Comfort Dura-Beam Airbed
The Intex Comfort Dura-Beam Airbed with an Internal Electric Pump Bed Height Elevated, the estimated time required for inflation is 4 minutes and 35 seconds. The sleeping surface is covered in soft flocking, which makes it even more comfortable, and the sides have indents that keep fitted sheets from sliding off.
Because it is small and easy to carry, a handy handbag is a great way to store and move things. It has a capacity of 600 pounds of weight. The dimensions are sixty inches by eighty inches by twenty-two inches.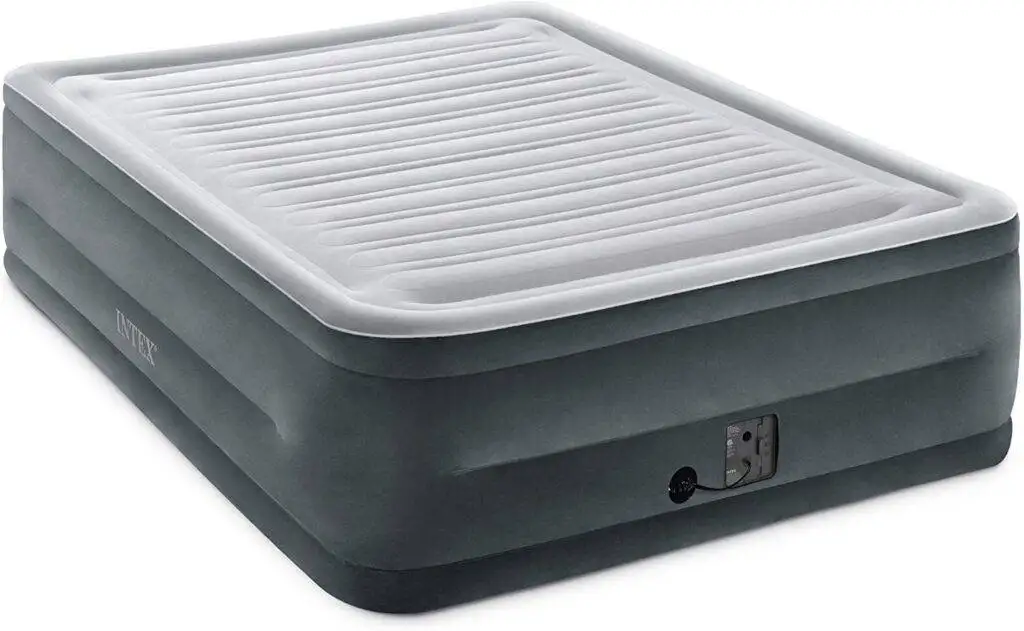 Conclusion
These are some of the air mattresses that we think are the best and most durable. Find the perfect air mattress for any body weight and enjoy a restful night's sleep.