Wikirelax.org is supported by its readers. When you purchase through links on our site, we may earn an affiliate commission.
Do you want to invest in a comfortable and good-quality mattress? We spend the majority of our time sitting or sleeping in our beds. So, looking for a mattress that relieves stress and provides support and comfort is imperative.
Various Amore Mattresses
One such mattress is the Amore mattress, which offers quality at an affordable price. Their four core mattress models are natural, flippable, hybrid, and luxury hybrid. Let us learn more about these Amore mattresses.
Amore Natural Mattress
Amore natural mattress comprises latex, organic cotton, and coils. It can be bought with or without a pillow topper and is an excellent choice for shoppers who care about the environment.
Design
Amore Natural uses 8″ pocketed coils with a latex foam feel for solid edge support and spinal alignment. This model contains 100% all-natural GOLS-certified Dunlop latex foam, which is highly durable and acts as the sole comfort layer of the bed.
Firmness and Feel
This mattress comes across as a durable, firm, and supportive mattress. This mattress is medium-firm, whereas it is firm without the topper.
Sleeper Types
It suits well for back and side sleepers. It is not weight-restrictive, so anyone, from children to people with heavy weight, can find this mattress comfortable. Stomach sleepers, especially those trying to recover from an injury, can go for the pillow top option, as it has an additional cushioning layer that makes it slightly softer. Above the latex foam, it has organic New Zealand wool and an organic cotton cover.
You may not like the Amore natural mattress if
You are a side sleeper weighing less than 230 lbs. Though this mattress accommodates combo sleepers, side sleepers who weigh less than 230 lbs may not like this latex mattress.
Warranty
The company offers a 25-year limited warranty and a 100-night sleep trial. So, if you do not like it, you can return it after 30 days of usage from the delivery date.
Amore Flippable Mattress
The Amore flippable mattress has one firmer side and the other one softer. You have to flip to find which one suits you the best.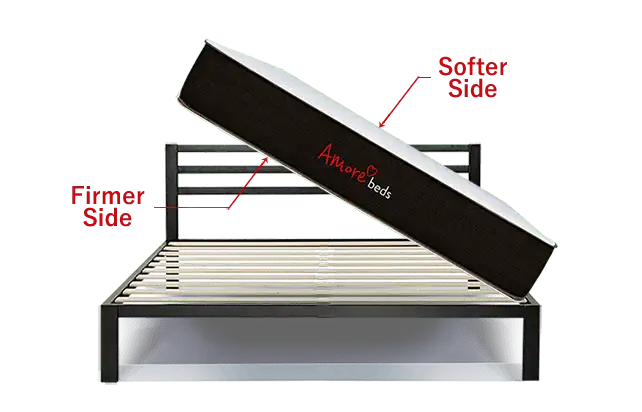 Design
The Amore flippable mattress is 11″ thick and entirely made of foam. Inside this mattress is
Organic cotton cover: The certified organic cotton cover wraps the firm side of this mattress. It naturally draws heat away from your body and soaks moisture to make you feel better.
Fusion flex comfort foam: This layer is the comfort layer from the bottom for the firm layer. It provides superior breathability for healthier sleep.
Wool blend: The wool blend helps to offer extra cushioning that assists in body temperature regulation.
Transition foam: This foam is softer than the centre support core and helps to counteract the dense and firm feel.
Support core: It is a dense layer that serves as the primary foundation of the mattress.
Feel and firmness
The flippable model of Amore has created a side for every sleeping style. So the side sleepers can like the medium side, and the stomach and back sleepers can like the firm side of the mattress.
You may not like flippable mattresses if
You are looking for a distinct feel. Honestly, this model has a general foam feel that people may not find unique. It may not be as long-lasting as compared to other mattresses.
Warranty
This model comes with a 15-year warranty and a 100-night risk-free trial.
Amore Luxury Hybrid Mattress
This mattress offers plenty of support, having a thickness of 12.5″.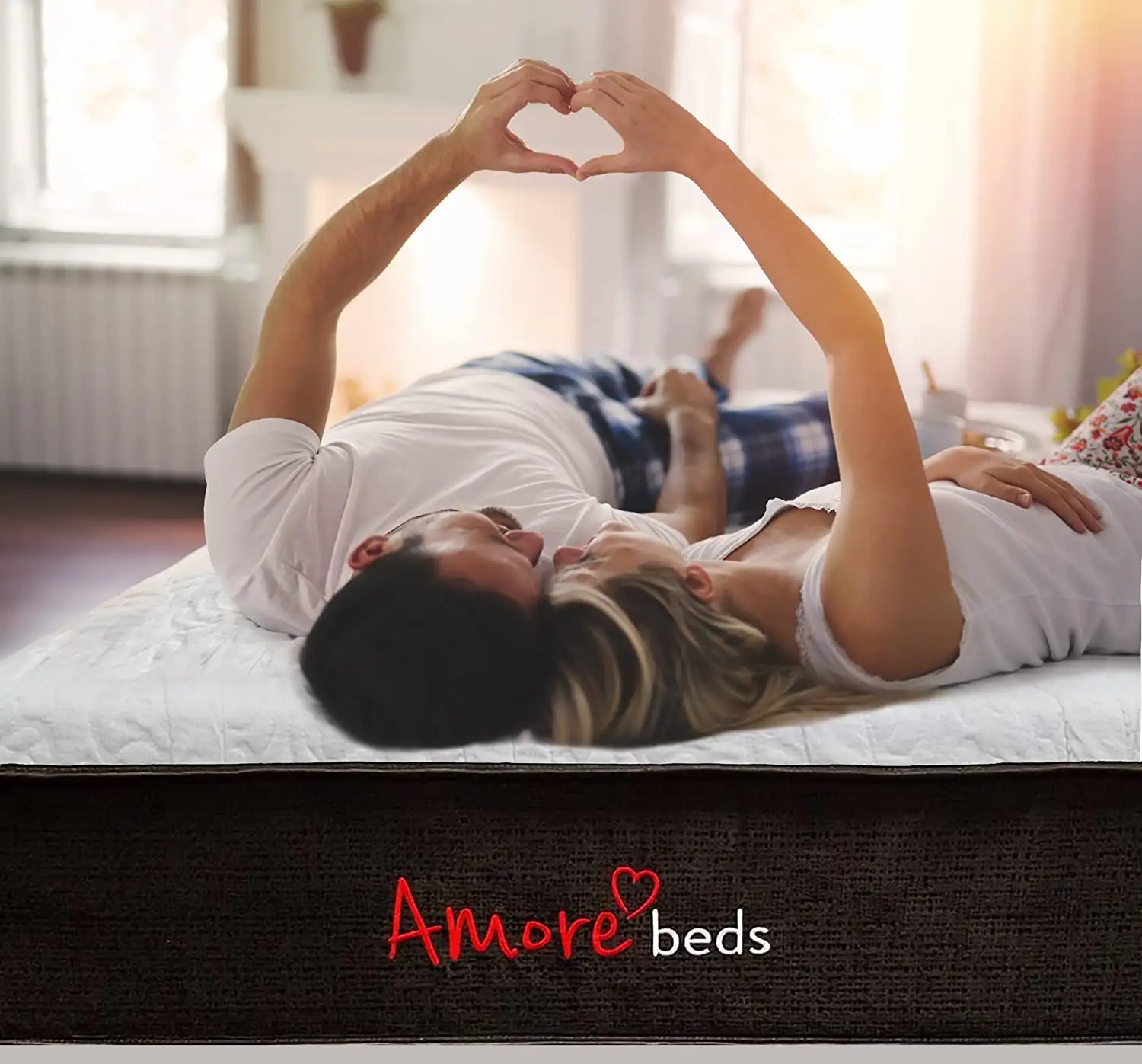 Construction and design
It is a hybrid mattress, so it utilizes coils and foam. A breakdown of its layers is
Base layer: The base layer has 6″ of individually wrapped coils that provide durability, bounce, and support. This mattress can handle even heavier individuals due to the coils.
Transition layer: This layer is on top of the coils, so you do not feel the coils.
Comfort layer: Above the transition layer, there is latex foam, the comfort layer of the bed, prepared from the rubber tree sap. It is durable, breathable, and responsive.
Cover: A pillow top and an organic wool blend are on top of the comfort layer.
Amore luxury hybrid mattress offers three cover options, namely organic cotton, CBD-infused fabric, and a cooling surface.
Firmness: This model has two firmness levels- luxury firm and luxury medium. The luxury medium is exceptionally comfortable.
Sleeper positions: The luxury medium is best for the back, stomach, and side sleepers and is ideal for stomach and back sleepers.
You may not like luxury hybrid mattresses if
You have a heavyweight issue as this mattress can support 300 pounds on the luxury firm and less on the medium-firm option. You can look for a model that offers additional pressure relief for deep pressure relief.
Warranty: The company provides a 20-year warranty and 100 nights of a free trial.
Amore Hybrid Coil Mattress
The Amore hybrid coil mattress is the budget version of a luxury hybrid that uses 4″ coils and is available in soft, firm, and medium (12″) thicknesses.
Design
The Amore hybrid coil mattress has a similar construction to the Amore luxury hybrid mattress. It has poly foam, pocketed coils, a custom cover, and wool.
Feel and firmness
It feels like a cushioned mattress and a foam mattress in general. With three firmness levels to choose from, you can change the level of firmness to suit your needs.
Sleeper positions
The Amore hybrid coil mattress works best for the back, stomach, and side sleepers. Each coil is enclosed individually, which allows it to respond and adjust to the contour of your body while changing sleeping positions.
You may not like hybrid coil mattresses if
This mattress does not do motion isolation well, and this can cause a disturbance to you and your partner, who toss and turn. You won't get that contoured and plush support from this bed. You can consider a mattress that utilizes memory foam. This mattress is not silent, as it can make squeaks while bearing weight.
Warranty
This mattress includes a 15-year warranty and a 100-night sleep trial.
Amore Hybrid 2-sided Flippable Mattress
Amore hybrid 2-sided flippable mattress has a lot to offer in terms of dual and multiple firmness options. It offers luxurious comfort and a design you can customize to your individual preferences.
Construction and design
This mattress comprises four layers:
Layer 1-The topmost layer is of organic cotton covered in an organic woollen blend.
Layer 2-The first layer of fusion flex foam helps to soothe the pressure points and regulate the temperature.
Layer 3-This layer has a contouring transition foam that supports the main coil layer.
Layer 4-This layer has firm-edge pocket coils that offer pressure relief and proper spine alignment.
Firmness and feel
Stomach sleepers can aim for a firmer side, whereas side sleepers can go for a medium or softer one.
You may not like the hybrid 2-sided flippable mattress if
You have to consider the cost. This mattress is heavy to handle manually and costs more. It does not reduce motion transfer, so it could be felt more on this mattress if your partner moves.
Warranty
The brand offers a 15-year warranty and a trial for 100 days before you purchase it.
Amore, mattresses are suitable for almost all types of sleepers. It is the reason why it has many loyal customers. You will surely be happy with selecting the right firmness level. With all the extra features this company offers, it makes an excellent choice at an affordable price.