Nature's sleep brand, Ghostbed Mattress, has revolutionized the industry with its concept of "mattress in a box." This brand combines both memory foam and latex. They have continued to innovate with higher-end mattresses, focusing on overall comfort. With its advanced mattress designs and impressive customer ratings, the Ghost Mattress brand is worth a look.
It offers seven mattresses:
Ghostbed classic
Ghostbed flex
Ghostbed luxe
Ghostbed 3D matrix
Ghostbed Smart bed
Ghostbed RV
Venus Williams legend.
Let us take a detailed look at these mattresses-
Ghostbed Mattress Classic
This mattress combines the goodness of memory and latex foam to provide a rejuvenating and refreshing rest. It gives a balanced feeling of comfort and support.
Construction
This mattress has four layers: the plush cover, synthetic rubber latex, gel memory foam, and HD polyfoam and uses dual cooling stages with an aerated latex layer and gel-infused memory foam.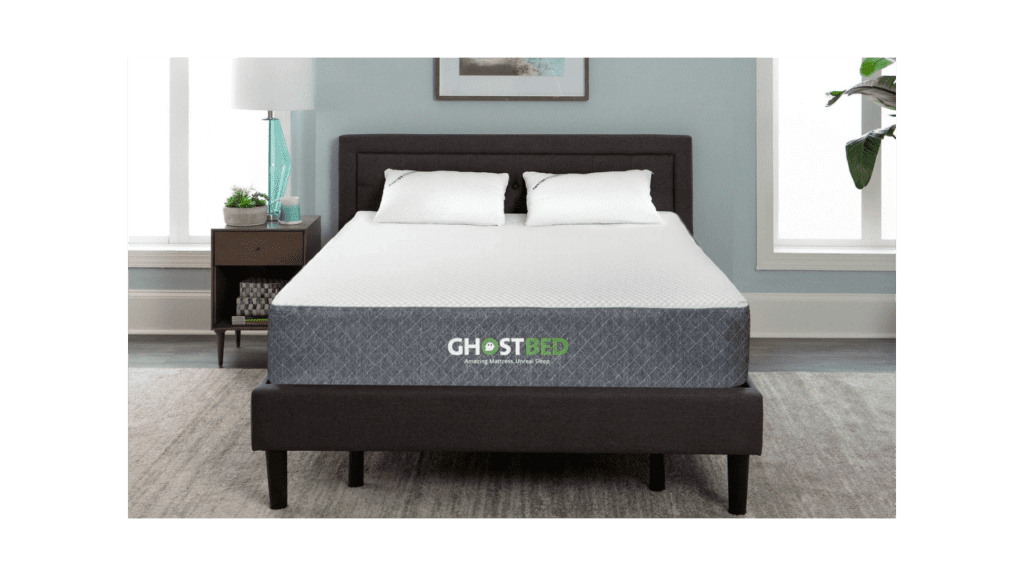 The first layer is made with a durable blend of polyester and viscose, which gives a feeling of cosiness. The second layer offers buoyant and responsive support. It has a resilient texture that prevents sinkage and helps you roll and shift sides without discomfort.
The third layer of gel memory foam has excellent conformity, releasing stress from the main pressure points and inhibiting heat retention for peaceful sleep. The last layer of polyfoam helps in motion isolation, and its base gives adequate support for all types of sleepers.
Sleeping position
Ghostbed Classic helps maintain a healthy sleep posture for side, stomach, and back sleepers. Heavy individuals can benefit from its layered combination. These layers offer secure edges, making it easy to get in and out of bed. Latex provides a subtle bounce, allowing you to change sleep positions comfortably.
Warranty
The brand offers a 20-year warranty and a 101-night sleep trial to discover its beautiful features and benefits.
Ghostbed Flex Mattress
The Ghostbed flex mattress measures around 13 inches and incorporates seven layers.
Construction
The seven layers of the Ghostbed Flex mattress include individually wrapped coils, cooling quilts, and gel memory foam. There is a Ghostbounce layer with two memory foam layers. Below this layer is individually wrapped coils on a backing layer that helps with motion isolation and pressure relief.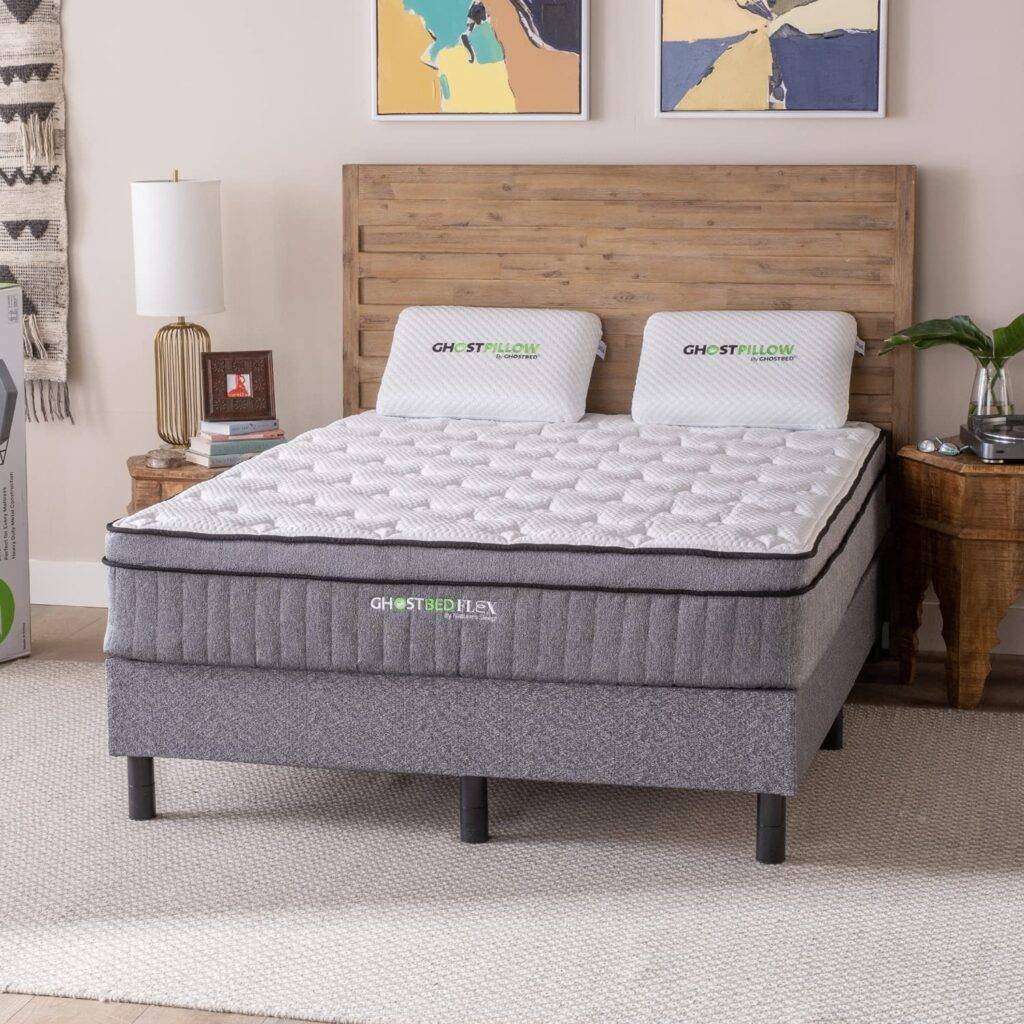 Around the edge of this mattress are two layers of spirals that are stronger than the first. It keeps the mattress from sagging and gives you proper edge support.
Sleeping position
This mattress is an excellent option for side sleepers as it relieves pressure. It is a good choice for back sleepers as well. Stomach sleepers can go for a more firm mattress as this one is too soft and needs more support.
Warranty
This mattress is covered by a 20- year warranty and provides a 101-night sleep trial. So you have about 30 nights to decide whether or not to buy it.
Ghostbed Luxe Mattress
The Ghostbed Luxe has seven layers, similar to the Ghostbed Flex mattress. The only difference is that it features a foam layer instead of the coils. The cover of this mattress is made of cooling fibres that help to enhance the airflow, ensuring a relaxed sleep.
Construction
The base layer of the Ghostbed Luxe mattress is a dense foam of 7.5 inches, which gives sturdiness and support. The Ghost bounce layer of 2″ thickness offers cushion and contouring like memory foam, and the next layer is foam infused with gel for temperature regulation.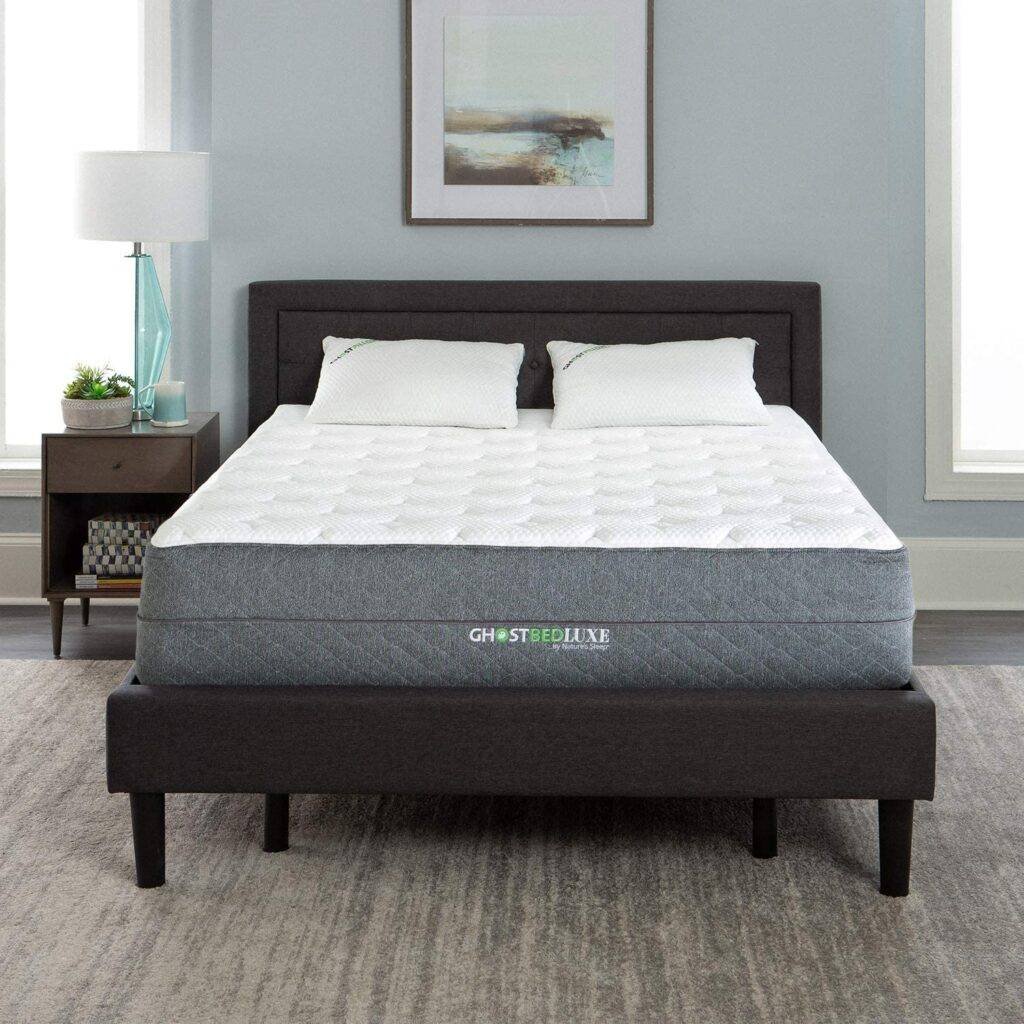 On top of this layer is the ghost ice layer, which promotes airflow and prevents overheating. The cover has ghost ice fabric and cooling fibres for effective cooling. Below the surface is another thin layer of gel memory foam, making the bed cosy.
Sleeping position
The Ghostbed Luxe mattress accommodates back, side, combination, and stomach sleepers with a neutral firmness. This mattress is an excellent fit for lightweight sleepers as it provides stability and maintains spinal alignment. It keeps the weight balanced for side sleepers and relieves pressure points.
Warranty
The company backs the Ghostbed luxe with a 25-year warranty and a 101-night sleep trial, designed to give you comfort and time to try it.
Ghostbed 3D Matrix Mattress
The Ghostbed 3D Matrix Mattress is an advanced model that offers both 3D Matrix Smart bed and 3D Matrix Hybrid. The 3D Matrix Smart bed has the same layers as the 3D Matrix Hybrid but also has adjustable air chambers and intelligent sensors.
Construction
The 3D Matrix Hybrid comprises seven layers, featuring an ice cooling cover, a layer of gel polymer, a gel memory foam layer, a responsive layer of foam, a soft transition foam, and a base layer of high-density foam.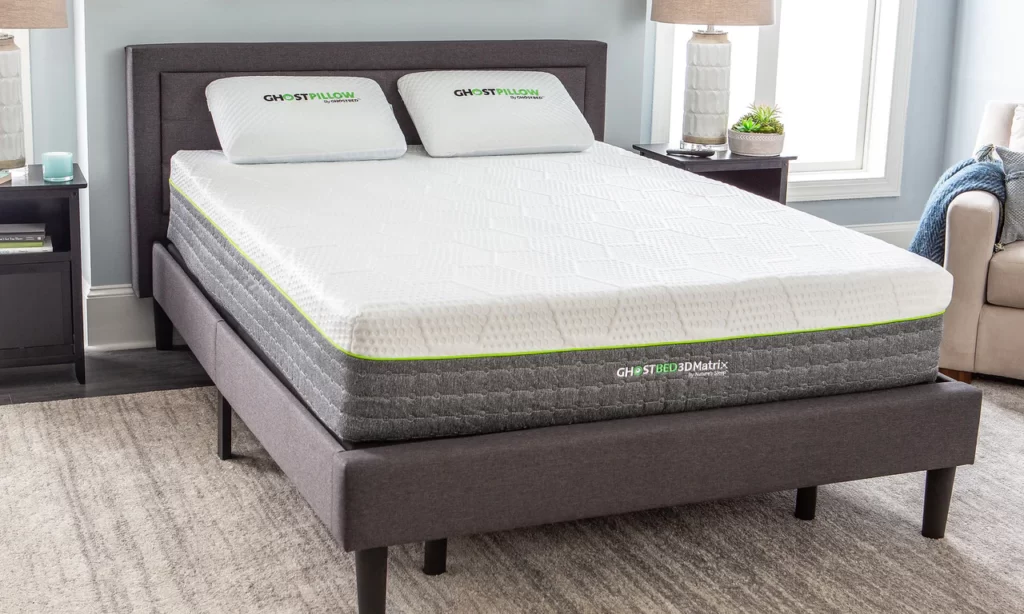 Sleeping position
The Ghostbed 3D matrix has a soft feel, making it great for side and back combination sleepers. The unique gel polymer helps remove heat from your body and gives you a super cool night's sleep.
Ghostbed RV
The Ghostbed RV combines the bouncy feel of latex with the contouring properties of memory foam.
Construction
The cover of the Ghostbed RV is composed of polyester and viscose fabric. The top layer is Ghostbounce foam, which provides spring-like support.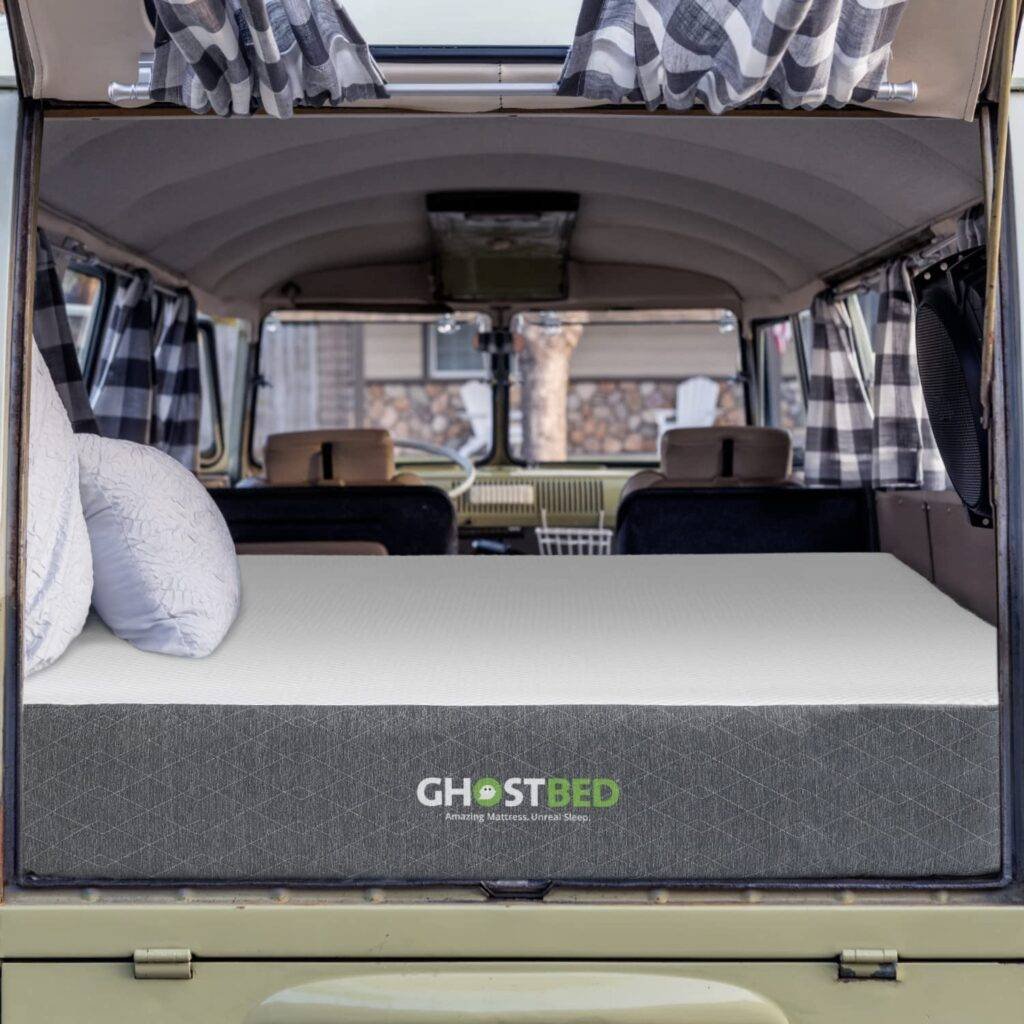 The following layer is memory foam, which relieves pressure and contours your body. This layer is followed by a high-density foam base that supports the mattress strongly.
Sleeping position
The Ghostbed RV is suitable for people who sleep on their side or back because it has the proper support and cushioning.
Warranty
The company gives a 20-year warranty on the Ghostbed RV and a 101-night sleep trial to take time to experience it.
Venus Williams Legend
The Venus Williams Legend mattress comes in hybrid and all-foam options.
Construction
This mattress has Ghostbounce, memory foam layers, and a cooling cover made of Repreve and polyester material.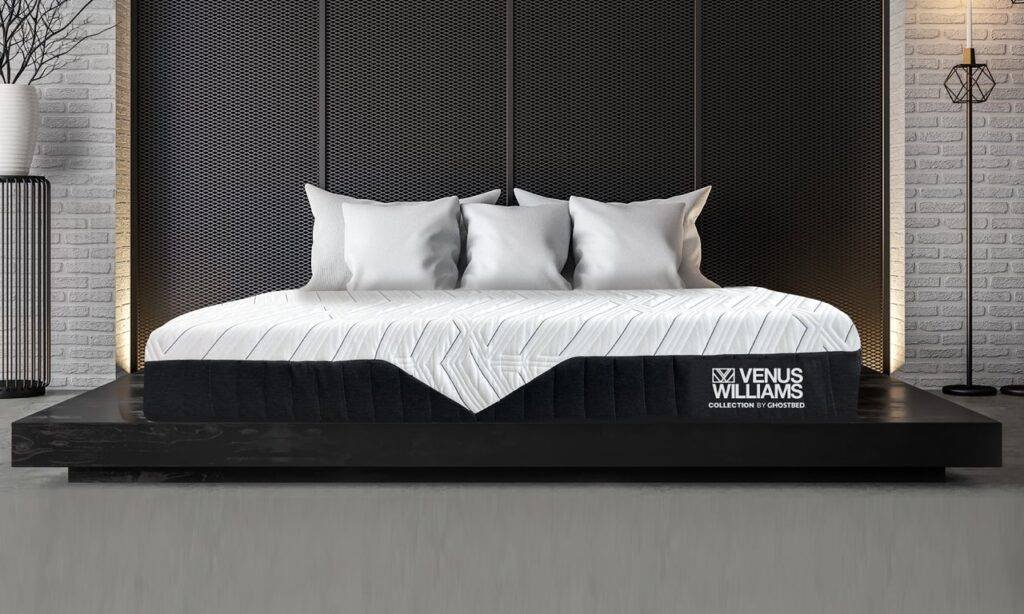 Sleeping position
The Venus Williams Legend mattress performs well for side sleepers and back sleepers weighing less than 130 pounds. The hybrid version is particularly beneficial for side sleepers weighing over 130 pounds.
Warranty
This mattress comes with a 25-year warranty and a whopping 101-night free trial.
Ghostbed has earned its name in the online mattress space. The comfortable foam of this mattress gives it a unique feel that incorporates the best of all worlds. You can check out the above Ghostbed mattresses, which have unique materials and construction.