Wikirelax.org is supported by its readers. When you purchase through links on our site, we may earn an affiliate commission.
A supportive yet breathable foam bed that is affordable.
The Emma Original has four layers, the first of which is a comfort layer made of memory foam. Emma offers a lengthy 365-night sleep trial as support for the mattress.
Emma's line of mattresses also comes in a hybrid version but costs a little more. The Emma Original Hybrid is made to give you focused support.
The Airgocell foam, memory foam, and dense polyfoam were used to make the Emma Original mattress work together to provide pressure relief, body contouring, and sinkage for the sleeper.
The cover has the additional advantage of being easily washable and detachable. It is made of a simple polyester blend. It's moisture-wicking, easy to remove, and washable.
Polyester is often used to make mattress covers because it naturally lets heat and airflow through it.
Airgocell foam makes up the top 1.5 inches of this bed's construction. This innovative layer of memory foam improves breathability by absorbing and releasing body heat. This keeps you cool all night.
Contour Layer: Memory Foam – Ergonomic and Motion Isolating
High Resiliency Extra (HRX) foam prevents sag and lasts for years. Five adaptable cut-outs and over 100 supportive points uniformly distribute body weight to relieve discomfort, improving stability and support.
A reinforced border that makes it easier for all sleepers to get up in the morning, in addition to helping keep restless and energetic sleepers from falling off at night.
Emma Original Mattress Advantages
All body types can be comfortably supported by the mattress's memory foam, which exhibits high-point flexibility.
The Emma Original isn't like most contoured foam mattresses, which tend to trap body heat. Instead, it stays at a fairly comfortable temperature.
This mattress is ideal for those who prefer to sleep on their sides.
In contrast to typical foam beds, which sag at the corners, the Emma Original provides perceptible support all the way around.
Lighter people or medium-lightweights will benefit from it the most.
Like most memory foam mattresses, the Emma Original gives up some mobility in exchange for great pressure relief and motion isolation.
It is a fantastic option for couples because the mattress isolates motion.
The company provides free shipping and returns. Emma provides a 365-day risk-free trial period as well.
Emma Original Mattress Disadvantages
The Emma is likely too soft for stomach sleepers, who require additional hip support to be comfortable.
The side handles are prone to tearing.
Because the Emma isn't bouncy, it's not ideal for combo sleepers who require a little bounce to make changing positions during the night easier.
The off-gassing odor persisted longer than with comparable hybrid mattresses.
Not the best choice for individuals who prefer a firm mattress.
Some sleepers may experience problems with heat retention.
The price of the Emma Original Mattress
Look at the table below for details on the mattress' dimensions and cost as of date. However, these are subject to change without notice.
The durability of the Emma Original Mattress
The Emma Original Mattress is made well and should last for several years. The cover is well-fitting and has tight stitches, and the foam is excellent. Emma is confident in Original's longevity because it has a ten-year warranty, and you can try it out for 365 nights to ensure it's the best option for your sleep.
Rotating the Emma Original frequently ensures that it lasts as long as possible. Emma recommends carrying out this task once every 3 months following the initial six months. As a result, it will maintain its better condition and have a more level surface from top to bottom.
Emma Original Mattress in a Box
The Emma Original mattresses come in a cardboard box that looks nice and is easy to move. Because the Emma Original Mattress can be moved like a standard box and you don't need to hire a full moving company, it will arrive in 4–7 business days.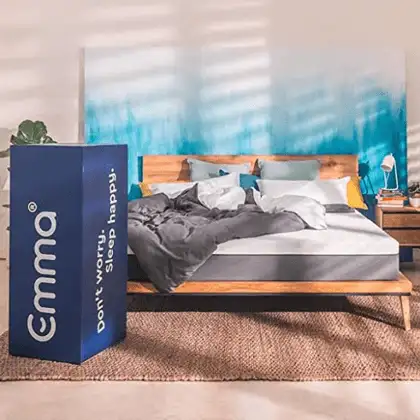 It's made to be quick and simple to set up! As soon as you remove the plastic wrapping, your Emma Original Mattress will automatically inflate and give you all its luxurious features.
You must let this bed rest for at least 24 hours to inflate properly, as with all bed-in-a-box mattresses.
The way you sleep and your weight
Although many back sleepers find the Emma Original's medium feel to be comfortable, those who weigh more than 230 pounds might require more support.
The top memory foam comfort layer supports a back sleeper's hips and lower spine, also tailored to fit this particular shape. The bed's lowest polyfoam layers provide enough support for people under 230 pounds to preserve proper spinal alignment as they sleep.
The Emma Original accommodates the weights of stomach sleepers up to 230 pounds. Those who like to sleep on their stomachs typically want less contouring and more support.
However, people who sleep on their stomachs and weigh more than 230 pounds may dip too much in the middle, placing strain on their lower backs.
Due to the strain this sleeping position puts on the hips and shoulders, these characteristics are perfect for side sleepers.
In particular, those under 230 pounds will benefit from the medium feel. But the mattress should also be comfortable for heavier side sleepers who want a plusher sleeping surface.
Should you buy it or not?
The support and comfort levels are superbly balanced, and the low-motion transmission is fantastic. Although some very light or heavy sleepers might find it too soft or firm, most people shouldn't have any problems with it, according to our tests.
If you tend to sleep hot, you might want to choose something like a breathable hybrid. Emma, on the other hand, slept at a comfortable temperature the whole night.
Reap the benefits of the Emma Original's risk-free 365-night trial to try it out if you're searching for a reasonable high-quality bed-in-a-box that keeps you pleasant in all sleeping postures. Emma is also very liberal with its discounts.
To further improve your sleep comfort, the company also produces a variety of bedding items like duvets and pillows.
Emma Original Mattress firm topper
Giving mattress toppers a precise firmness rating isn't always simple. This is because it heavily depends on the mattress it is placed on.
A mattress topper will therefore seem more or less softer, depending on how firm the mattress beneath it is. This mattress topper will be rated as medium-firm overall, even though one side of the topper is softer and the other stiffer.
Pros

Cover that is detachable and washable.
Flexible comfort thanks to a dual-sided construction.
Suitable for a variety of persons with various sleep characteristics.
Superior materials.
Good control of temperature.
Cons

Just three sizes are offered.
Some people may still find the firm side to be overly soft.
The topper is not secured to the mattress with straps.
FAQs
Is Emma's mattress bouncy?
The Emma is not a springy mattress, so I don't believe it's the ideal option for combo sleepers, who require some bounce to make changing positions during the night easier.
Do you need a unique slat frame for Emma?
The Emma Original mattress requires little care. It can be laid down on any surface. Emma is a mattress that accommodates all ways of life. The surface's cleanliness and dryness are crucial. The Emma Original mattress works just fine with a slatted frame.
How long do I leave my Emma Original mattress to expand?
It can take up to 48 hours for the Emma original mattress to expand fully. Please be aware that it is fairly usual for the mattress to take a little while to expand fully.
Conclusion
Emma won't let you down if you desire a soft, sinking sensation but don't want to feel suffocated or stuck. The top layer of Airgocell balances out the memory foam's great body-molding, soft sinking, and deep pressure relief.
Emma's low-motion transmission may also be a good choice if you're a modern-day "queen and the pearl" easily woken up by even the smallest movements or noises from across the bed.
The soft layers of the Emma don't have the firmness and edge stability that heavier people might need to sleep well at night.
Although a mid-range product, it isn't the most affordable on the UK market. It performs well enough to merit at least a trial.