Wikirelax.org is supported by its readers. When you purchase through links on our site, we may earn an affiliate commission.
If you are looking for a mattress that provides ventilated support for your back and improves blood circulation, air mattresses are the optimum choice. Air mattresses for camping are equally optimum. Also considered a perfect choice for accommodating last-minute guests, air mattresses are also a good option if you live in a small space and can afford only so much. Furthermore, different types of air mattresses are available on the market based on your choice, health and fitness levels.
Best Air Mattresses for Camping
Outdoor Air mattresses come with different choices and purposes. Depending upon your choice and purpose, the options vary.
We have chosen only those mattresses that can be used for guests and everyday use.
These are the top seven best air mattresses:
Intex Dura-Beam Deluxe Comfort Plush Air Mattress Series with Internal Pump
The Intex Dura-Beam Deluxe Comfort Plush Air Mattresses with an internal pump combine incredible strength and luxurious comfort. The Dura-Beam Deluxe Plush Air mattresses have an internal inflation pump that will help inflate and deflate the mattress with a press of the built-in button.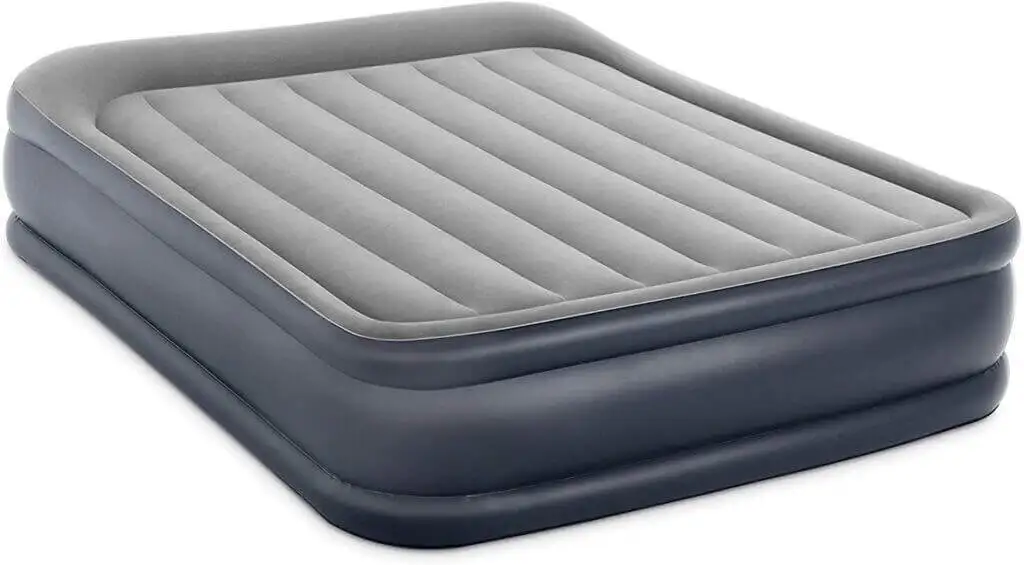 Further, the mattresses come in different sizes, like 13 inches, 18 inches, and 22 inches. There are three different styles of air mattresses, Queen size, Twin, and Full, and you can choose the suitable style as per your convenience. Unlike traditional air mattresses, Dura-Beam air mattresses have a plush dual air pillow system for extra comfort. Furthermore, the Velvety Surface and edge support comfort give your mattress puncture, and abrasion resistance, good sleeping space, and stability.
SoundAsleep Dream Series Air Mattress with ComfortCoil Technology & Internal High Capacity Pump
Another popular air mattress is the SoundAsleep Dream Series, with comfort coil technology and an internal high-capacity pump. They are premium and comfortable mattresses made with eco-friendly PVC and top flocking material.
The patented click internal pump of the mattress ensures easy and quick inflation and deflation of the mattress. The queen-size Sound Asleep Dream series air mattresses are perfect for two people and accommodate friends and relatives irrespective of their size and shape. The comfort coil technology of the mattress helps reinforce the mattress and maintain its shape and firmness all night.
EnerPlex Queen Air Mattress for Camping, Home & Travel
The next type of air mattress is the Enerplex Queen 16-inch Air Mattress. It has a built-in pump helps inflate the mattress in just 2 minutes.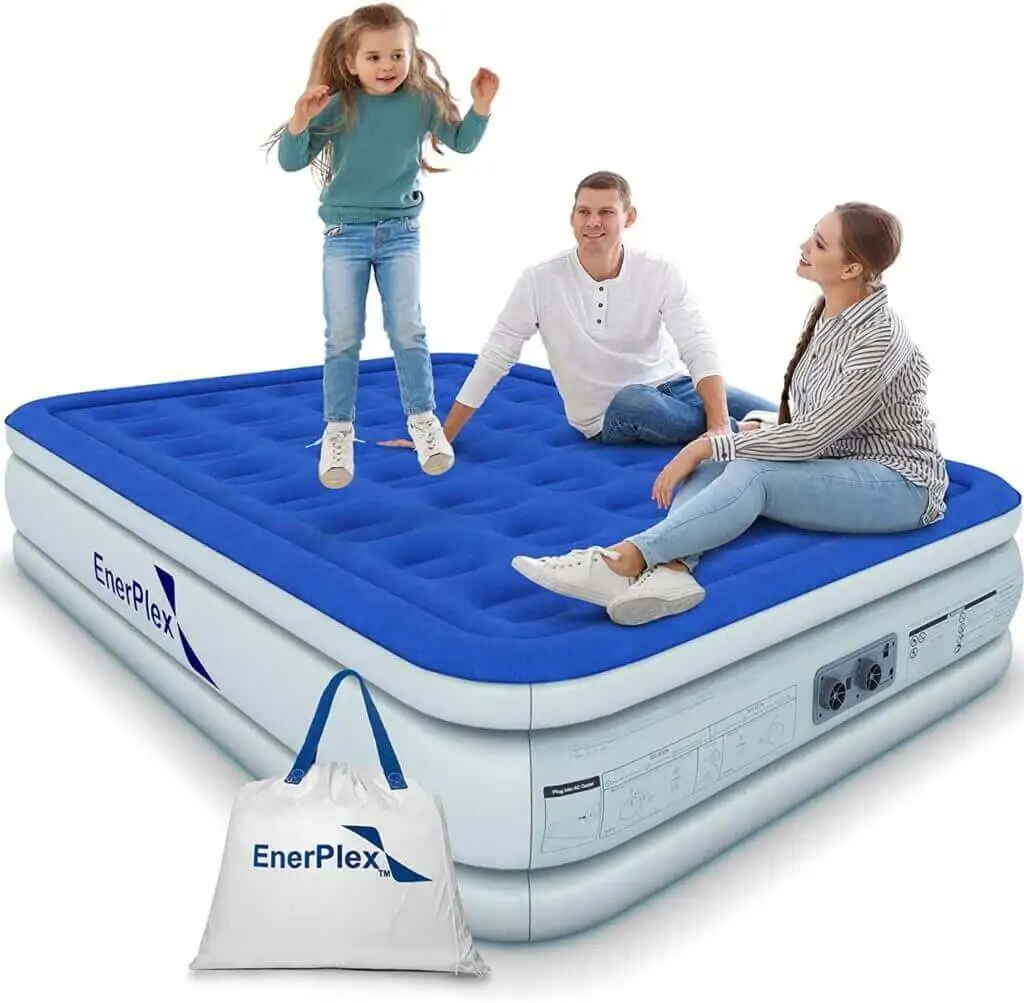 You can use the mattress for camping, as a floor mattress at home, or as a portable for travelling. The mattress is made with puncture-resistant PVC material and has a non-skid bottom. Further, the coil beam construction of the mattresses provides firm support and proper spine alignment. It also comes with leak-free technology that can withstand pressure. 
EZ Inflate Air Mattress with Built-in Pump
The EZ-Inflate Air Mattress with a Built-in Pump is another type of air mattress that most people prefer to use. This mattress is made of polyvinyl chloride and can inflate in less than 2 minutes.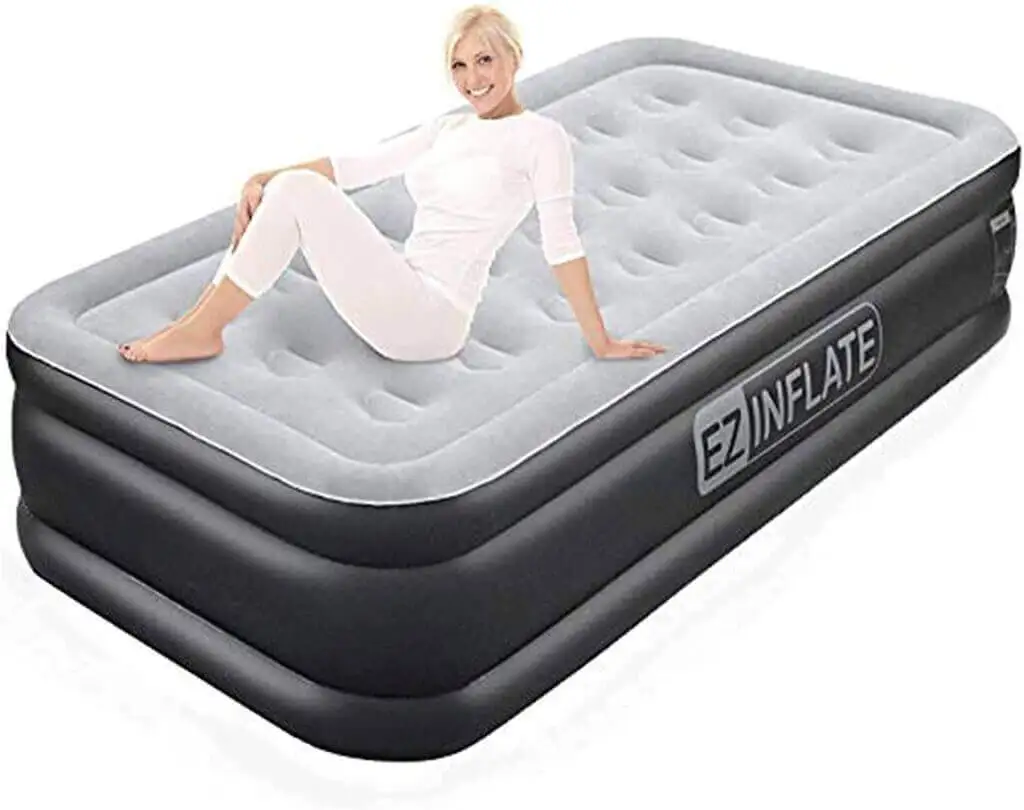 Furthermore, the mattress is waterproof and puncture-resistant. The coil beam technology of the mattress gives you comfort and excellent support like a natural mattress. They come in two different sizes: queen and twin. You can inflate the mattress to twice its height and sleep comfortably.
Englander Twin Size Air Mattress w/Built-in Pump
Another popular mattress is the Englander Twin Size Air Mattress. The mattress allows you to sleep in the lap of luxury, and the microfiber of the mattress provides ultimate comfort.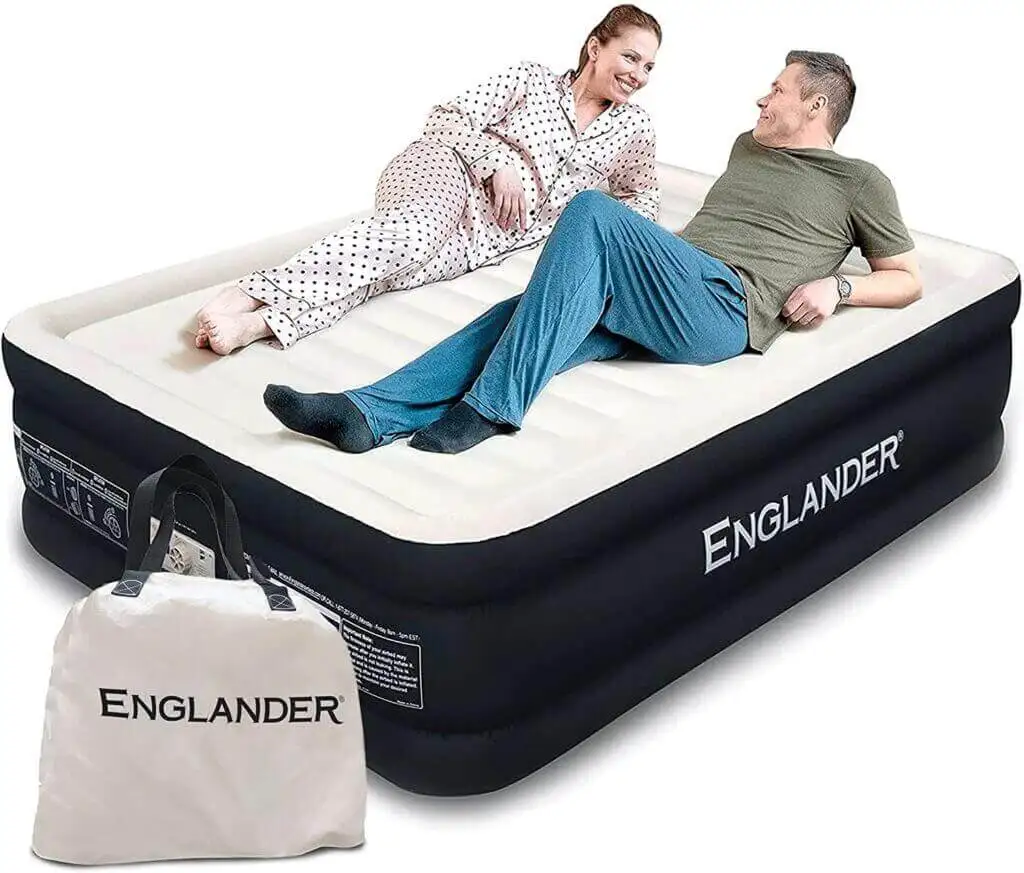 You can inflate the mattress by blowing it up in 90 seconds. Further, by pushing a button, it deflates itself. The mattress is 4 inches wider than most of the mattresses available. The Englander Twin size mattresses are the best choice for air mattresses with uncompromised comfort and unparalleled quality.
Chillsun Queen Air Mattress with Built-in Pump
Chillsun air mattresses are the next most popular air mattresses available. The mattress has a double-layer puncture-resistant waterproof material that prevents unwanted sliding.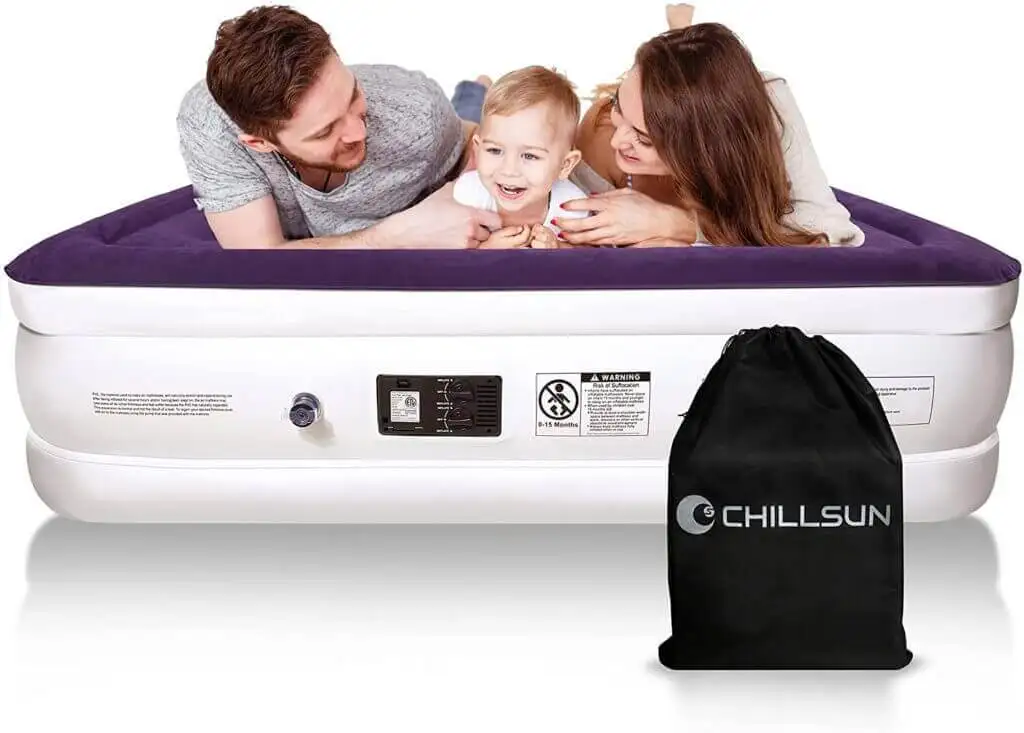 It is easy to clean and wipe down with a damp cloth. It has a 650 lb weight capacity and can hold up to three people, i.e., two adults and a baby. It also has a built-in pump that helps you inflate and deflate the mattress in just 3 minutes. The air column structure of the mattress is designed to give maximum support to your neck, back, and hips and release body pressure. It also gives you a good night's sleep.
Ivation EZ-Bed (Queen), Air Mattress with Frame & Rolling Case
The most popular air mattresses are Ivation EZ-Bed mattresses. Like other air mattresses, the Ivation EZ Bed mattresses also have a built-in pump that helps inflate and deflate the mattress and consists of an auto-shutoff button.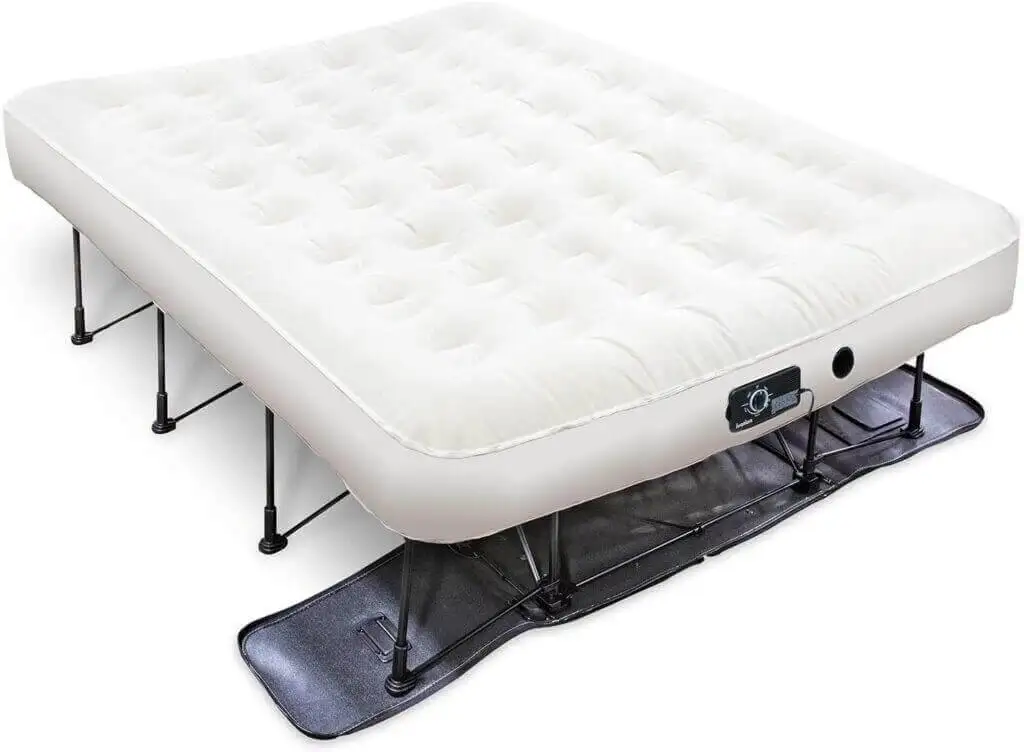 The durable flock mattress with 48 circular coils gives you a soft and comfortable sleep. In addition, it is easy to carry and store. The Ivation EZ-Bed queen-size mattress can handle up to 450 lbs.
Conclusion
These are some of the best and most popular air mattresses available. Choose your ideal air mattress and have quality sleep all night.