Wikirelax.org is supported by its readers. When you purchase through links on our site, we may earn an affiliate commission.
Looking at Google trends, memory foam mattresses are three times more popular than latex mattresses. Polyurethane foam, as well as other materials, is used to manufacture it. Latex is made from rubber tree sap. There is another form of latex called synthetic latex. Synthetic latex is made from several materials, but the most common is Styrene-Butadiene Rubber (SBR), similar to plastic and natural rubber. But in this article, our discussion is mainly based on memory foam or latex.
Memory foam is durable, malleable, and widely known for absorbing impact. If you sleep in the same bed, you won't be able to tell whether your partner tosses and turns all night. It's also known for its heat-wicking properties. The foam uses body heat to mould and absorb the impact, creating an excellent cushion for aching points.
Natural latex, as mentioned above, is obtained from rubber plants and includes no harsh chemicals. The tree sap is frothed and boiled into foam. It's a good choice for individuals looking for an environmentally friendly bed.
When deciding between memory foam and latex, it all comes down to how you want your mattress to feel and what features you want.
Which is better? Memory Foam or Latex
Response Time
Memory foam is a great choice for people who want deep compression support, a slow response time, and less movement while they sleep.
On average, it returns to shape after force is removed in 5-10 seconds.
On the other hand, latex is a good option for an eco-friendly mattress. It has a faster response time and more bounce.
Losing their Shape
After a few years of sleeping on your mattress, you may notice that it has lost shape, support, and responsiveness, causing you to sink deeper into your bed.
Nothing keeps its shape over time. In ten years, latex softens by 15-20% and memory foam by 30%. The softening occurs more quickly in the first 5 years.
| Benefits | Memory Foam | Latex |
| --- | --- | --- |
| Comfort | ✔ | ✔ |
| Support | ✔ | ✔ |
| Cooling | X | ✔ |
| Price | ✔ | X |
| Weight | ✔ | X |
| All-natural | X | ✔ |
| Good for allergies | X | ✔ |
| Options for side, back, or stomach sleepers | X | ✔ |
| Prevent aches and pains | ✔ | ✔ |
| Mould resistant | X | ✔ |
| Dust mite resistant | ✔ | ✔ |
Is memory foam hotter than regular foam?
Yes, memory foam mattresses are hotter than regular foam mattresses. This is because they absorb heat, retain it and soften as it gets warmer. Latex foam doesn't trap heat, so you'll sleep cooler.
Which lasts longer, latex or memory foam?
Natural latex mattresses often last about fifteen years, while blended latex mattresses last six to ten years. A memory foam mattress lasts seven or more years.
Disadvantages of a latex mattress & memory foam mattress
Latex Mattress
Latex mattresses are harder and heavier to move.
Don't relieve pressure as well as other mattresses.
Cost more.
It can be loud. 
Memory Foam Mattress
You sleep hot at night, even to the extent of sweating while sleeping.
Harsh chemicals are still used in memory foam mattresses, but manufacturers are reducing these now.
Some people, especially oversized or heavy people, feel stuck in bed.
Don't relieve pressure as well as other mattresses.
Which foam mattresses are for side sleepers?
Latex mattresses offer good back and side support for side sleepers.
Memory foam mattresses are best for side sleepers as they contour to your body, relieving pressure points and maintaining spinal alignment while sleeping. Side sleepers should consider a soft mattress to relieve shoulder and hip pressure.
Which foam mattress for back sleepers?
Memory foam relieves body pressure and stress, and its comfort layers cradle the heavier parts of the body and relieve pressure, making it a good option for back sleepers.
Back sleepers with lower back pain find medium-firm or firm latex mattresses ideal.
Which foam is better for mattresses?
The greatest form of foam to use in mattresses is latex. Latex foam offers several benefits over Polyurethane and memory foam.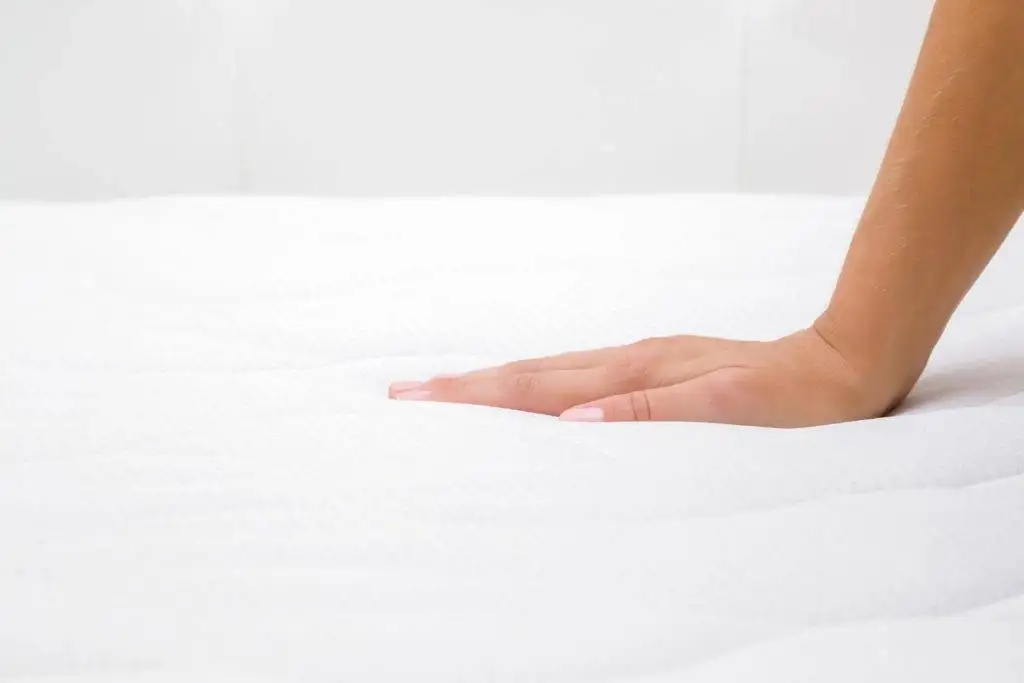 Latex vs Memory Foam
Edge support
If one sleeps on the edge of the bed, they would want their mattress to provide support when pressure is applied to the edge. A memory foam mattress offers better edge support than a latex foam mattress. Latex foam may feel like you are falling off when you are near the edge.
Responsiveness
Bounce a golf ball on the mattress foam to test its responsiveness. The ball will bounce back right up when bouncing on the latex mattress. When you bounce a ball on the memory foam mattress, it bounces back only slightly. Latex is a firmer, more rubbery material. When force is applied, latex has a faster bounce-back time. When memory is pressed, the resistance is significantly lower, and the bounce-back period is much longer.
Motion Isolation
Memory foam mattresses are great at isolating motion because they absorb body pressure and movement, so you don't know if your partner is moving next to you or not. However, due to the flexible nature of latex, it is not very good at isolating motion, so you would most likely hear and feel the movement of someone lying next to you.
Pressure relief
A memory foam mattress is the best choice for people who want to relieve pressure and pain. For example, people may have knee or hip pain while resting in bed. Memory foam works better to relieve this pressure and any pain that might be there.
Which is better: Memory Foam or Latex?
The Advantage of a Latex Mattress
Of the five parameters discussed, latex is better only in responsiveness and breathability. But these two are the most sought-after parameters. People care less about edge support, motion isolation, and pressure relief. These three are only considered in unusual circumstances. Besides, latex is not that far behind in scoring on these three. Also, the most common benefit of latex mattresses is that they last a long time and are good for the environment. As a result, latex mattresses are the best on the market.