Wikirelax.org is supported by its readers. When you purchase through links on our site, we may earn an affiliate commission.
After a long and hectic day at work, you only need a clean mattress and sleep. But what if I told you that the mattress you use daily is filled with bacteria, germs, sweat residues, dead skin cells, and dust? Shocked right?
We all wash our bed sheets regularly, even if they are clean from the outside, because, on a superficial level, they come into direct contact with our skin. But do we sanitize mattresses? Germs, body oils, mites, etc., go through our bed sheets to the mattress. Bacteria and germs are minute organisms that cause skin infections and acne breakouts as they cannot be seen through the naked eye.
Sanitize a Mattress
It becomes crucial for our well-being and their long life that we disinfect mattresses at regular intervals of 6 months. Disposing of mattresses at short intervals is impossible as even inexpensive mattresses are quite an investment.
Moreover, after the COVID crisis, maintaining hygiene has become even more essential. Even if you don't believe it, the cleanliness of your bed affects a lot of your personality and mental state.
Now, we'll talk about different ways to clean your mattress so you and your family can sleep well and stay healthy. While on mattresses, another important topic is how to get rid of a mattress.
How to clean a dirty mattress?
The mattress is kept in one place for months and months. The stagnancy and direct contact of the mattress with the bed furniture below cause an accumulation of a lot of dust particles. When you remove your mattress, you first should slide it against the wall on your balcony or in an exposed area with plenty of sunlight.
Now take a clean cotton cloth and clean your mattress to remove all the accumulated dust particles. Make sure you hit the cloth against the mattress so that all the dust absorbed inside your mattress gets removed. You can even use a vacuum cleaner and a crevice tool for this process. After you are done with the cleaning part, let the mattress stay in the sunlight for a few hours, as the UV rays act as a natural mattress disinfectant and remove the germs and bacteria stuck inside.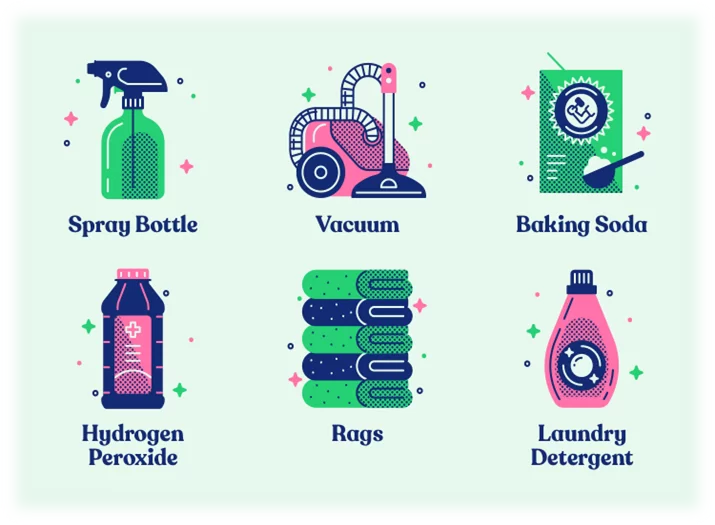 Steam cleaning a mattress
After removing dust and disinfecting your mattress in sunlight, the next step is to disinfect with the help of steam, as it doesn't involve chemicals or toxins and is the second most natural mode of disinfecting a mattress after sunlight. You can kill dust mites that are hard to eliminate by steaming your mattress with a handheld or garment steamer. Just be careful not to get too much moisture inside your mattress because that could lead to the growth of bacteria.
Mattress antibacterial spray
What can I spray on the mattress to disinfect it? Many of you might have a question about "how to sanitize a mattress." One of the best methods is to use a mattress sanitizer spray, which you can buy from any store nearby. Alternatively, mix vinegar and baking soda to make an antibacterial spray. You can use this spray all over the mattress to kill germs and bacteria. Some people use bleach to clean their mattresses, but using bleach can be a damaging factor for your mattress as it is too harsh and it deteriorates the fibres and fabric of your mattress.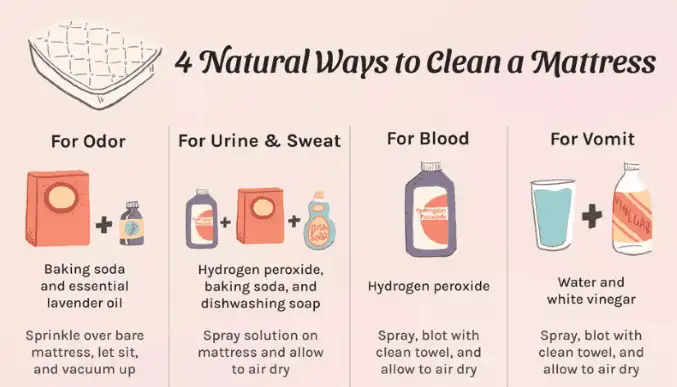 Before you go for a liquid cleaner, you must understand the application method. The motive is to clean up the matter. Therefore, always dilute your cleaner with warm water and follow the directions given to the cleaner. Take a cloth and slightly dip it in the solution, then remove the excess water from the cloth by squeezing it. Now rub it thoroughly over your mattress to ensure the cleaner does not completely absorb your cloth. Otherwise, the moisture will enter the mattress and create more germs.
Mattress enzyme cleaner
You can either buy an enzyme cleaner or make a homemade enzyme cleaner by mixing hydrogen peroxide and baking soda. You can use the solution to remove stains like urine, sweat, and yellow spots on your mattress. Simply soak a damp cloth in the solution and use it today. Make sure the moisture doesn't enter the mattress. The stubborn stains will eventually fade away.
Vodka for cleaning mattress
It might sound strange to use vodka to clean a mattress, but it is used as a disinfectant for various items in your house. You can pour some vodka into an empty spray bottle and use it all over the mattress in spray mode so it doesn't get soaked with water. After that, keep the mattress in an exposed area to air dry it.
How to clean a mattress with baking soda and vinegar?
This is another homemade disinfectant that is cost-efficient and removes stubborn stains. You will need a few items from your kitchen to make this disinfectant for your mattress. Pour some vinegar into an empty spray bottle, and then use it all over your mattress. After that, sieve the baking soda on your mattress and leave it for a few hours. The baking soda will eliminate the smell of the vinegar and speed up the process of getting stains out.
Cornstarch and baking soda mattress cleaner
Corn starch is a great absorbent as it absorbs all the grease and dirt from the fabric, whereas baking soda is alkaline in nature, so it neutralizes the acid and removes dirt and stains from the fabric The combination of both cornstarch and baking soda acts as a deadly combination in removing stubborn stains of sweat, blood, urine, and yellow spots.
How to sanitize a used mattress?
Buying a used mattress can be cost-efficient but can also cause serious skin infections if proper precautions are not taken. Before buying a mattress, check whether it is free from bugs, as they are easily visible. Apart from that, flip the mattress to check the corners, underside, and inside part of the mattress to verify its condition before buying. Even after that, when you buy a used mattress, it is very important to completely disinfect it before using it in your house, as other people have already used it. Therefore, we have mentioned here a few methods that can be used to clean a used mattress.
Keep your mattress in an exposed area where there is enough sunlight. The UV rays act as a natural disinfectant and kill germs and bacteria.
You can use a vacuum cleaner to remove all the dust from the mattress.
You can use any of the above home-made sprays To clean stains present on the mattress
Antibacterial sprays and enzyme sprays can eliminate germs and bacteria that can't be seen on the mattress.
You can cover your mattress with a mattress protector, providing a more hygienic approach to your daily lifestyle.