Wikirelax.org is supported by its readers. When you purchase through links on our site, we may earn an affiliate commission.
When someone is immobile for a long time, a pressure relief mattress, sometimes called a medical or therapeutic mattress, can help them feel better and avoid negative effects.
Pressure Relieving Mattresses use a variety of materials to provide excellent pressure distribution, support, and comfort for patients, reducing the risk of pressure ulcers and ensuring patient safety
How to Choose the Best Pressure Relief Mattress
People who spend much time in bed and cannot shift positions easily and regularly are at risk for pressure sores, produced by persistent pressure that reduces blood supply to tissues and can lead to skin deterioration.
There are numerous styles to pick from, each with unique advantages. In this article, we describe every type of pressure-relieving mattress on the market, discuss its pros and cons, and give our top picks.
What is a Pressure Relief Mattress?
The goal of a mattress with pressure relief is to prevent pressure ulcers, which are also called "bedsores." It supports the head and body and spreads the weight evenly, putting less pressure on any body part.
What is a Pressure Relief Mattress used for?
By letting up the pressure and moving it around, you can reduce the friction and shearing that can cause bedsores. Since prolonged pressure can cause skin damage, pressure relief mattresses that lessen and redistribute that pressure are particularly helpful for those who spend a lot of time in bed, who can't actively move in bed, or who have pressure ulcers.
What Are The Types of Pressure Relief Mattresses?
In either reactive or active therapy, pressure-relieving mattresses mechanically distribute a patient's weight over a large contact area while altering the pressure beneath the patient to lessen the severity and duration of pressure.
Low-tech air, foam, and gel mattresses don't have changeable pressure. Modern mattresses with pressure-adjustable features can be inflated or deflated to change the pressure. All of these choices operate differently and cater to particular patient requirements. You can read more about each style of mattress down below!
Foam
Foam mattresses are low-tech, static, and can be cut in half. The mattress cells move with the patient's body to provide partial immersion and envelopment. When the patient moves, the outer layer of the skin is less likely to tear.
This mattress offers reactive therapy, constantly reducing pressure on the skin and tissues until the patient is positioned. Patients with a low risk of getting a pressure sore or with only superficial pressure ulcers should use foam mattresses.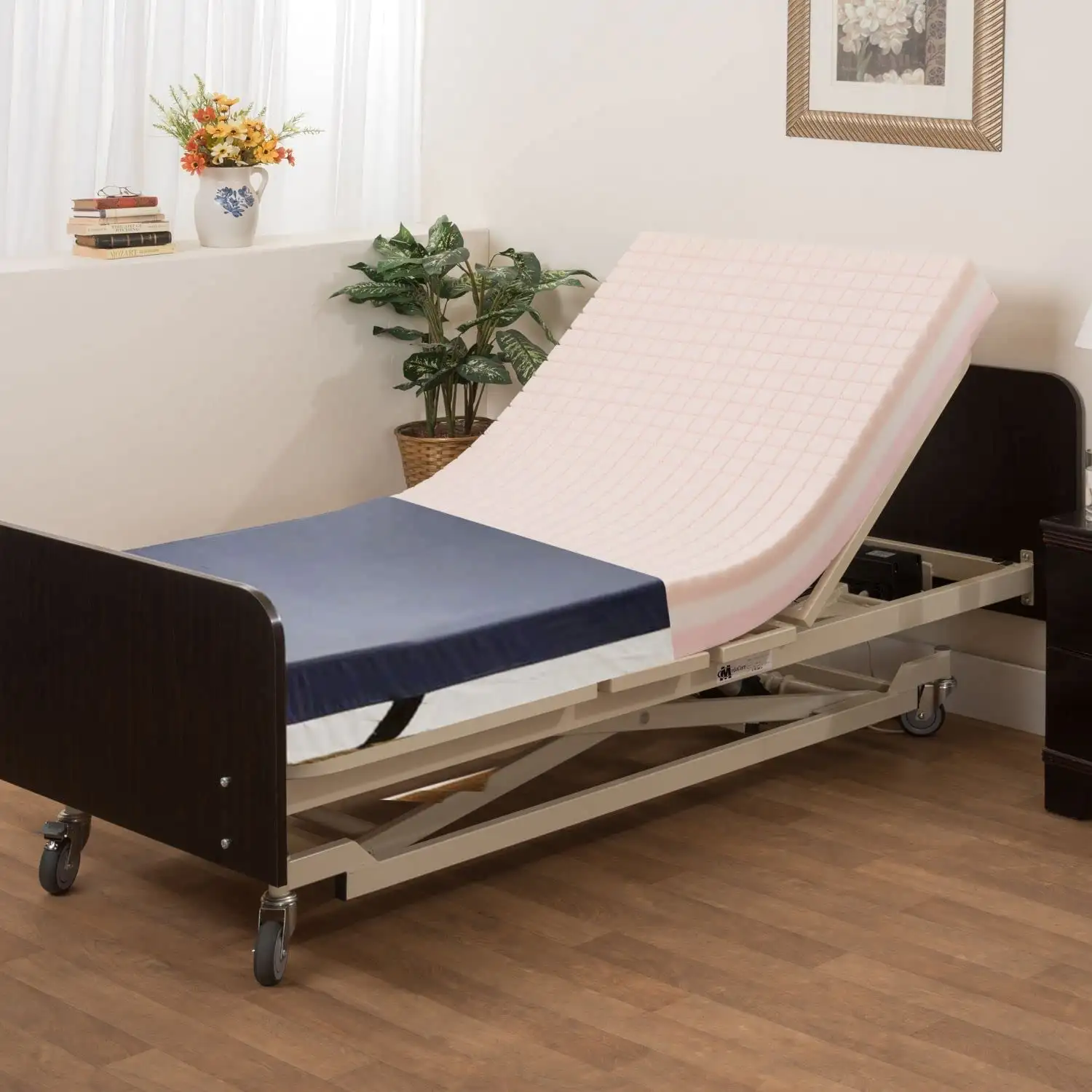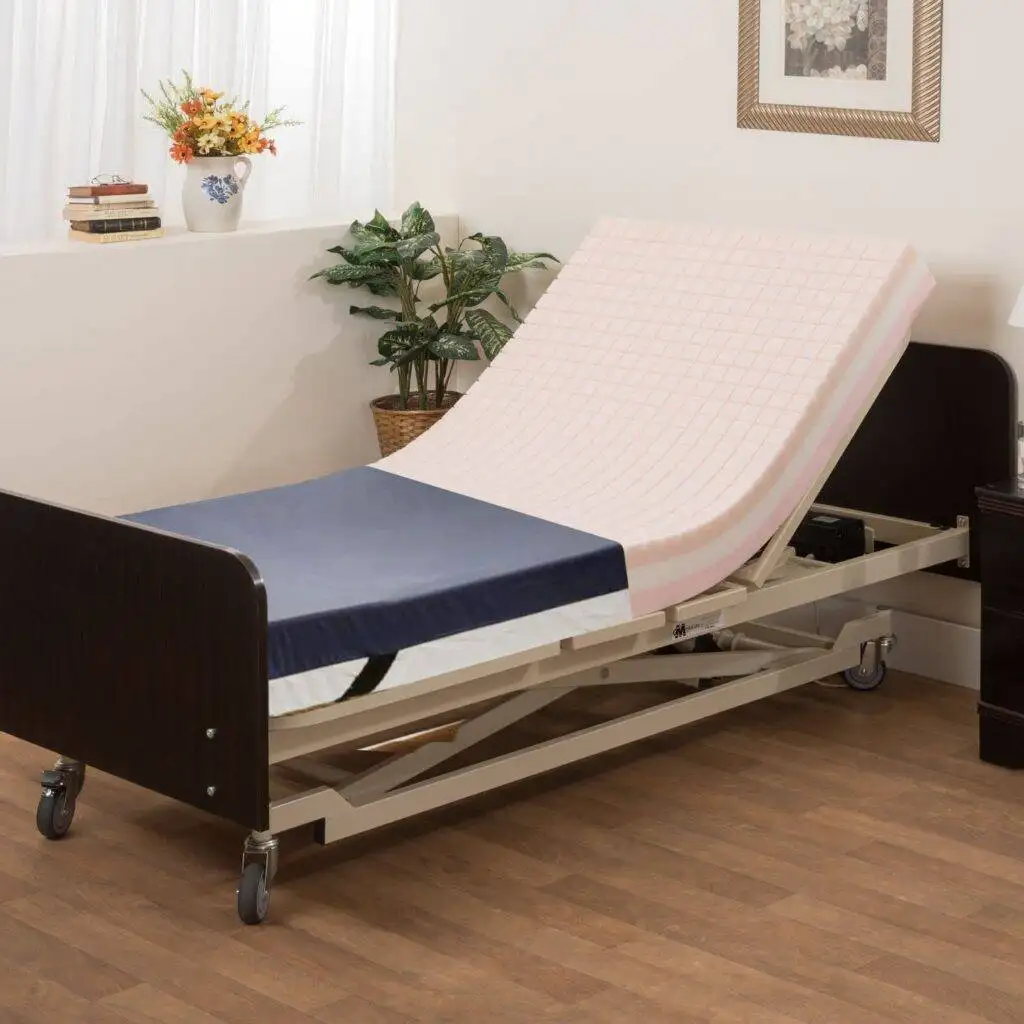 Pros:
Body contours of the patient
Movement lowers the chance of shearing
Uniformly spreading weight across a wide surface relieves pressure over time.
Cross-cutting and air gaps inside foam layers contribute to pressure reduction.
Cons:
Helps prevent pressure ulcers but does not treat them
Tends to retain body heat, producing a hotter sleeping surface
Gel
Gel mattresses that don't need to be powered adjust to the shape of the user's body. This makes it feel like you're sinking into the mattress. Gel mattresses also keep less of your body heat, making them cooler than traditional materials.
Gel mattresses seem more responsive, and most people say they get a good night's sleep. They are best for people who aren't likely to get pressure ulcers or who only have small, shallow ones.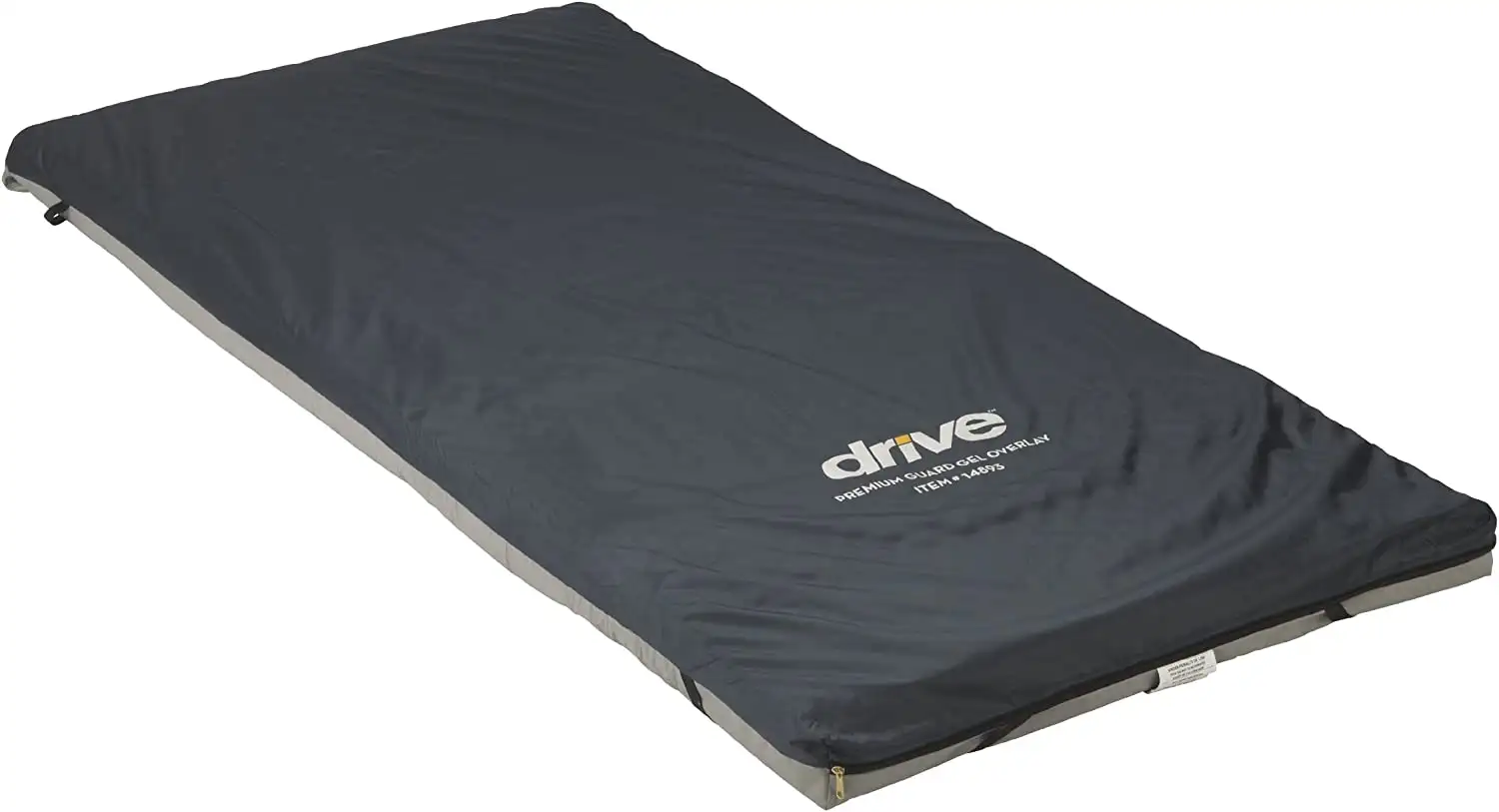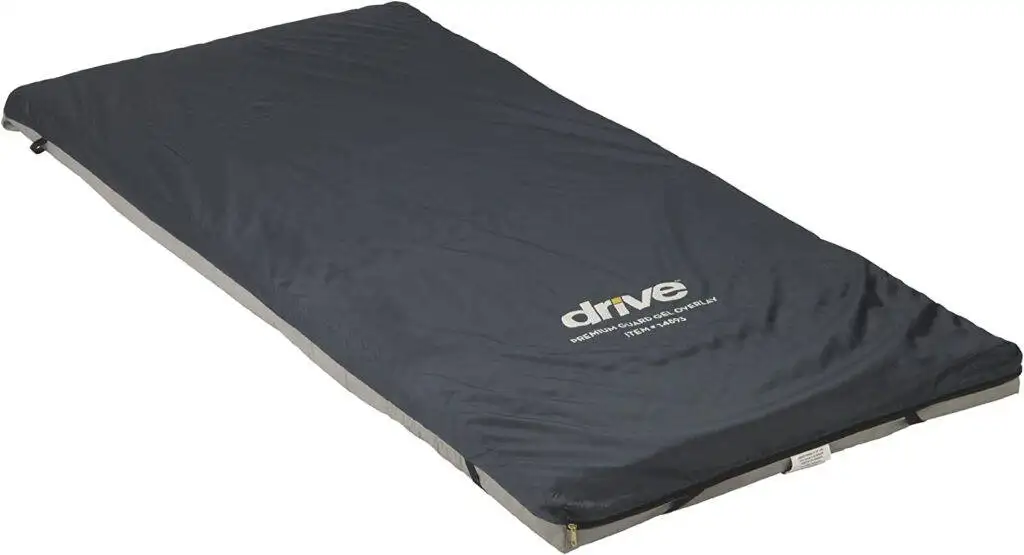 Pros:
Sinking into a contoured sleep space feels cozy.
A cool surface for sleeping
Reduces pressure through weight redistribution
Cons:
Pressure is not actively reduced
Not recommended for people who are at a high risk of developing bedsores or who already have pressure ulcers that are more severe than the superficial kind
What is a Hospital Bed Mattress?
You may require specialized mattresses if you are sick or have limited mobility.
Traditional mattresses may not be suitable for some medical conditions, make them worse, or even result in pressure ulcers, also called bedsores.
Several factors cause pressure ulcers. A lack of blood flow to the affected area is caused by prolonged external pressure on tissues. The development of sores may also be impacted by poor lymphatic drainage.
Pressure sores are easier to avoid and treat with hospital bed mattresses than regular ones.
Manufacturers of hospital bed mattresses use different materials than regular mattress manufacturers.
The following materials are similar to those found in traditional mattresses:
In addition, hospital bed mattresses should be waterproof, antimicrobial, and simple to clean. These characteristics ensure that the mattress complies with medical-grade sanitation standards.
Hospital mattresses typically have an adjustable head, leg, and bed heights, and they can bend with the adjustment of the head and legs.
9 Best Pressure Mattresses for Hospital Beds
Like any other mattress, a good hospital bed should provide adequate support and comfort.
The only way to know if a mattress is right for someone is to try it on.
Here are some of the best options for pressure mattresses for hospital beds:
The five zones of this 6-inch mattress evenly distribute a person's weight. It is flame resistant and waterproof. The mattress is suitable for travel because it weighs only 15.2 pounds. A soft, 2-way stretch cover that is water-resistant and reduces friction is also included with the mattress.
The top layer takes the pressure off of bones and other body parts more likely to get crushed by the mattress.
The foam is good for people who sleep on their stomachs or backs but not for people who sleep on their sides.
The price of this mattress is around $158.
Pros:
For people with chronic pain, this mattress is reasonably priced and comfortable.
Cons:
The mattress is not adjustable and does not fit all bed frames.
In addition, some reviews state that it is too thin.
This multilayered mattress has various zones with higher or lower densities to promote comfort and postural support.
Viscotech memory foam is used double thickness on top of the mattress. Additionally, it has a cover that is latex-free, bacterial, fungal, and allergen-free. The mattress has foam that is CertiPUR-US certified, and it has a standard 12-month warranty.
The price of this mattress is around $500.
Pros:
It is said to be very comfortable
Cons:
It is more expensive
This foam mattress offers some relief for those at a medium or high risk of developing pressure ulcers.
Its three weight-distribution zones relieve pressure on the head, body, and heels.
For people who tend to get sores, the mattress has several areas with a higher density and less pressure. The surface area of the mattress is a good size for support and comfort.
Additionally, it has a trilaminate vinyl bottom for easy cleaning and a fluid-resistant Nylon top cover.
The price of this mattress is around $350.
Pros:
It is long-lasting and simple to clean.
Cons:
A person's weight is evenly distributed across the surface of this pressure-redistribution mattress, which has three layers of memory foam.
There is a foam cutout on it that maximizes airflow, minimizes moisture, and offers good support.
A waterproof mattress cover is included with the mattress, which comes in six different sizes.
According to the manufacturer, older adults, people with a higher body mass index (BMI), and obese people can use this mattress for at-home care.
The price of this mattress is around $295.
Pros:
It is very cozy and is available in various sizes.
Cons:
One should be careful to measure the appropriate size.
This mattress's unique contoured foam insert makes it fluid-resistant. The foam layer enhances pressure relief and offers personal comfort.
An individual can feel immersed in the foam because the foam layer has individual cells that break up the tension. This function maximizes pressure reduction.
This mattress has a single-piece foam "U" core and enhanced edge support to make it simpler for people to get on and off the bed. The mattress comes with the company's signature Softform mattress cover, which can be removed and washed.
The price of this mattress is around $380.
Pros:
It has a high weight capacity, a contoured foam insert, and a foam layer.
Cons:
There have been reports of the mattress being too firm.
With a designated heel section, this therapeutic memory foam mattress has a weight capacity of 300 lbs.
The top foam layer has places where pressure can be moved around to help prevent pressure ulcers.
According to the manufacturer, the mattress's bottom layer has full-length, horizontal cuts that increase the mattress's longevity.
For maximum comfort, the mattress has three layers of memory foam.
The cost of this mattress is around $200.
Pros:
It is an affordable, high-caliber product.
Cons:
There is only one size available.
This pressure relief air mattress includes a remote-controlled air pump, a quilted cover, and an alarm. The digital pump has diagnostic alarms and offers individualized care to each patient.
This low air loss mattress has a quilted nylon cover made to hospital standards that is waterproof, anti-slip, and durable.
The weight and pressure of the mattress are displayed on an LED screen. It also has power outage protection that lasts 24 hours.
A quick deflation emergency CPR feature is also included with the mattress.
It is designed to fit most hospital beds and can support up to 450 pounds.
The cost of this mattress is around $700.
Pros:
It is portable and suitable for use in an emergency.
Cons:
This channel-cut, high-density foam mattress has features that address five pressure points on the body to prevent bedsores.
It includes a detachable, waterproof, and flame-resistant nylon cover.
The cost of this mattress is around $250.
Pros:
Customer feedback indicating comfort and high quality
Cons:
It only has a limited gripping capacity.
This item fits over hospital beds. This hospital bed mattress topper may be useful for people with pressure sores or at risk of getting them.
There are 130 individually sealed air bubbles in the topper, which offer sturdy support. The topper is suitable for people weighing up to 300 lbs.
The cost of this mattress is around $100.
Pros:
It is capable of superior weight distribution.
Cons:
Some customers claim that the mattress is not breathable.
FAQs
Which mattress is most suitable for a hospital bed?
The best hospital mattresses have features that evenly distribute weight to prevent pressure points from developing on specific body parts. In particular, this feature can guard against pressure sores and bedsores.
What is the lifespan of hospital bed mattresses?
Mattresses used in hospitals should last for seven to ten years.
Can any mattress be used on a hospital bed?
Due to their rigidity, regular mattresses do not work on hospital beds. The head and foot sections of hospital beds are movable and adjustable. They need more flexible mattresses, which are frequently foam mattresses.
What's the difference between Pressure Relief and Redistribution?
Since the pressure redistribution is static, the pressure measurement will remain constant. Pressure relief surfaces will continuously measure an area of the body under pressure.
Do pressure relief mattresses help other conditions?
Yes. Pressure points like the hips and shoulders can become too tense, resulting in poor spinal support, alignment, and pain. That pain is reduced by pressure relief mattresses, which help distribute weight so that pressure points don't have to support too much body weight.
Conclusion
Doctors advise hospital bed mattresses for patients who must spend a lot of time in bed and those who are vulnerable to bedsores. People with limited mobility might not get enough support from conventional mattresses.
Foam, gel, innerspring, and air mattresses are hospital bed mattresses that help redistribute a person's weight across the surface to prevent and treat pressure ulcers.
Alternatively, people can add a specialized mattress topper to their existing one to prevent and treat pressure ulcers.