Wikirelax.org is supported by its readers. When you purchase through links on our site, we may earn an affiliate commission.
Finding a mattress within your budget and offering you all the benefits simultaneously may be daunting. The mattress market is massive, and the choices can overwhelm any user.
Choosing the right mattress for you may depend on several aspects, mostly tailored requirements. However, some parameters need to be taken into consideration. 
If you are looking for a reliable mattress within an economical budget, we have assembled some of the best mattresses under $500. Carefully reviewing multiple parameters, we've come up with some viable choices.
Our list of the best mattresses under $500 includes foundation box springs, memory foam mattresses, hybrid mattresses, and others that offer essential luxury, comfort, and health benefits while staying within the budget.
We discuss their construction materials, trial nights, warranty, height, and ratings on Amazon. We also discuss who these are suitable for and compare them on all these parameters.
Summary
Here is a summary of the 7 best mattresses under $500 to check all the parameters and make an informed decision.
MATTRESS
MATERIALS
Height (Queen)
TRIAL (Nights)
WARRANTY (Yrs)
PRICE ($)
Rating/Reviews on Amazon
Olee Sleep 13" Memory Foam & Spring Coil
Gel-infused memory, polyester, jacquard, coils
13″
——-
10
274.80
4.5/20000
Lucid 10" Gel Memory Foam
Gel-infused memory, polyurethane, Tencel
10″
30
10
$349
4.5/17,500
The Allswell Hybrid Queen Mattress
Charcoal, copper-infused memory, steel coils
10"
100
10
$449
4.2/5000
LinenSpa 10" Dunlop Lateax Hybrid
Organic cotton, latex, high-density foam, steel coils
10″
120
10
$299.99
4.35/17000
Zinus 6" Green Tea Memory Foam
Memory foam, green tea, charcoal/graphite,
6"
100
10
$272
4.5/119,039
Sweetnight Dreamy Hybrid mattress
Pillow Top Comfort Foam
Gel Memory Foam Fiberglass Free, Airflow High-density Foam
Pocketed Steel Coils
10″ 
100
10
$445
4.4/4,152
Olee Sleep 13" Memory Foam & Spring Coil
The Olee Sleep 13-Inch Galaxy Hybrid Memory Foam and Pocket Spring Mattress is a unique, impressive bed with exceptional traits. The mattress is great for most sleepers because it has patented Dura pocket springs, high-quality memory foam, and a soft fiber cover. The mattress is Certi-PUR-US certified to be free from all harsh chemicals.
The Olee Sleep mattress has five different layers, each with its own characteristics, and the coils offer edge-to-edge support.
Cover: The cover of Olee Sleep is made of knitted jacquard fabric and is very soft in texture. The polyester fabric is easy to clean, lightweight, and breathable enough to offer optimal comfort.
The Jacquard fabric cover is soft and wicks away any moisture, ensuring a dry, cool sleep at all times.
Comfort Layers: The mattress's top layer has a 1.5-inch memory foam layer that scores 8 ILD and contours well with the body. Next comes the 1-inch proprietary Dura-I gel foam that enhances pressure point relief.
The third 2-inch HD Viscoelastic foam layer ensures the mattress adapts well to the body and optimises temperature. The gel-infused memory foam layers prevent excess sinkage and, at the same time, dampen motion to some extent as well.
Base Layer: Finally comes the 7.5-inch Duraspring coil base layer that offers edge-to-edge support for the mattress. The innerspring coils can withstand different weights and can perform with consistency.
The HD memory foam layer protects the spring coil layer, giving you the most comfort and keeping anything from getting in the way.
If you are unhappy with your purchase, you can return it to Amazon within 30 days after delivery for a full refund.
Lucid 10" Gel Memory Foam
Lucid 10-inch gel memory foam mattress is a 100% foam mattress that utilizes high-density supportive foam with a top cushioning layer made of foam.
The bed comes in adjustable sizes and is hypoallergenic. The mattress delivers optimal contouring support at a very economical price. The medium-firm feel variant of the mattress is ideal for combination sleepers.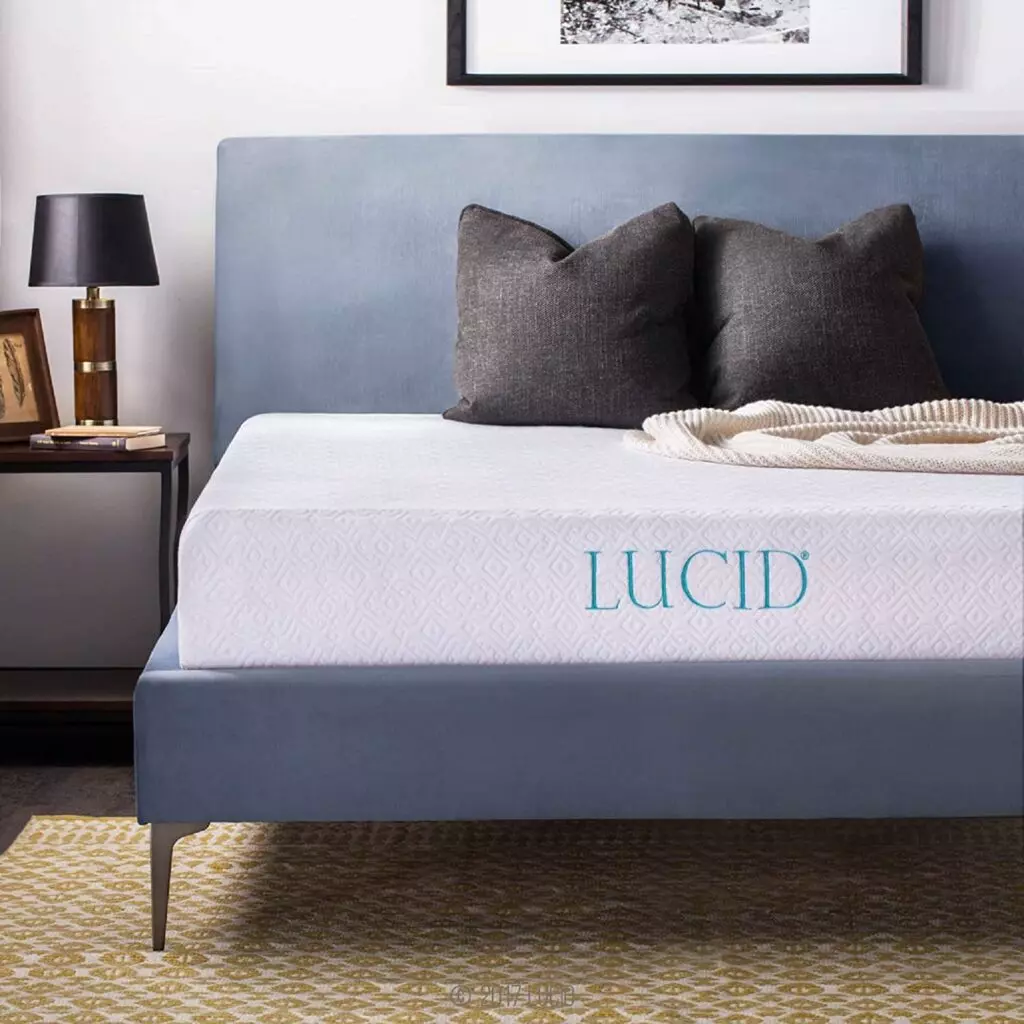 Incorporating gel-infused memory foam that is ventilated, the mattress is much cooler and aesthetically similar to a conventional innerspring mattress.
Cover- The good cheap mattress has a Tencel cover that offers better breathability and is uniquely designed to promote temperature neutrality. The wood cellulose and Tencel fabric enhance the mattress's airflow and provide a dry surface.
The cover is removable and can be easily spot-cleaned.
Comfort Layer- Then comes the 2.5 inches of US-CertiPUR gel-infused memory foam layer that closely cradles the body, removing pressure from the hips, shoulders, and neck. Gel beads are present throughout the mattress, and, with proper ventilation, they help you sleep cool and dry at all times.
The gel is superior in absorbing the entire body's heat.
Support Base: The supportive base foam layer measuring 7.5 inches under the gel foam layer enhances stability.
The high-density polyurethane foam helps with the proper spine alignment and adds to the mattress's durability. Side sleepers may get unmatched support while sleeping on their bed throughout the night.
Due to decent motion isolation, a sleeping partner can also enjoy different postures without disturbing the other's sleep.
Backed by Walmart, Allswell is a competitively priced new mattress company featuring four distinct types of mattresses, among which the Allswell mattress is a flagship product.
The Allswell Queen Mattress is a zero-frills, compact hybrid mattress with a simple design and good build quality. The charcoal and copper-infused memory foam layers have pocketed coils for support.
Cover: The Allswell hybrid queen-sized mattress cover is made up of quilted polyfoam that is 0.5 inches in height. The cover is breathable and helps keep the mattress cool by allowing proper airflow.
Unzip the mattress's cover, which is not completely removable for spot cleaning.
Comfort Layers: The Allswell hybrid mattress queen size has two different comfort layer choices. The top layer comprises 2 inches of graphite or charcoal and copper-infused gel memory foam.
Although compared to other hybrid mattresses, the Allswell mattress is a bit thinner but gives you a soft and plush feeling. Next comes a 0.5-inch high-density polyfoam layer to add to the comfort.
The memory foam of the mattress lets you sleep on it instead of sleeping in it, and users can add memory foam mattress toppers for extra plushness. This mattress is ideal for side and stomach sleepers weighing less than 130 lbs.
Finally, the base layer comprises 5-inch sturdy, robust pocketed coils for superior edge support and firmness. The base layer is strong enough to offer consistent firmness and helps with dampening motions.
Unlike other innerspring mattresses, the Allswell mattress does not make any squeaky noises, great for sleeping partners. Priced well below $500, this mattress is one of the best-priced memory foam mattresses.
Image Courtesy: Women's Health
Linenspa 10 Inch Latex Hybrid Mattress
Linenspa Mattress is a name that has always exceeded expectations in the mattress industry. As such, the Linenspa 10-inch latex hybrid mattress also does the same. The mattress is a good value for the money and is built with premium materials and advanced technology.
The Linenspa 10-inch latex hybrid mattress has multiple comfort and sturdy base layers. You can accommodate it well with different bed foundations and adjustments.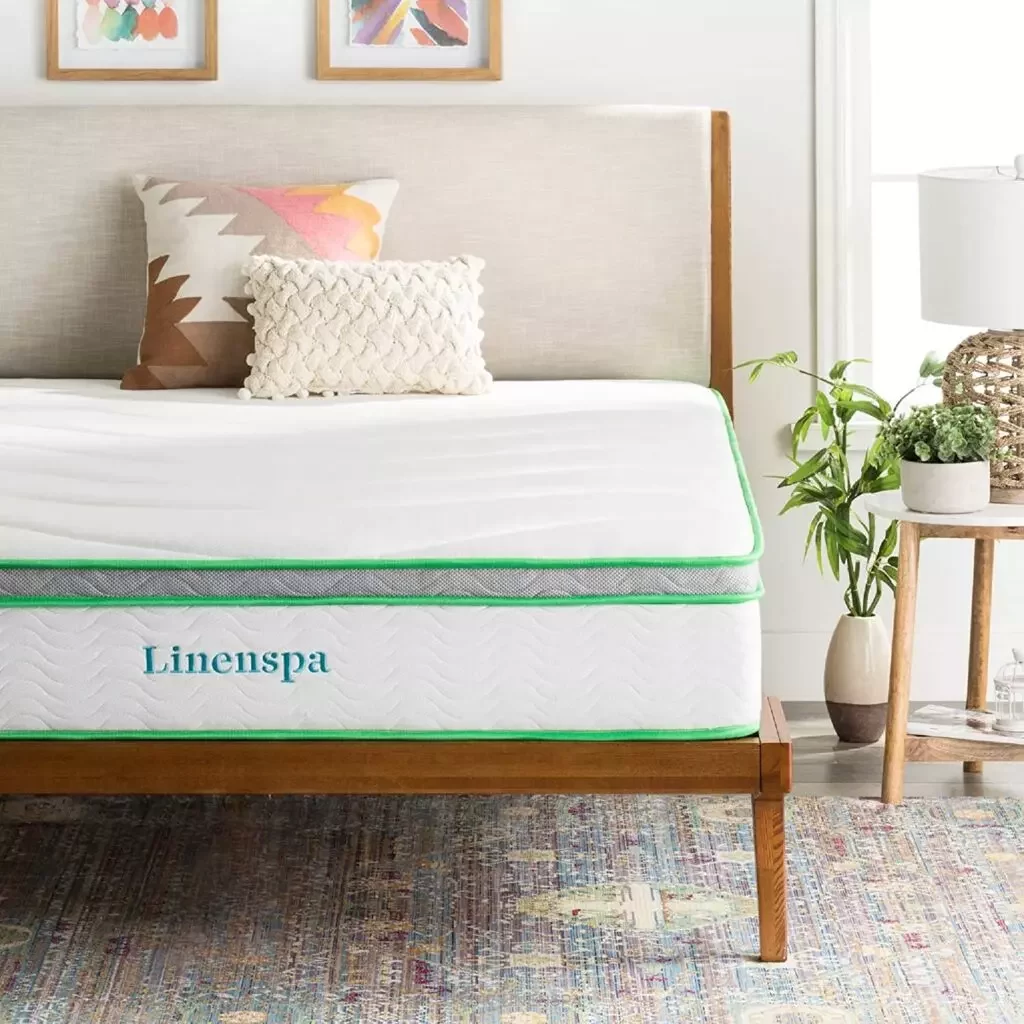 Available in a medium-firm version, this 10-inch-high profile mattress employs the best original latex and foam blend to craft the best comfort for you.
Cover: The Linenspa latex hybrid mattress's cover is made of a responsive 1-inch quilted foam that offers you a buoyant feel and immediate pressure relief once you lie on it.
The cover has superb breathability and cooling effects, allowing proper airflow in the bed and letting you sleep dry and cool during the night. The foam and latex combination helps you get adequate comfort and support simultaneously.
Comfort Layer- The Linenspa 10-inch latex hybrid mattress comes with a unique hybrid design that incorporates the comfort of latex foam and the support of encased coils for an unprecedented feel.
The first comfort layer of the mattress is made of more than 2 inches of latex and foam, a combination that is hard to get in a mattress in this price segment.
The comfort layer is not only very breathable and cool, but it can also immediately relieve pressure points like your hips and shoulders.
Base Layer: The mattress's base layer comprises 7 inches of individually encased pocketed coils and 3 inches of latex and foam support. The edge support of the mattress is amazing and ideal for combination sleepers.
The primary materials used for building this mattress are 51% Polyurethane Foam, 30% Polyester Fiber, 9% Latex Foam Rubber, 7% Rayon Fiber, and 3% Polypropylene Fiber coil spring units.
The individually responsive coils have gaps between them to allow optimal airflow and better regulate the temperature. The bed has good motion isolation and is ideal for stomach and back sleepers.
Best of all, the bed does not make any noise, as seen in innerspring mattresses, and can also be ideal for kids to sleep on.
Zinus 6 Inch Green Tea Memory Foam Mattress
Zinus is a new name in the mattress industry that claims to be completely organic and features health-aiding substances in its construction. The mattress has garnered quite a bit of popularity and has received accolades.
The Zinus 6-inch Green Tea Memory Foam Mattress is one of the company's products and, as the name suggests, comes with some excellent materials. The mattress is healthy and eco-friendly as well.
The Zinus 6-inch green tea memory foam mattress has multiple comforts and base layers for optimum performance and comfort.
Cover- The Jacquard knitted cover of the Zinus 6-inch Green Tea memory foam mattress is made of soft textiles and is highly breathable. The cover adds breathability, cooling, comfort, and plushness to the mattress and is aesthetically beautiful.
The mattress's cover is not completely removable but is easy to spot and clean.
Comfort Layers- The mattress's top layer of 3 inches of proprietary Green Tea memory foam by Zinus. The foam is infused with naturally sourced green tea and pure charcoal.
It guarantees freshness and cradles your body optimally. This layer prevents excessive sinkage and improves blood circulation, relieving joint pressure.
Next comes the 2-inch bio-foam layer of Zinus comfort foam that makes you float on the bed as you would on clouds in the sky. The superior quality Zinus comfort memory foam delivers consistent support and unmatched softness.
This layer is ideal for eliminating neck, back, and shoulder aches and helps you sleep cool and dry.
Base Layer- Finally comes the 1-inch Zinus base foam, a proprietary base foam that is high in density and offers head-to-toe pressure relief. The base foam layer helps maintain proper spine alignment and user edge support.
The mattress is US-CertiPUR certified, and the active microparticles in the charcoal prevent any odor or moisture. 
Looking for a mattress that will give you the quality sleep you deserve without breaking the bank? With their commitment to quality and affordability, Sweetnight mattresses offer various options to suit any sleeping preference.
One of the standout features of Sweetnight mattresses is their fiberglass-free construction. This means you can rest easy knowing your mattress is free of harmful materials that could negatively impact your health. Additionally, Sweetnight mattresses are Certipur-US-certified, which meets rigorous content, emissions, and durability standards.
With seven different models, Sweetnight mattresses offer something for everyone. Whether you prefer memory foam or hybrid construction, soft or firm support, or relief for pressure points or back pain, a Sweetnight mattress suits your needs.
With a 10-year warranty, free shipping, and a 100-night trial, you can confidently try out the Sweetnight Mattress.
One of the most popular options is the Sweetnight Dreamy Hybrid mattress. Its individually pocketed springs and gel memory foam provide a comfortable sleeping experience that relieves pressure points and helps with spinal alignment. And with its CertiPUR-US-certified foam and fiberglass-free construction, you can trust that this mattress is safe and comfortable.
But what sets Sweetnight Mattresses apart is their commitment to quality at an affordable price point. By manufacturing their mattresses in-house and cutting out the middleman, Sweetnight can offer high-quality mattresses at a fraction of the cost of other brands.
So if you're looking for a high-quality mattress that won't break the bank, look no further than Sweetnight. With their fiberglass-free construction, CertiPUR-US certification, and variety of options to suit any sleeping preference, you will surely find the perfect mattress for a restful night's sleep.
Best Mattresses Under $500 According to Category
Now that we have summarised all the different mattresses available under $500, here are the best ones according to multiple categories.
Best Queen Mattress Under $500
Linenspa 10″ Latex Hybrid Mattress: Linenspa, with its incredible infusion of latex and memory foam layers, deserves the spot under the best queen mattress. It comes with an enhanced coil structure at the base for superior support. This hybrid mattress comes with a 10-year warranty and a 120-night trial.
Priced at $299.99, this may be the best queen-sized latex hybrid mattress for comfort and health benefits.
Best Firm Mattress Under 500
Olee Sleep 13″ Hybrid Gel Memory Foam and Spring Coil: The Olee Sleep 13″ mattress has a sturdy foundation that can offer edge-to-edge support for users. The mattress offers plenty of firmness and is built with gel-infused memory foam, a jacquard fabric cover, and Dura spring coils.
The unique construction of the mattress makes it ideal for easy setup and offers adequate pressure relief for users. The mattress is priced under $300 and is the best firm mattress in the segment.
Best Hybrid Mattress Under $500
The Allswell Hybrid Queen– Due to its natural and health-benefactor materials, the Allswell Hybrid queen mattress is the best hybrid mattress for under $500. The mattress incorporates charcoal, copper-infused memory foam, and encased sturdy coils to give you the comfort of both foam and hybrid beds.
The mattress comes with a decent warranty period of 10 years and a risk-free 100-night trial at just $449. It is a pretty decent deal for a comfortable yet sturdy hybrid mattress.
Best Memory Foam Mattress Under $500
Zinus 6-inch Green Tea Memory Foam Mattress-Zinus 6-inch memory foam mattress with its proprietary Zinus comfort foam and base foam makes the bed the best memory foam mattress for under $500.
If you are a stomach or side sleeper, this bed may be your best bet. The mattress incorporates green tea, charcoal, and Zinus foam, making it one of the most comfortable, plush, and sturdy beds. The mattress comes with a price tag of $272 and a 100-night trial.
Best Mattress for Under $500 (Overall)
Lucid 10-Inch Gel Memory Foam Mattress: Packed with a high-density foam base, a plush and soft gel-infused memory foam layer, and sturdy edge support, the Lucid 10-inch mattress is the best overall mattress under $500.
The mattress can offer you the comfort of a foam mattress and the support of a hybrid mattress simultaneously. The bed is priced at $349 with a warranty of 10 years. However, the trial period is short and only for 30 days.
The mattress offers a plush and firm feel at the same time.
Best Cooling Mattress Under $500
The Healthy Bedrooms Weekender 10″ Hybrid Mattress: The Healthy Bedrooms Weekender mattress is priced at $369 and is one of the best cooling mattresses under $500. The gel-infused memory foam and the quilted foam help it conduct optimal airflow within the bed, eventually keeping you cool.
The mattress comes with a 10-year warranty, and, according to reviews, the quilted memory foam keeps you cool at any time of the year.